Making Education Accessible to All–  Sandhya Krishnan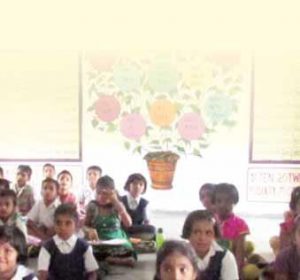 The Right to Education legislation has been the turning point in the history of India. The Act makes it mandatory for the State to provide children in the 6-14 age group free and compulsory education. Since the turn of the millennium, more children than ever before have started attending school, the number of out-of-school children has reduced by almost 50 percent.
However, the progress of enrolment has revealed another challenge – children are in school but they are not learning. In addition to the 57 million children out of school worldwide, 250 million children cannot read or write properly even at the age of 10, despite half of them being enrolled in school. Looking at the recent data in India, we have the highest number of
out-of-school children (OOSC) at 17.8 million followed by Pakistan with 6.5 million.
It is widely agreed that for the RTE Act to become a reality, schools need to include all children and provide them with a safe and inclusive learning environment. Children who have never enrolled or dropped out of school need a supportive environment to resume their education. Despite the fact that education has been made 'free and compulsory' for all children aged 6-14 by the Government of India, the situation on the ground is often very different. A lack of parental awareness on the importance of education is one of the reasons children are kept away from school.
Educational Scenario in the State of Maharashtra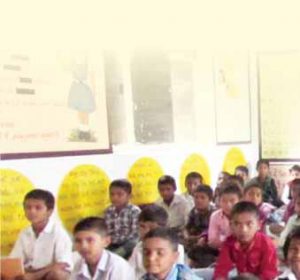 Maharashtra, the State targeted for this project, presents the above described scenario. Located on the west coast of the country, the State is geographically and demographically the third largest in India. It is also one of the richest States, yet, the overall literacy rate is just 76.9 percent, with female literacy a mere 67 percent. As per 2011 Census, 72.48 lakhs
(3.48 percent) children in 6-13 years age group are working in the country. More than 5 lakhs working children are in Bihar (8.24 lakhs), Rajasthan (5.97 lakhs) and Maharashtra (5.27 lakhs).   The Government of India's Education Development Index for the year 2013-14 ranks Maharashtra at 13th position out of 35 States and Union Territories, with gender parity index at 0.89 and survival rate to Grade V listed at 87 percent. School infrastructure is one of the least developed and only 83 percent of schools have a 'pucca building'. Parents in rural areas attach very high importance to children's education but fail to keep children in school due to two major factors – (1) household poverty and (2) schools not appealing to children.  Due to these factors, children lose their basic right to education and are often 'pushed out' of school due to 'in school' factors such as traditional teaching learning processes and non-stimulating learning environments.
Gross enrolment rate in schools have increased over the past decade, however the quality of teaching, especially in rural areas, is poor. Teachers still use the 'chalk and talk' method of teaching and, they have rarely undergone training in developing innovative teaching-learning methods to address the diverse learning styles and needs of students. Often, they lack a multi – grade/multi-level teaching approach in practice. Many teachers continue to use the methods of physical punishment to discipline children. Apart from it, even the RTE Act, 2009 talks about Comprehensive and Continuous Evaluation (CCE) as a mechanism to assess the learning level of children but is not practiced by teachers in its true spirit. Teachers lack proper understanding and skills, and they therefore perform their duties in a ritualistic manner. They still find traditional evaluation methods more appropriate and convenient, which describe learning level numerically and become instrumental in labeling children to demote them or promote them. School buildings and the environment seem unfriendly to children. As part of our work in Maharashtra, we have observed that children prefer dropping out of school and prefer to work and support their parents in their fields, or take up other labor jobs e.g. in industries, hotels and, as house helps, to contribute to the family income.
The Annual Status of Education Report (ASER) released in Jan 2014 has shocking revelations about the learning levels of primary students in rural Maharashtra. Though the report covers rural areas, NGOs and educational institutions feel that it is the same situation in the municipal schools in urban Maharashtra. As per the report, over 66.2% of Class 8 students in the State lack basic maths skills – subtraction and division. More shockingly, Maharashtra students lag behind their counterparts in Bihar and Uttar Pradesh. There is an increasing trend that parents would rather shift their children from municipal schools to private schools if they can afford to do so.
Save the Children's work is underpinned by a commitment to making children's rights a reality that was first set out by the organization's Founder over 75 years ago. Education is not only a right in itself, but an "enabling right"- a critical instrument for bringing about "social, economic and political inclusion and a durable integration of people, particularly those 'excluded' from the mainstream of any society".
To address this challenge, Save the Children has adopted the strategy of facilitating the creation of 'Inclusive Learner Friendly Environments' targeted at 3-18 years within diverse educational settings to meet the challenge of addressing diverse and heterogeneous needs of the children.
We work towards developing inclusive and equitable education policies and practices, thereby ensuring quality education for all children, regardless of their gender, class, caste, ethnicity and religion. Other aspects of our work include a focus on Early Childhood Development, the promotion of child-centered approaches, training teachers and helping communities to develop close linkages with schools.
The focus of our approach is based on a three-pronged strategy involving intervention in three domains of the education system
 -Organisation of Schools
 -Instructional Dimension
 -Community Involvement
We plan to develop 'model inclusive schools' in at least five States of India. This will be implemented through developing a core group of master trainers consisting of education personnel as well as SCERT and DIET/SIET faculty, who in turn will train teachers in
pre-schools and schools. We will work with selected schools/Anganwadi centres and
pre-primary classes over the next five years to intervene in all the three dimensions to make them model Inclusive Learner friendly Schools.
Our aim is that these models of 'inclusive' pre-primary and primary environments are able to demonstrate the efficacy addressing individual needs of children belonging to the most disadvantaged backgrounds through creation of 'schools for all', thereby realizing the dream of achieving 'Education For All'.
BOX- What We Do:
We promote learner friendly inclusive environments by effective community participation and active learning methodologies.
We work on collaborative models between Ministry of Women and Child Development and Ministry of Human Resource Development, so that children are provided stimulating learning environments and receive quality basic education.
Implement the Right to Education Act, 2009 so that children of the most marginalised sections of society receive education.
Create sustainable programmes by building capacity within the education system and using our projects as pilots to demonstrate 'best practices.'
The key focus of our education interventions is to ensure that the Right to Education Act, 2009 is implemented.  We promote access and retention to quality inclusive education in government schools and aim to strengthen the capacities of existing government schools and their governance. Our programs aim to improve participation of children, their parents and the community in education planning and improve learning levels and reduce drop-out rates of children. (QUOTE)
Some of our proven models ensuring quality learning and outcome in Maharashtra Government Schools:
Save the Children with support from Hempel Foundation implemented a project 'Making Quality Education a Reality for Poor and Marginalized Children in Rural Areas' in Mulshi block near Pune city. The project targeted 375 vulnerable children in three villages. The objective of the project was to improve the quality of education in government schools by creating an enabling and inclusive learning environment for children. The outcome of the project was encouraging, with recognition, and appreciation by a wide range of stakeholders including parents, teachers, children and education officials. Based on the success of the project in Mulshi, Pune, this project was replicated in Sinnar, Nashik. It is implemented in 22 Government Schools, benefitting 3600 children.
Quality Education for Children in Pune Municipal Schools
With the support received from BULGARI, Save the Children is implementing a project across 40 PMC (Pune Municipal Corporation) Schools to improve the reading and numeracy skills among children. The implementing strategies are, conducting classroom sessions for children through projects to improve the teaching learning environment, building community linkages and parental involvement and strengthening school management committees.
Education of children must engage their imagination, broaden their minds and equip them with functional skills which will help in their academic performances. This can be effectively done through activity-based learning, use of teaching learning tools and promotion of group/ peer learning. The core components of improving teaching-learning process include improving reading levels, improving numeracy skills and capacity building of the teachers on innovative methodologies, classroom management, motivation, Continuous and Comprehensive Evaluation (CCE).
The school has to be viewed as a social organisation, organically linked to the community. The community, especially parents and siblings, can effectively contribute in supporting a child in learning. Save the Children ensures involvement of SMCs/ the parents in child's education through SMC/parents-teacher periodic interface to improve learning levels of children in school and beyond school hours. Moreover, the innovative methods of "sibling pairs"and community reading concepts will be used in the project schools.
Mobile Learning Centres
With generous support from ITOCHU Corporation, Save the Children runs a Mobile Learning Centre targeting out-of-school children around the Deonar dumping ground area in Mumbai. Based on the success of the MLCs in Kolkata and Delhi, the similar project got replicated in Mumbai. The MLC provides a vibrant and attractive environment and combination of educational and fun activities for drop-out children. With the help of trained educators and counsellors, these children are slowly mainstreamed in the nearby Government schools. The Mobile Learning Centre is also providing academic support to children post school hours and counselling for parents whose children are mainstreamed. As the MLC reaches to the community doorstep, parents and family members are able to see the difference in the lives of their children through this wonderful initiative.
CASE STUDY – BOX
Wajida, Shabir, Aarifa and the MLC Blue Bus have something in common. All four started attending school together. The three children are part of the inaugural batch of first time learners to the Save the Children Mobile Learning Center (Blue Bus) at M/East Ward.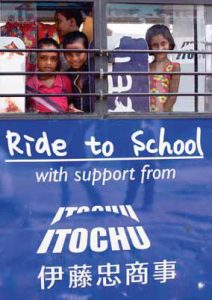 Their parents, Khurshida and Mohammed Afzal, hailing from Jodhpur in Rajasthan, had come to Mumbai six years ago in search of work. Mohammed managed to fetch a job in a furniture shop, whereas Khurshida chose to remain a homemaker. Their three children, Wajida (10), Shabir (12) and Aarifa (11) used to study at a Madrasa in Rajasthan. However, after reaching Mumbai, the family could not enrol them in school due to want of required documentation.
Wajida, Shabir and Arifa could be seen loitering around the whole day, when they should ideally be in school. The national effort towards universalizing education in the country was bypassing these three children but help was at hand for the siblings when Save the Children's MLC Blue Bus project started in M/East Ward slum pockets. The MLC Educators started a door-to-door survey to locate out-of-school children, and amongst many others, the siblings were identified and taken up to be included in the project. Their mother, Kurshida, told us how daunting it was to traverse the school admission red tape. The family did not have the requisite documents required for securing admission.  It took time, patience and persistence on the part of the MLC Educators to convince the parents that mainstreaming the children to the formal education system was not as daunting as they thought and that MLC will facilitate the process.
The next challenge after getting the parents' consent was to make the children school-ready. These children have never received formal education and mainstreaming them into such a system meant getting them to speed up with their grade-specific learning levels. It was indeed a happy moment when these three children, along with few others, attended the inaugural bridge learning session held by MLC Blue Bus in the project area. The children did not disappoint; they were eager and fast learners.
MLC educators and the students knew that the task at hand was difficult.  It was soon time for the children to be inducted into the formal education system. Their parents, could not believe that their children would soon step into a regular school but a dark cloud still loomed over them as there was no documentation. The MLC educators brokered the admission process, which also meant citing the relevant sections of the Right to Education Act to the school authorities which has made it mandatory for schools to provide admission to every child to his/her age-specific grade.
Wajida, Shabir and Arifa's first day of school was a day of celebration for the entire family, which at the first instance, appeared surreal. Today, Wajida is in the fourth, Shabir in the sixth and Aarifa in the fifth grade respectively.
Though STC has been able to reach out to more than 1200 children who are out of school through this project, and 1235 families have been counseled into bringing their children back to school, the need is huge It is high time that we look beyond the traditional model and join hands together to address the need in reaching out to a maximum number of out-of-school children.
Sandhya Krishnan heads the State Programme of Maharashtra for Save the Children. She has been working on issues of women and children for over 17 years.  She began working with Save the Children during the 2005 Tsunami in Tamilnadu and is experienced in dealing with developmental issues, innovative urban and rural development programmes in India through her past associations with senior functionaries of the government, local voluntary organizations and marginalized indigenous communities. She can be reached at sandhya.krishnan@savethechildren.in