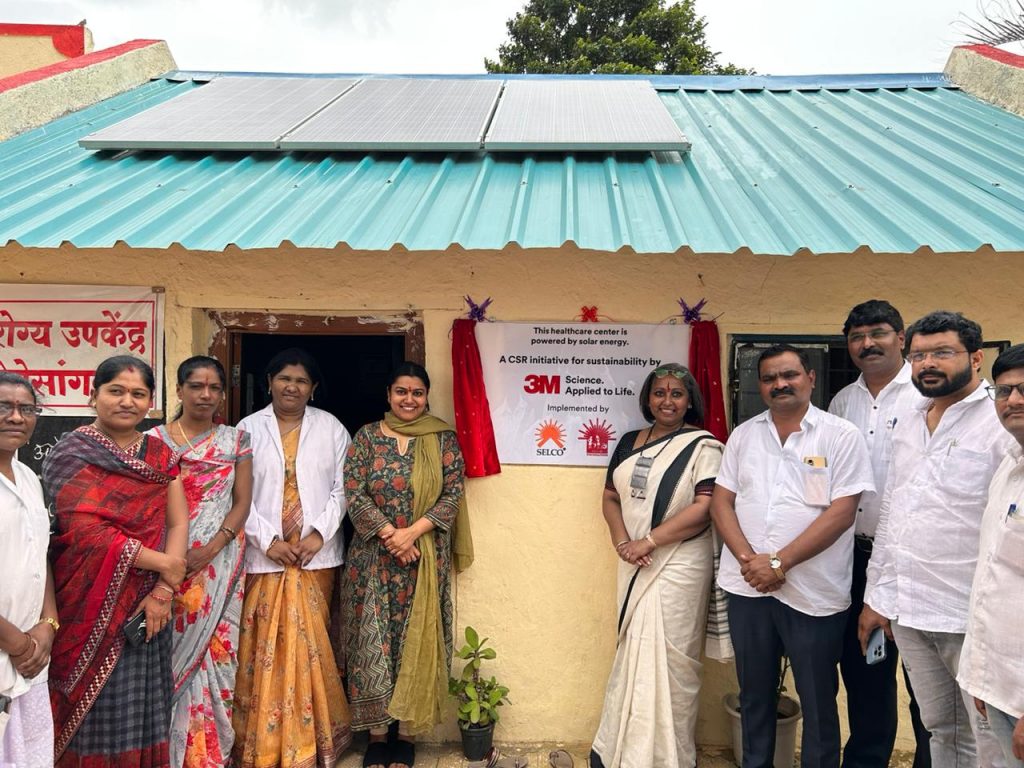 Pune: 3M India, a global science company, continues to drive sustainable solutions and community empowerment with the launch of its solar-powered healthcare infrastructure programme. In partnership with Selco India and Selco Foundation, 3M India has successfully installed rooftop solar panel units at seven Primary Health Centres (PHCs) in seven villages in the Shirur Taluk region, including Ranjangaon, home to 3M India's flagship plant. This was Phase 1 of the project which was handed over to the Government in December 2022.
At the request of the local health administration, 3M extended further investment in 2023 to expand the solar unit's installation to cover 39 sub-centres within the Taluk to ensure reliable power for last-mile access to essential healthcare services. These sub-centres being the initial point of contact for local communities seeking medical assistance have faced limitations due to lack of reliable electrical connection. The integration of sustainable solar power will empower the healthcare administration to expand the range of healthcare services offered at the sub-centre level, effectively meeting the needs of 3,50,000 residents that were previously unmet.
Prior to this much-needed intervention, the region experienced recurrent power outages and fluctuations, which compromised timely healthcare delivery. The solar panel system has been designed to address critical requirements such as maintaining the vaccine cold chain, maternity labour rooms, and enhancing overall service delivery capabilities. Additionally, the system will now be able to respond effectively to emergency situations, including accidents and pregnancies.
Aligned with its commitment to renewable energy and sustainable progress, 3M India's Solar-Powered Healthcare Infrastructure Programme has significantly impacted local healthcare delivery. The impact of Solar-Powered Healthcare Infrastructure Program will also have a positive impact on the environment and sustainability, with over 140 kWp capacity installed, resulting in the annual reduction of 120 metric tons of CO2 emissions.
"Through this initiative, 3M India envisions a future where healthcare accessibility and sustainability coexist harmoniously. By ensuring reliable power through solar energy, we are enabling PHCs and sub-centres to deliver timely medical services to those who need it most. Globally, 3M tackles some of the most pressing opportunities in climate change, such as decarbonisation, renewable energy, electrification, energy efficiency, waste reduction, and sustainable infrastructure. In this context, this solar power programme has far-reaching implications, not only in healthcare access but also in environmental impact, reducing carbon emissions and contributing to a healthier, greener future," emphasised Ramesh Ramadurai, MD, of 3M India.