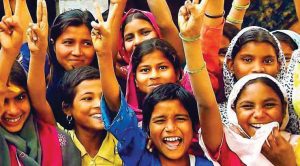 The Department of Women and Child Development, Government of India was constituted with the prime intention of addressing gaps in State action for women and children for promoting inter-Ministerial and inter-sectoral convergence to create gender equitable and child-centred legislation, policies and programmes. These policies and programmes help create awareness about their rights and facilitating institutional and legislative support for enabling them realize their human rights, promote social and economic empowerment and help them develop to their full potential.
With this in mind, the Ministry has, over the years, introduced many schemes for women to empower them to live with dignity and contribute as equal partners in development in an environment free from violence and discrimination and raising up well-nurtured children with full opportunities for growth and development in a safe and protective environment.
The Swadhar scheme was launched by the Union Ministry of Women   and Child Development in 2002 for rehabilitation of women in difficult circumstances, in distress and who are without any social and economic support so that they could lead their life with dignity and conviction. Beneficiaries include widows deserted by their families and relatives, women prisoners released from jail and without family support, women survivors of natural disasters, women victims of terrorist/extremist violence etc. These women are provided food, clothing, medical treatment, legal aid and guidance to enable them to take steps for their readjustment in family/society. They are rehabilitated economically and emotionally and are provided a support system that understands and meets their various requirements as well as enable them to start their life afresh with dignity and conviction.
One Stop Centre – Sakhi
The Ministry of Women and Child Development (MWCD) has also set up One Stop Centre, a sub-scheme of Umbrella Scheme for National Mission for Empowerment of Women including Indira Gandhi Mattritav Sahyaog Yojana across the country to provide integrated support and assistance, shelter, police desk, legal, medical and counselling services to victims of violence under one roof integrated with a 24-hour Helpline to women affected by violence, both in private  and  public  spaces  in phased manner. The first phase of the scheme had a One Stop Centre established in every State/UT on a pilot basis.
Rajiv Gandhi National Creche Scheme for the Children of Working Mothers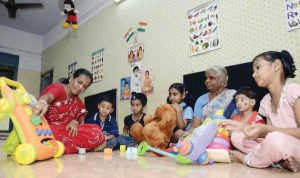 With increasing employment opportunities for women and the growing need to supplement household income, more and more women are entering the job market. With the breaking up of joint family system and the increasing number of nuclear families, working women need support in terms of quality, substitute care for their young children while they are at work. Creche and Day Care Services are not only required by working mothers but also women belonging to poor families, who require support and relief for childcare as they struggle to cope with burden of activities, within and outside the home.
Taking all this into consideration, the Ministry set up the Rajiv Gandhi National Creche Scheme. Revamped in 2006, it provides assistance to NGOs for running  crèches  for  infants (0-6 years) ensuring sleeping facilities, healthcare, supplementary nutrition, health check- up and immunisation, etc. for eight hours i.e. from 9:00 a m to 5:00 p m.
The Scheme has a pan India coverage with preferences given to poor children and children with special nutritional needs. It is important to note that adequate trained workers and helpers are   available   to   provide   day  care facilities and to supervise the functioning of the crèche. As on January 2015, there are 23,293 functional crèches under this Scheme.
Ujjawala
This is a comprehensive scheme for prevention of Trafficking and Rescue, Rehabilitation and Re-integration of Victims of Trafficking for Commercial Sexual Exploitation through social mobilization and involvement of local communities, awareness generation programmes, public discourse through workshops/ seminars etc and any other innovative activity. The Scheme aims to facilitate rescue of victims from the place of their exploitation and place them in safe custody, provide rehabilitation services both immediate and long term to the victims by providing basic amenities/needs  such  as  shelter,  food, clothing, medical treatment including counseling, legal aid and guidance and vocational training, reintegrate the victims into the family and society at large and facilitate repatriation of cross- border victims to their country of origin.
Support to Training And Employment Programme for Women (STEP)
India's large working age population can make a significant contribution to the country's growth provided it is equipped to be productive. With respect to women, there has been a decline in women's workforce participation in India in the age group 15+ between 2004- 05 and 2011-12 from 33.3 percent to 25.3 percent in rural areas and 16.6 percent to 14.7 percent in urban areas. One explanation, which explains drop in participation is because of shortage of job opportunities for those with low or medium levels of skills outside agriculture. With this in mind, MWCD through its STEP Programme has been addressing occupational aspirations of poor women who do not have the opportunity of formal skill training. The STEP Programme, a 100% Central Sector Scheme has a 2-fold objective:
To provide skills that give employability to women
To provide competencies and skills that enable women to become self- employed/ entrepreneurs
The Scheme is intended to benefit women who are in the age group of 16 years and above.
Universalisation of Women Helpline Scheme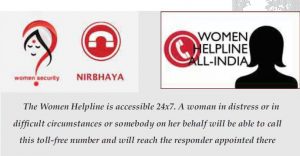 The Scheme of Universalisation of Women Helpline is intended to provide 24-hour immediate and emergency response   to   women   affected  by violence through referral (linking with appropriate authority such as police, One Stop Centre, hospital) and information about women-related government schemes programmes across the country through a single uniform number.
Department of Telecommunication, Government of India has allocated short code 181 to all States/UTs as Women Helpline (WHL). This number is compatible with all the existing telecommunication channels whether providing post/pre paid mobile or landline services through any public or private network i.e. GSM, CDMA, 3G, 4G etc. All the state/ district/ city level helplines whether private or public would be integrated with this women helpline.
The Women Helpline is accessible 24×7. A woman in distress or in difficult circumstances or somebody on her behalf will be able to call this toll-free number and will reach the responder appointed there. Based on the urgency and the requirements explained by the women, the responder will refer her to relevant support services like medical aid, police assistance or connect her to One Stop Centre for professional counseling, shelter, legal aid etc; if the women needs to be rescued or is in urgent need of medical assistance then the PCR Van from the nearest police station or ambulance from nearest hospital/ 108 service/ One Stop Centre(whichever is closer) would be dispatched. In case a woman need information about the laws and existing schemes of government then the call would be connected to the nearest One Stop Centre which will provide this information to her.
The helpline will also be accessed through text message for those who are unable to speak and will be sensitive to the needs of persons who are hearing and speech impaired or people with disability. It will have provision to locate/ trace the number from which a call has been received. In case woman has been interrupted during her call or was unable to specify her problem or her address due to being sick/disabled, then the same would be traced and within minutes, the helpline will facilitate an emergency response through the nearest One Stop Centre/ police station/ hospital.
Scheme for Working Women's Hostel
With the progressive change in the socio-economic fabric of the country, more and more women are leaving their homes in search of employment in big cities as well as urban and rural industrial clusters. One of the main difficulties faced by such women is lack of safe and conveniently located accommodation. Being concerned about the  difficulties  faced  by  such working women, the Ministry introduced a scheme of grant-in-aid for construction of new/ expansion of existing buildings for providing hostel facilities to working women in cities, smaller towns and also in rural areas where employment opportunities for women exist. The Scheme also promotes availability of safe and conveniently located accommodation for working women who  need  to  live  away  from  their families due to professional commitments. The Scheme also gives scope for day care facility for their children, wherever possible, in urban, semi urban, or even rural areas where employment opportunity for women exist.
The working women's hostel projects being assisted under this scheme is made available to all working women without any distinction with respect to caste, religion, marital status etc., subject to norms prescribed under the scheme.
While the projects assisted under this scheme are meant for working women, women under training for  job  may also be accommodated in such hostels subject to the condition that taken together, such trainees should not occupy more than 30 percent of the total capacity of the hostel. Children of working women, up to the age of 18 years for girls and up to the age of 5 years for boys may be accommodated in such hostel with their mothers.
Working women, who may be single, widowed, divorced, separated, married but whose husband or immediate family does not reside in the same city/area can avail of these hostels. Particular preference may be given to women from disadvantaged sections of the society. There should be also provision for reservation of seats for physically challenged beneficiaries.
Indira Gandhi Matritva Sahyog Yojana (IGMSY)
The vulnerable condition of pregnant and lactating women belonging to poor and economically deprived families across the country is well recognised. The Planning Commission in its Eleventh Five Year Plan document (Vol.II) noted that "Poor women continue to work to earn a living for the family right up to the last days of their pregnancy, thus not being able to put on as much weight as they otherwise might. They also resume working soon after childbirth, even though their bodies might not permit it—preventing their bodies from fully recovering, and their ability to exclusively breastfeed their new born in the first six months. Therefore, there is urgent need for introducing a modest maternity benefit to partly compensate for their wage loss."
To improve the condition of this vulnerable section of women, the Government of India introduced the Indira Gandhi Matritva Sahyog Yojana (IGMSY), a conditional cash transfer scheme for pregnant and lactating women of 19 years of age or above for first two live births to improve their health and nutrition status by promoting appropriate practices, care and service utilisation during pregnancy, safe delivery and lactation. It encourages women to follow (optimal) IYCF practices including early and exclusive breast feeding for six months as well. The scheme also contributes to better enabling environment by providing cash incentives for improved health and nutrition to pregnant and  nursing  mothers. The Scheme is implemented using the platform of Integrated Child Development Services (ICDS).
Beneficiaries  are  paid Rs.6000/- in three installments between the second trimester till the child attains the age of six months on fulfilling specific conditions related to maternal and child health to partly compensate for wage loss to mothers/women during pregnancy and period of lactation.
In 2013, the scheme was brought under the National Food Security Act, 2013 to implement the provision of cash maternity benefit stated in the Act.
The scheme was initially implemented on a pilot basis in 53 selected districts and will be scaled up to 200 additional 'high burden districts'.
Source: Ministry of Women and Child Development, Govt. of India