CSR Mandate – Enabling Sustainability
The task of enabling social sustainability encompasses facilitation of various CSR initiatives and their capacity building by helping them streamline their focus and convergence. When India made CSR a law, becoming the first country to do so, we as a media house decided to create a platform in print and web. Thus, CSR Mandate was born in order to complement, supplement and sensitise this great law. The magazine works towards knitting together policy makers, corporates and communities working towards similar goals. It provides a direction to them to work towards building a harmonious society where growth becomes inevitable as it is powered by educated, healthy, happy, robust and well-trained citizens.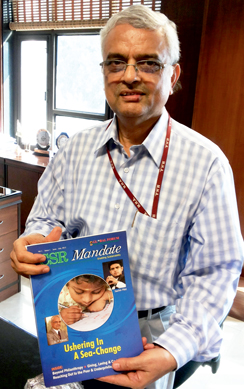 Launched by Shri. O.P. Rawat (then Secretary, Ministry of Heavy Industries & Public Enterprises, Department of Public Enterprises, Govt. of India, and recently retired Chief Election Commissioner of India) in June 2013, the magazine from New Media Foundation, an initiative of New Media, focus on the various issues as laid down by the Ministry of Corporate Affairs, Govt. of India, in the Companies Act, 2013. These issues range from education, healthcare, women empowerment, eradication of hunger, poverty and malnutrition, safe drinking water, sanitation, sustainability, rural, urban development, environment, relief and rehabilitation, micro enterprise, skilling, etc.​