Mumbai: With a vow that no one within a ten-mile radius of their centre goes hungry, Akshaya Chaitanya, an NGO in Mumbai, has initiated a feeding service for the family members of patients admitted to Mumbai's State-government run hospitals. The organisation's biggest ever centralised community kitchen in Byculla serves food to over 25,000 beneficiaries on any given day.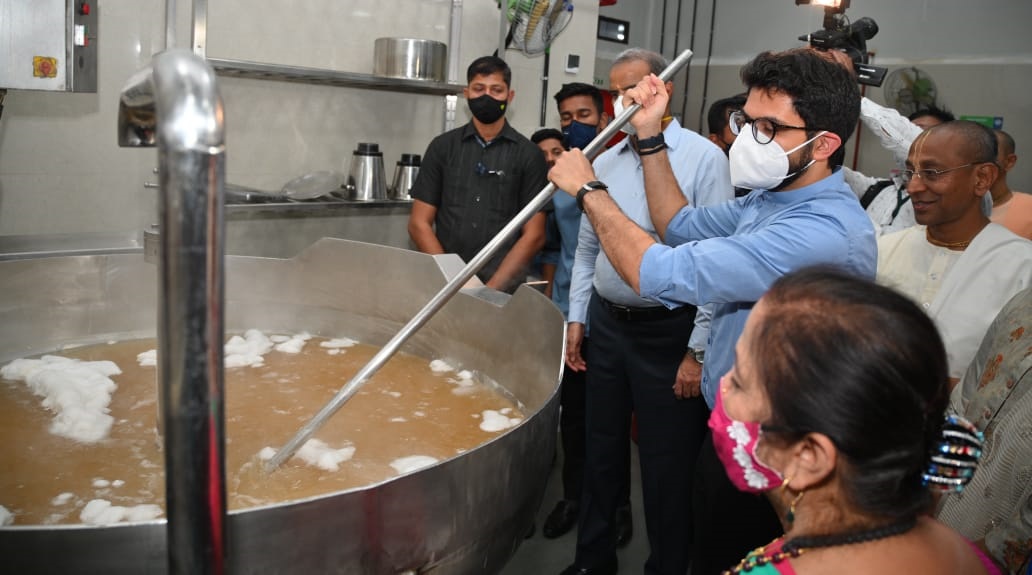 An initiative of the Hare Krishna Movement Charitable Foundation, Akshaya Chaitanya has partnered with the Brihanmumbai Municipal Corporation and the Directorate of Medical Education and Research (DMER), the Government of Maharashtra. To eradicate hunger in a sustainable and scalable manner, Akshaya
Chaitanya has started its feeding service. The foundation strongly promotes the idea of opening up opportunities and catering to the vulnerable section of the society in Mumbai by ensuring food security. Not only patients and family members of hospitalised patients, but the NGO also hopes to feed other vulnerable groups like migrants, slum dwellers and underprivileged children. Our initiative does not restrict us to feeding the patients in the hospital, but we also aim to start the school meal programme for the street children or those from the slum areas.
After having successfully served in Hyderabad, thus being able to achieve hunger-free Hyderabad through their various community service initiatives. The organisation currently has a centralised community kitchen with a capacity of serving food to 50,000 people every day. The organisation has also launched a Swasthya Ahara programme, serving free millet-based breakfast meals for more than 50-60 BMC schools on daily basis.
Nutrition has a large influence on health and is intricately involved in the development and normal functioning of the human body, thus it has the potential to affect both physical health and mental well-being.
Well-being, defined as 'the state of being or doing well in life can have major consequences for health and social outcomes and can have a direct relationship to what we consume and eat.
More than 50 per cent of all mental health disorders emerge before the age of 14 years. This sets the premise for immediate attention to nourish the children at an early age for ensuring their overall health and wellbeing.
In Indian culture, breakfast is said to be the most important meal of the day. It is a great way to give the body the refuelling it needs. Kids who eat breakfast tend to live healthier lives and are more likely to be physically active — two great ways to help maintain an active lifestyle.
Skipping breakfast can make kids feel tired, restless, or irritable. In the morning, their bodies need to refuel for the day ahead. Children if they are in school with an empty stomach can hardly pay attention to what is being taught in the classroom. Lack of attention means a lack of growth opportunities. Their mood and energy can drop by mid-morning if they don't eat something for breakfast. The lack of nutrition due to skipping breakfast can mean a lack of normal physical and psychological development.
To counter this gap between knowledge and nutrition, Akshaya Chaitanya, an NGO in Mumbai led by Hare Krishna Movement, launched the Bal Shiksha Ahara programme – a free breakfast initiative primarily concentrated on providing hot and nutritious breakfast to the underprivileged children attending Municipal Schools in Mumbai across diverse mediums like English, Hindi, Marathi, Gujarati and Urdu.
With a vision to make Mumbai, hunger-free, this is the first step towards achieving a considerable improvement in the health and well-being of vulnerable children in the society who deserve to be well fed as they are the future and they need to be available for optimum nutrition, knowledge as well as equal opportunities as any other privileged child.