New Delhi: Amrita Center for Wireless Networks and Applications (Amrita WNA), part of Amrita Vishwa Vidyapeetham, is running 40 projects in 13 villages across India to achieve rural electrification with smart grids.
Launched in 2006, Amrita WNA began as an R&D Centre with the vision of promoting, developing, and applying the use of wireless technologies to benefit society. It is actively involved in the research and development of the smart city, smart grid, microgrid, smart building, water conservation systems, etc.
Amrita WNA recently began a 3-year project called 'Stabiliz-E' with Indo-European collaboration. It intends to provide a cost-effective infrastructure and functional solution to combine local renewable energy sources with a high level of energy availability and sufficient quality of service for everyday use.
Dr Maneesha V Ramesh, Director, Amrita WNA who also holds the UNESCO Chair for Experiential Learning for Sustainable Innovation & Development, said, "About one-third of India's 600,000 villages do not have access to electricity -villages that do receive power intermittently with constant disruption. Amrita WNA decided to use its resources to light up rural India using smart grids. We launched 'Amritasphuranam'- a project which is the brainchild of Amrita's Chancellor, Mata Amritanandamayi Devi, who felt the need for a research project that would benefit rural communities. Under the excellent guidance and vision of our esteemed Chancellor, we have been successful in bringing about a positive change in India's villages."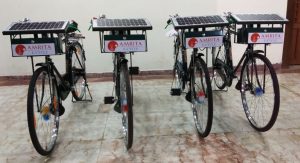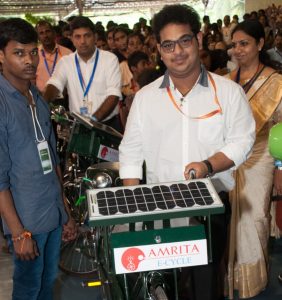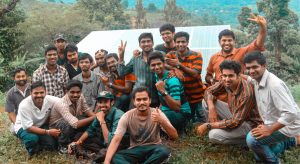 A group of Amrita researchers worked on a microgrid prototype to solve the problems of power theft, fault detection, and manual billing, among others. After a few years of research and testing, a sustainable model for a solar microgrid was developed. With funding from the Mata Amritanandamayi Math, a project called Amrita Sphuranam was established to light up rural India utilizing self-sustainable microgrids and renewable energy. The project was officially inaugurated on September 27, 2014.
Amrita Vishwa Vidyapeetham adopted Mothakara village in the Wayanad district of Kerala for the project. Mothakara was chosen because it had no access to power, which posed many issues to residents related to health, safety, hygiene, etc. The village is inhabited by a tribal population of 40 families comprising around 260 people. In September 2014, Amrita varsity achieved complete electrification of Mothakara by installing a solar power generation unit. The electrification of the village has paved the way for its socio-economic development. The varsity now provides training to the local community in running the grid, which can be remotely monitored and managed from the university's Amritapuri campus.
In another village of Komalikudi, a tribal settlement in Kerala, Amrita WNA implemented a plan to provide electricity to the village from the available hydro resources. The micro-hydro generator, constructed by the perennial water stream, now provides 24/7 electricity to 8 homes, 2 street lights, the multi-grade learning centre, the village's Anganwadi (pre-school), and the youth centre.
Amrita has also designed and installed a water distribution system in the village. Electrification of the village has helped improve socio-economic conditions in the village. More than 50 students can now continue their studies without being deterred by a lack of electricity. The multi-grade learning centre in the village also benefits from the supply of electricity during the day and for tuition classes in the evenings.
In a tribal village in Munnar, Kerala, a micro-hydro plant was deployed. The plant generates power and distributes it to 60 homes, streetlights and a learning centre in the village. Solar rooftop system and grid integration are also deployed to support the loads when there is no power from the micro-hydro generator.
Aside from this, Amrita has also been working on building water-wise communities by designing and installing water distribution systems in Orissa, Andhra Pradesh, Rajasthan, Jammu, Bihar, Uttarakhand and Maharashtra. 
Community

Key Energy Projects

Komalikudi, Valaramkunnu – Kerala

Byse – Karnataka

Devgain – Jharkhand

Ransai – Maharashtra

Nala – Uttarakhand

Gudipavacheru – Andhra Pradesh

Ratanpur – Bihar

Derbul –  Chhattisgarh

Guptapada, Kanka – Odisha

Indupur – Himachal Pradesh

Karkata – Jharkhand

·         Rural electrification

·         Smokeless cookstove

·         Smartgrid

·         Zero-carbon energy for income generation opportunities

·         Low-power heating solutions

·         Solar irrigation

·         DC Off-grid

·         Waste-to-Energy

·         Nanogrids

·         Off-grid animal intrusion  detection systems