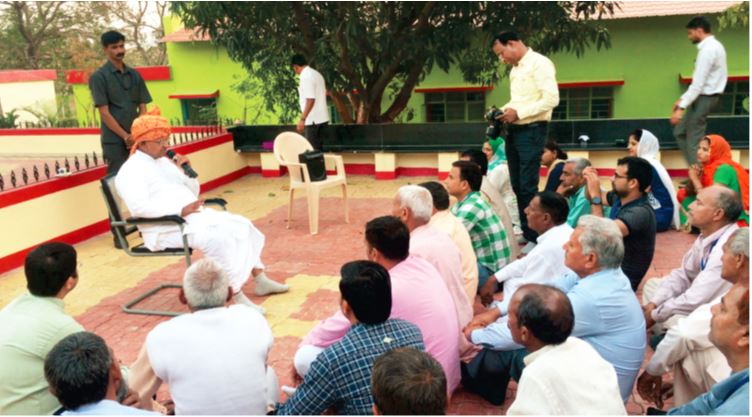 The community leaders of Tikli Village, Gurugram made a five-day tour to Ralegan Siddhi and Hivare Bazar, Maharashtra, to learn how to convert Tikli, a village in Gurgaon, modelled on Sansad Adarsh Gram Yojana. The delegation got the opportunity to learn from social activist, Shri Anna Hazare, and attend the training sessions by his team, including project visits to help them prepare a strategic plan for Tikli village.
Tikli is a village adopted by DLF Foundation with the objective of converting a rural hamlet to a Smart Village having all amenities with regard to rural infrastructure, education, skill development, healthcare, water and waste management systems and sound village governance structure.
A vibrant team of 25 community members from Tikli Village including the Sarpanch, Panchayat members, women leaders and school teachers attended the training sessions. The five-day trip was felicitated by DLF Foundation. A session was organised by DLF Foundation today at Tikli where the 25-member team who had visited Ralegan Siddhi shared their experiences and learning. Hundreds of villagers from Tikli attended the session to get insights of a model village.
Sharing her experience, Raveena Devi, Sarpanch, Tikli Village said, "The tour of Ralegan Siddhi was extremely beneficial in helping us understand the intricacies of development. We are truly inspired by the socio-political model of the village. It would not belong before Tikli emulates its success story. Thanks to DLF Foundation, our village would finally embark on the road of progress. Learnings that we had during our interaction with Shri Anna Hazare is going to enable us to enhance the village governance structure and design the village development projects with participation of the community. We have got several new ideas for inclusion in our village development projects like water conservation, environment protection, quality education, sanitation, Gram Sabha and transparency in governance, etc. to name a few."
"The five-day tour conducted by DLF Foundation is part of our long-term vision to improve the overall development parameters of Tikli and develop it as a Model Village. We look forward to empowering these leaders to drive the change that we want to see in Tikli and undertake more such initiatives," said Col. Prakash Tewari, Executive Director (CSR), DLF Ltd.
"The tour of Ralegan Siddhi turned out to be very fruitful. Ralegan Siddhi has a unique model of development which incorporates sustainable practices like environment conservation and solid waste management. The lessons of Anna Hazare further motivated us to develop Tikli on the lines of Relagan Siddhi," said Praveen Yadav, a young government school teacher from the village.
Speaking to the team from Tikli, Anna Hazare said "We need to strengthen Gram Sabha in the villages by periodic meetings and transparency in implementation government initiatives. Gram Sabha is self manifested and it is the one that sends its representatives to Lok Sabha and Vidhan Sabha. It can send as well as call off its representatives."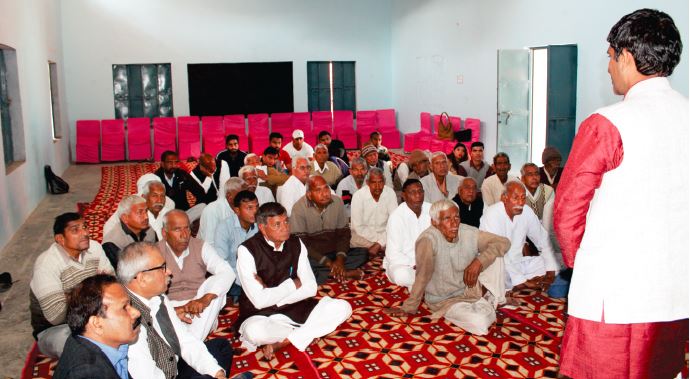 The Model Village Project of DLF Foundation proposes to set a benchmark for social and economic development model in rural locations of Gurgaon. The aim of the project is to improve the overall development indicators of the Tikli village so as to uplift the overall quality of life of the community. The Foundation has evolved its own set of parameters which are based on detailed assessment and review of government programmes for creating a Model Village. DLF Foundation has already established a Community Water Treatment System, crematorium, Free OPD Facility along with Medicine, upgraded the infrastructure of the government school as part of the several initiatives being planned with regard to education, livelihood, healthcare, skill development, waste management and village leadership development.
Ralegan Siddhi is a village in Ahmadnagar district of Maharashtra. It is considered a model of environmental conservation. The village has carried out programmes like tree planting, terracing to reduce soil erosion, and digging canals to retain rainwater. For energy, the village uses solar power, biogas (some generated from the community toilet) and a windmill. The village's biggest accomplishment is in its use of renewable sources for energy.
Hiware Bazar, situated in the Ahmednagar district of Maharashtra is India's richest village. The village boasts the highest per capita income in the country. With an overall population of 1,250, these villagers earn an average of Rs 30,000 every month. Out of its 235 families, 60 are millionaires. Hiware Bazar lies in the drought-prone Ahmednagar district. Prior to 1989, the village was facing several problems such as migration of the villagers to the nearby urban areas, high crime and scarcity of water. In 1990, after Popatrao Pawar was elected as the Sarpanch (village chief), the village used funds from government schemes and launched a programme to recover its past glory. The villagers implemented a drip-irrigation system to conserve water and soil, and to increase food production. They avoided crops like sugarcane and bananas, which require high use of water. The programme included rainwater harvesting, digging trenches around the hill contours to trap water, afforestation, and building of percolation tanks. These initiatives were complemented by a programme for social change, which included a ban on liquor, adoption of family planning, mandating HIV/AIDS testing before marriages and shramdaan.