New Delhi: ASICS, the true sport performance brand, announced its commitment to nurturing young talent in the field of wrestling in India. The Japanese sports major will work towards strengthening its focus in the sport of wrestling by harnessing the power of uplifting the minds of young athletes. Along with access to cutting edge apparel and footwear, ASICS reiterates its commitment to inspire youth to defy convention and choose a sound mind for a sound body first, for better performance.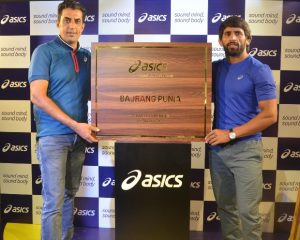 Arjuna Award recipient Bajrang Punia who was present at the ASICS India Connaught Place store shared his journey with the brand and how he wishes to engage more and more young aspirants in the field of Wrestling. He said, "India is consistently producing top wrestlers with representation at global platforms and therefore, an even better time for wrestling to prosper as a mainstream sport. Being an individual sport, the onus is on us as one community to act as a catalyst to promote the sport, encourage and develop young and rising sporting talent, enabling them to achieve their aspirations. Knowing I have the power of the ASICS brand behind my endeavour is a huge boost to see my vision for wrestling in India taking shape."
Present on the occasion, ASICS India & South Asia Managing Director, Rajat Khurana, presented Bajrang with a personalised set of ASICS' top gear including running and training footwear, apparel that will help the Olympian to achieve sharper goals at his game.
"We are very proud to be part of Bajrang's journey who has made every India proud. At ASICS, we are committed to supporting sports and enable young athletes of today to become the Bajrangs of tomorrow. We want to scale new heights and create more visibility for sports and athletics that can help young individuals achieve their sporting ambitions," said Rajat Khurana, Managing Director ASICS India and South Asia.
ASICS has been working with many young athletes and investing in grassroots initiatives to empower young boys and girls to take to sports. Some of the grassroots investments include the ASICS Running Club, Tata Mumbai Marathon, TCS World 10k and Rohan Bopanna Tennis Academy.
Indian athletes including Manika Batra, Bajrang Punia, Ravindra Jadeja, Sakshi Malik, Karman Kaur Thandi, Rohan Bopanna, T. Gopi along with international athletes like Novak Djokovic among others demonstrate the ASICS philosophy with pride.