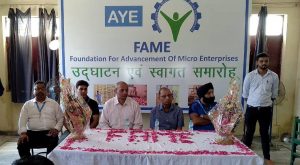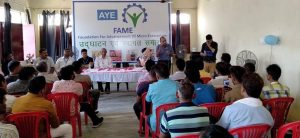 Meerut, September 10, 2019: FAME, the Section 8 Company of India's leading fintech lender Aye Finance, launched its first CSR programme for the sports goods manufacturers of Meerut. The programme, "Main 'FAME"ous Hoon' will work towards the holistic and sustainable development of MSMEs.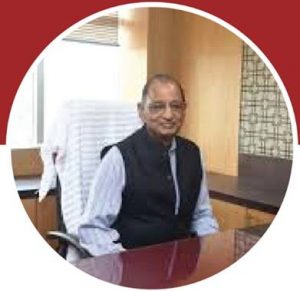 Aye Finance launched its Section 8 not for profit company – Foundation for Advancement of Micro Enterprises (FAME) in April this year to run its CSR interventions and contribute towards the development of the communities it operates in. Brij Mohan, who has previously served as the Executive Director of SIDBI, and is also referred to as the pioneer of micro finance in India, is the Chairperson of FAME.
FAME's maiden programme "Mein 'FAME'OUS Hoon" aims to tackle some of the most mission-critical aspects of MSMEs' growth and development.  Under this programme, FAME will run training sessions on improving quality of their goods, business documentation and level of compliances and offer them marketing advisory to make the sports manufacturers of Meerut more proficient and efficient in their business.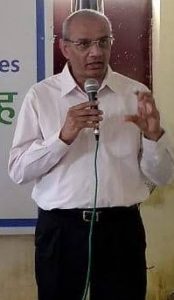 Commenting on the latest endeavour, Sanjay Sharma, MD & Founder, Aye Finance and Director FAME, said, "India's MSME sector has been hailed as the backbone of the nation's economy and we founded Aye Finance to support MSMEs in shouldering such a massive responsibility by easing their access to adequate business financing. And now, through FAME, we are attempting to overcome beyond financing challenges of micro enterprises and bridge the gap between their aspirations and opportunities. The response we received from micro enterprises of Meerut on the launch was very encouraging and furthered our resolve to make a difference to their lives and their communities."
Since its inception in 2014, Aye Finance has been working towards transforming the MSME landscape in India. Owing to its consistent focus and determination, Aye Finance emerged as the fintech leader in MSME lending, having disbursed over INR 2200 crores to 1,50,000 micro enterprises. It has marque equity investors supporting it in its mission of transforming micro enterprise lending in India – CapitalG, SAIF Partners, Falcon Edge Capital, Accion, LGT and MAJ Invest.