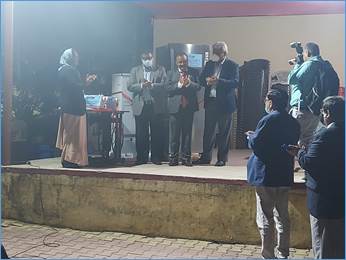 Ranchi: Atanu Kumar Das, Managing Director and Chief Executive Officer of Bank of India visited Cheshire Home, Ranchi, and donated a water cooler and fridge for its dining room as a part of the Bank's Corporate Social Responsibility (CSR) commitment.  Along with this, electric-operated sewing machines were also presented for skill-developmental residential training of women so that they can be trained with modern technology. Mr Das visited the Cheshire Home premises and spent time with the residential trainees, elderly and children and appreciated the welfare work conducted at the home.
Bank of India Executive Director – Swarup Dasgupta, National Banking Group General Manager – Bikram Kesari Mishra, and other high officials were present on the occasion. The children enthralled the guests with their welcome anthem. Sister George on behalf of Cheshire Home expressed her gratitude towards the Bank.
Since its inception in 1968 as a rehabilitation and vocational training institute for physically challenged men, women and children, the Cheshire Home has been acting as a ray of hope for its inmates who have been left here for better care and treatment by their kin. From education to vocational training to medical treatment, the home takes care of all needs of the special people lodged here. The home currently houses more than 60 inmates from marginal backgrounds. Most of the inmates are children with a considerable number of middle and old-aged people as well. Some children were sent here by their parents while others come from orphanages.