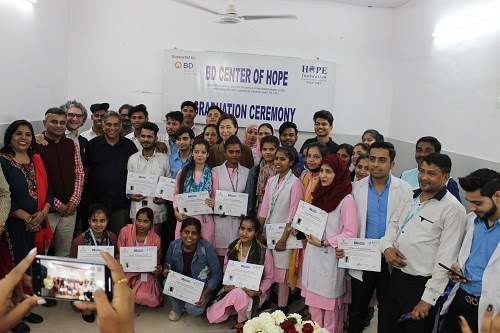 Delhi: Aligned with the Government of India's Skill Development Mission to strengthen existing skills and make the youth self-reliant, Becton Dickinson (BD) India, in partnership with the HOPE Foundation is helping upskill young adults in Tally and Nursing Assistants in East Delhi.
Initiated in 2018, this project has trained over 1370 students from low socioeconomic backgrounds and enabled employment for over 70 per cent of beneficiaries, largely women. 
Fifty students from the 17th batch of the BD Village of HOPE, East Delhi were handed their course completion certificates recently. The students were imparted Nursing Assistant and Tally operator training over a period of three months by the faculty from the project's implementing partner HOPE Foundation. The Nursing Assistant students also underwent 6 months of on-the-job training. They were evaluated by a third-party organisation ID Tech Foundation, a partner with National Skills Development Corporation (NSDC), and issued a certificate of course completion.
Commenting on the initiative, Atul Grover, Managing Director, BD India/South Asia said, "We are inspired by our purpose of advancing the world of health and our cultural priority of driving inclusion and diversity. We chose HOPE Foundation in their efforts to enable the village of HOPE to upskill and earn sustainable livelihoods as it directly aligns with our priority of driving inclusion. We are extremely happy seeing the current and future impact we are creating. As a global corporate social citizen, we are immensely proud of creating a better tomorrow for the youth of today." 
Speaking on the occasion, Ian Correa, Executive Director, HOPE Foundation shared, "An investment of about Rs. One Crore has resulted in a cumulative income of more than 10 times for the 1370 students who have been trained till end-December. We are extremely happy to have a partner in BD that is aligned in the commitment to be an enabler in skilling the young for a brighter future." 
A recent HOPE Foundation analysis noted that about 90 per cent of the students stayed with the same organisation even after one year of finding a placement and their income went 1.5 times in this period. 
Lauding the efforts of BD and HOPE Foundation, Armaan, a student said, "I was going through a difficult phase of my life as my father's income as a painter was not sufficient to support the whole family of seven members. I chanced upon this opportunity to acquire a new job-oriented skill free of cost. Thanks to BD Village of HOPE, at the age of 20 years only I am able to contribute to my family income as well as support my sibling's basic education."
The two courses offered by Project HOPE – Nursing Assistant and Tally training are run in parallel for three months each. The criteria to offer the free courses to students is one, a 10th Class Pass certificate and two, a demonstrable economic need. All the students are also trained in basic English-speaking skills and there is a provision for hands-on practical sessions for both courses. The NA students undergo additional on-the-job Training for six months in reputed public or private hospitals.