Bengaluru, January 10, 2021: Several of Bengaluru's top Corporate Executives took part in a 40-kilometre fun cycle ride titled 'The Signature Ride', hosted by the Brigade Group. The Signature Ride was held for a special social cause, wherein the Brigade Group made a donation on behalf of the cyclists to the India Cares Foundation to procure bicycles for less fortunate children. All necessary COVID-19 measures were put in place. This bio-secure, GPS enabled ride was flagged off by Bhaskar Rao, ADG of Police, Internal Security and Ex-Commissioner of Police, Bengaluru, in the presence of Nirupa Shankar, Executive Director Brigade Enterprises at 7:00 am from Signature Towers at Brigade Golden Triangle, an iconic landmark that provides an ideal seamless ecosystem with an emphasis on the workplace, well-being, productivity and leisure.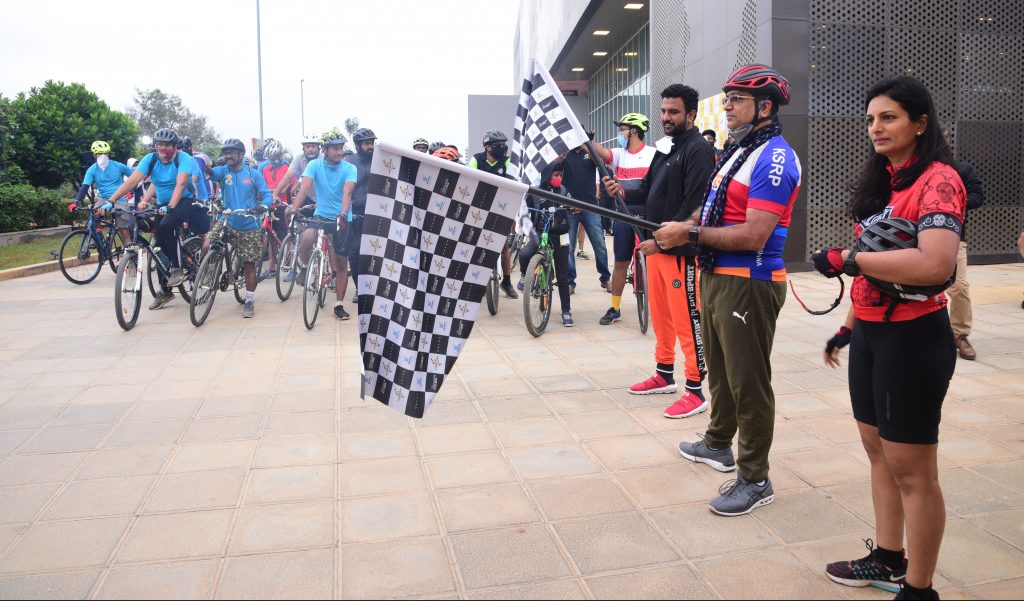 Speaking at the flag-off, Bhaskar Rao said, "My sincere thanks to Brigade Group for organising this Brigade Signature Ride and bringing the cycling community together. We still need to be very careful, because we have not really left the pandemic behind. As a part policymaker and part policy regulator, I have seen that the cycling community in Bengaluru is growing in numbers and the day won't be very far off when, by sheer numbers, we will overtake both Paris and Amsterdam. I urge all participants to keep in good condition mentally, physically, psychologically and emotionally and enjoy the Brigade Signature Ride."
Commenting on the initiative, Nirupa Shankar said, "The on-going pandemic has shown us the importance of focusing on our health. Cycling is a hobby a lucky few have had the chance to pick up during the lockdown, if not earlier. Brigade Group will make a contribution on the participants' behalf to India Cares Foundation, who will use the funds to procure bicycles for less privileged children living in villages in and around Hoskote, allowing them to reach their schools quicker. Being socially responsible is one of Brigade's core values and we are excited to find new ways to abide by this."
"Thanks to Brigade's initiative students who get these cycles will not only improve their physical fitness but also enhance their health, mental abilities, better focus on education as they get to school on time. They will no longer have to walk two to three kilometres," said Meena Dave, CEO, India Cares Foundation.
The route was expertly planned such that it took participants in and around the Hoskote countryside with multiple checkpoints set up along the route to provide water and essentials to the cyclists.  Flags and road signages were also set up to indicate directions, turns and road humps, right from the flag off point, Signature Towers. Signature Towers is part of a thriving micro-economy, within an integrated enclave, complete with Holiday Inn Express Suites, Orion Uptown Mall and Brigade residential properties which allow luxury work as well as work luxury living.