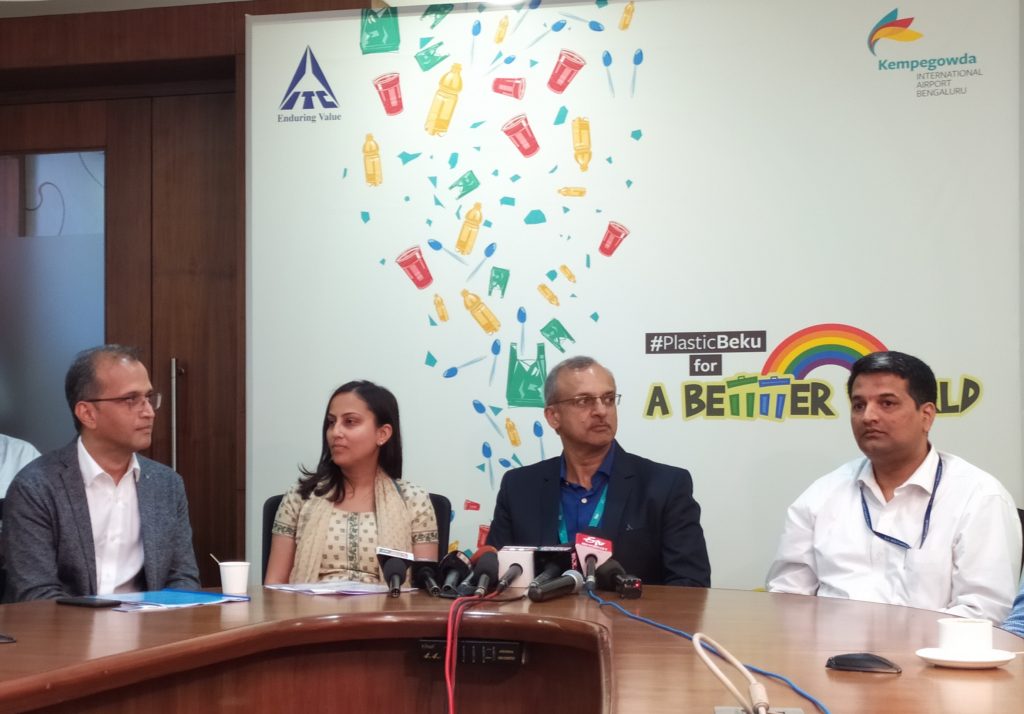 Bengaluru, September 26, 2019: In a major initiative called #PlasticBeku, Bangalore International Airport Limited (BIAL) – operators of the Kempegowda International Airport, Bengaluru (BLR Airport), in partnership with FMCG major ITC's Foods Division and popular national radio channel Big FM, are encouraging the citizens of Bengaluru to give their plastic waste to build roads within the BLR Airport campus. This unique campaign also looks to raise awareness about waste segregation at source to create a cleaner, greener and more sustainable environment.
The #PlasticBeku collection programme will be undertaken at three BIAL-adopted schools – BettakoteGovt Lower Primary School, Vijayapura Government Higher Primary Girls' Model School and Ardeshanahalli Government Lower Primary School – and five Panchayats of Devanahalli Taluk as well as in private schools and Resident Welfare Associations in North Bengaluru. Students and teachers, who can make a meaningful contribution to reducing plastic waste, will be encouraged to give their household waste plastic to BLR Airport.
BIAL will continue the partnership with ITC Ltd to extend the collection drive to 20 more schools across Bengaluru, and receive plastic from their Better World programme. With every Indian pledging for a better world, Sunfeast Yippee! will contribute 1 Kg of plastic towards road construction at BIAL. KK Plastic Waste Management, the agency that has the technology to mix waste plastic with bitumen, will carry out collection on an ongoing basis.
BIAL will use the plastic waste collected through this drive to pave its internal roads. After a successful road trial using a mix of plastic and bitumen, BIAL has decided to go ahead with building polymerised roads that have a strong binding ability and are able to withstand extreme weather conditions. Based on scientific research, it has been found that these roads are expected to last longer than asphalt roads. With a vast network of roads within the campus, BIAL, over a period of time, would need many tonnes of waste plastic to meet its requirement.
Commenting on the initiative, Tom Shimmin, Chief Project Officer, BIAL, said, "As an Airport, we generate a large quantum of waste each day. BIAL has, however, have been ahead of the curve in managing our waste – including plastic – in a very responsible manner. Eliminating irresponsible use of plastic is just one among BIAL's many sustainable initiatives. Building strong and durable roads with waste plastic is an easier and more ecologically efficient way to dispose plastic waste that is otherwise scattered all over. We have always believed that BIAL must lead the way and be a role model for sustainable development. The #PlasticBeku campaign is one initiative that we believe can change the world."
Commenting on this endeavour, Kavita Chaturvedi, Chief Operating Officer, Snacks Business at ITC Ltd, shared "SunfeastYiPPee! is committed to creating a clean and green environment by spreading awareness about source segregation and recycling of dry waste. In alignment with our brand ethos of 'A Better World', Sunfeast Yippee! is delighted to partner with Bangalore International Airport Limited (BIAL) and contribute to the development of a road using recycled plastic. We urge the citizens of Bengaluru to come forward and support this cause to create a better and secure future."
Sunil Kumaran, Country Head – Product, Marketing and THWINK BIG, BIG FM, said, "As a brand with a philosophy of 'DhunBadalKeTohDekho', BIG FM aims to provide entertainment with a purpose. As a brand, we are converting waste plastic into useful roads instead of banning plastic usage, this synchronises beautifully with our philosophy. This will help in bringing about a positive change in the society. We are excited to be working together with BIAL and ITC in this initiative."