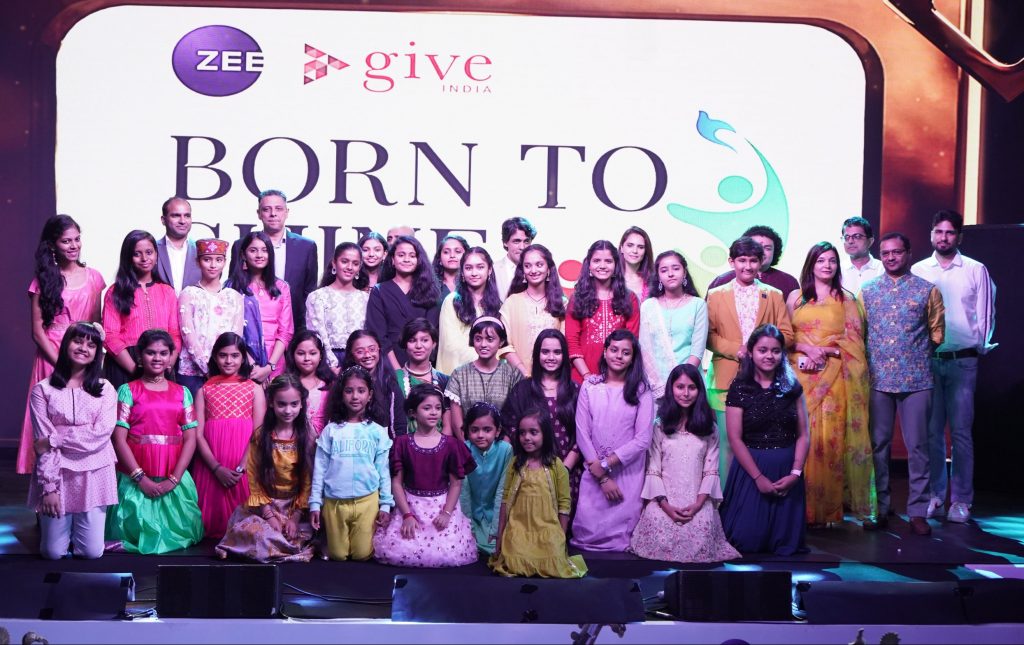 Bangalore: Born to Shine – ZEE's flagship CSR initiative in partnership with GiveIndia, felicitated the top 30 girl child prodigies at an event hosted in Mumbai. It was an evening of celebrating Indian art forms and stories of talented girl child prodigies who will receive support to hone their talent through the scholarship and mentorship programme. 
Punit Goenka, Managing Director and Chief Executive Officer, Zee Entertainment Enterprises Limited, Zarina Screwvala, Managing Trustee & Director, Swades Foundation; Dr Bindu Subramaniam, Co-Founder & CEO, Subramaniam Academy of Performing Arts; Samara Mahindra, Founder & CEO, CARER; and Rupak Mehta, Founder, Brahmnaad Cultural Society graced the jury panel. The prodigies were individually felicitated by the jury members.
Launched in May 2022, the scholarship programme's mission is to nurture girl child prodigies and empower them to pursue their talents in the field of art and culture. The programme, open for girl child prodigies between the age of 5 to 15, received more than 5,000 eligible applications across the country and the shortlisted candidates were auditioned across eight cities.
Speaking at the inaugural event, Punit Goenka, MD and CEO, Zee Entertainment Enterprises Limited said, "For us to truly succeed as a Nation, we must nurture girls and their unique abilities, for they are the pride and future of our country. At ZEE, we are humbled to have played a small part in inspiring this change, not only by breaking stereotypes through our content on screen but even through various social initiatives that champion the cause of women and girls at the grassroots level. 'Born to Shine' is yet another effort from our end to enrich the lives of girl children, by being the wind beneath their wings and serving as a springboard to their success. I truly hope that this initiative helps the 30 selected girl child prodigies pursue their passion and achieve immense success; and as a result, give the rich arts and culture across our country, a new lease of life."
The evening was dedicated to celebrating the beauty and the different hues of Indian art and culture.
Sarod icons – Amaan Ali Bangash and Ayaan Ali Bangash; ace violinist Dr Sangeeta Shankar and her daughters, Ragini and Nandini; and the renowned dancer Guru Shubhada Varadkar performed at the event to encourage the winners. 
Speaking on the occasion, an overwhelmed Dr Bindu Subramaniam said, "I think talent is prevalent everywhere, and what children need are opportunities. I think Born to Shine is a great way to find and mentor talent from underserved communities, which is something that I and SaPa have always felt is important. I'm grateful to be able to contribute to this project and can't wait to meet the talent that is out there."
Samara Mahindra was all praises for the parents who dedicate their lives to mentoring and moulding their child's talents into a sustainable and refined form. "Indian culture is one of the oldest in the world and can be traced back to pre-historic settlements as early as the 3rd millennium. Programmes like these which encourage the youth are imperative to give the fine arts system the importance it deserves. Additionally, it's essential to help stay connected with our roots and take pride in doing so."
Zarina Screwala expressed," I would like to congratulate ZEEL and GiveIndia for this one-of-a-kind scholarship programme that aims at empowering young girls to pursue art and culture. Art is not objective, with a set algorithm to deliver the end product. It encompasses a lot of intangibles like imagination, empathy, perseverance, and patience. I hope that with endeavours like Born To Shine, our society starts accepting art forms as a career option soon.
Rupak Mehta added, "In today's dynamic world, ideas like BORN TO SHINE are the need of the hour because these young talented minds need a professional setup and mentoring to sustain their art in the longer run. This scholarship and the mentorship programme are like a blessing.
Talents have been revered and celebrated for aeons in our culturally rich nation. But, not many have come forward to champion a cause for girls, especially for the ones who show immense promise at an early age. ZEE's flagship CSR programme – Born To Shine is indeed a harbinger of hope for the aspirants of our society.