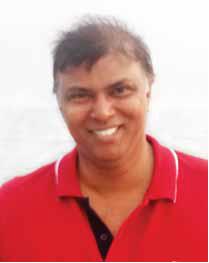 The World Bank estimates there are 463 million people in India living below the poverty line – that's 33 percent of the world's poor population. To break this cycle of poverty, education is an issue that needs to be addressed. India's literacy rate has steadily increased in 2014 to 84 percent, having accelerated drastically in the last five years. Below are key aspects to address the cause of education.
I. Implementation Models

    a. Mid-day Meal Programme
There are a set of programmes run by the government and NGOs to attract children to school. The most notable amongst them is the mid-day meal programme implemented by the government and NGOs. This very successful programme has increased enrolments and the health of school-going children. Implementation agencies like Akshay Patra Foundation and Annamrita ISKCON have delivered consistently, efficiently and have achieved significant scale. Akshay Patra for example covers 10 states with 1.4 million children as beneficiaries in 10,845 schools. Annamrita covers eight States and 1.2 million children. The positive impact of the mid-day programme has increased attendance upto 95 percent and enrolments have increased in schools significantly.
    b. Supplemental Public School Education
There are NGOs like the Akanksha Foundation, Sikshana Foundation who adopt
existing government schools and supplement the existing system with enhanced learning experience to improve quality of education and attendance. Sikshana has come up with a unique model of assigning a teacher to a cluster of schools with a specific objective of filling the specific need of the school. With this approach, a very cost-effective way of providing adequate number of teachers to every school has been demonstrated across many blocks or talukas. Sikshana has impacted over 1100 schools in Karnataka, Andhra Pradesh, Gujarat and Maharashtra covering over 1.8 lakh children. There are many such supplementary education models incubated across the country which have helped raise quality of education while delivering education on a mass scale.
II. Scalability
The problem is so huge in our country and the need is so urgent that we need to address the issue at an enormous scale. When we talk of delivering social programs, there is no other entity but to use government machinery. The government has stepped up in evolving working scalable models and upgrading infrastructure. Building toilets in government schools have increased enrolments and attendance of girl children. Increasing teachers' salary through the Pay Commission has attracted better quality of teachers and retention of good teachers in the public school system.
There are also NGOs and private players who are supplementing government efforts in building scale. An NGO Kalinga Institute of Social Sciences (KISS), Bhubaneswar, Odisha is the largest free residential institute for tribals in the world. It provides accommodation, food, healthcare and education from kindergarten (KG) to post graduation (PG), vocational training and all other basic amenities of life absolutely free to 25,000 underprivileged indigenous tribal children with a job assurance after completion of education. So it is not that scale can be achieved only by government but private efforts can also supplement the government.
III. Enablers (Government & Policy)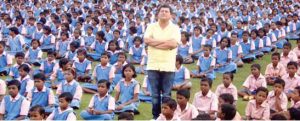 An important aspect of rolling out education is also about enabling the process. The Government is the most important enabler and has been a constant enabler in setting the agenda by bringing focus and attention on education through policy by initiating the "Sarv Siksha Abhiyan" or "Education for All". New laws like Right to Education (RTE) have become enablers in rolling out various educational programmes across the country for all stakeholders. Yes, there will always be an ongoing debate on the reach and impact of the laws, schemes and policies, but given the scale and depth of the issue, the direction and path for change has been set.
IV. Funding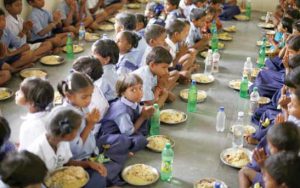 The most important component to roll out and sustain these programmes is financial funding. The biggest player, the Central Government, has ensured sustained funding through mandatory taxation specifically for education. There is increased financial allocation towards education even at the State government levels. Even with donors across NGOs, education as a cause seems to always get the maximum share of donations as compared to other causes. Give India, an online donation platform saw 30 percent of its donations in the last financial year being made towards education as a cause and the quantum of donations has also been increasing over the years. More efforts are needed to eradicate poverty in the country and education is the best way to fight poverty.
Vikas Puthran is Vice President – Corporate Alliances, GiveIndia. He is also a Board Member in a private school in Mumbai.