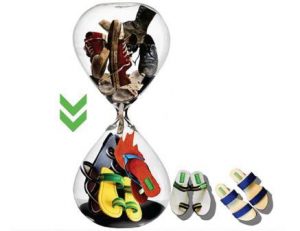 Oftentimes, we do not spare a second thought when throwing away our uncomfortable or worn out shoes. We are spoilt for choices with diverse range and designs flooding the market. Yet, in our abundance, there exist millions who are not able to afford even a single pair of simple footwear. Two young purpose-driven men – Shreyans Bhandari and Ramesh Dhami saw the oppor tunity of conver ting old footwear into brand new ones to clad many a bare feet but also do their part in preserving the environment. Atula Imchen spoke to Shreyans Bhandari, Co-founder, Greensole regarding this special initiative and their mission of keeping as much footwear out of the landfill as possible.
How did this noble initiative of providing footwear to the underserved come to you? What was your approach when you started this venture?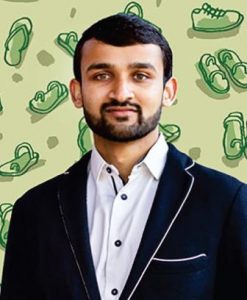 Firstly, let me share the genesis of how this venture came to be. Being a national   level athlete with many wins to his credit, Ramesh used to throw away three to four pairs of shoes every year as they became unfit for running. Financially strapped then, he wanted to reuse the shoes and thus experimented and unexpectedly made footwear out of the worn pairs for   his personal use. Regular joggers and runners at the park were very impressed with the improvised footwear and really liked them. Ramesh wanted to take it forward but with no formal education and exposure in business matters, did not know how to go about it.
Being an athlete myself, I frequented the same park as Ramesh to practice my running. Ramesh and I struck a friendship and we began practicing together. I really liked what he was doing and somehow knew intuitively that this could be big one day.
'Right from the beginning, Ramesh and I always wanted to find a way to decrease the pressure on the environment. Greensole is our way of doing so'
During my second year of college, I overheard my teacher talking about a competition at the Entrepreneurship Development Institute of India (EDDI) Ahmedabad. A revelatory moment hit me and I decided to take the idea of making shoes to footwear to this competition. As part of the competition, I had to fill various details about my    perceived market size, the innovation and social impact and thus gathered that if made viable, it will have a huge impact both socially and environmentally. Eventually, we made it to the Top 30 Innovators of the competition and people started buying the prototypes right off the shelves. This made me realise that the project had scalability as well. I also came to know that I can apply for patents so we got two patents for the unique designs we had created for the competition. After this, a series of events led us to where we are today.
Right from the beginning, Ramesh and I always wanted to find a way to decrease the pressure on the environment. Greensole is our way of doing so. It is based on a social approach and now we have intertwined it with a business model to scale the impact.
Do you have your own manufacturing unit? Can you guide us through the process? How much footwear has been generated so far?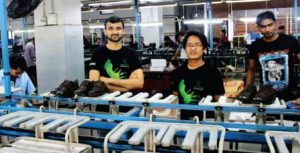 We do not have our own manufacturing unit but we are partnering with RAM Fashion Exports Pvt. Ltd and its directors. RAM is a leading export house in India supplying to brands like ALDO, H&M, Marks & Spencer and many more. They employ 1,500 workers and have a manufacturing capacity of 1.5 lakh pairs/month. Our tie up with them has really strengthened our vision by adding back-end strength to execute.
We have tie ups with organisations that are providing us with discarded shoes. Once the shoes reach our unit, they are taken apart. The soles go for die cutting to standardise the sizes and a new upper is created to be put together. We use parts of the shoe to make uppers for slippers and other recycled materials, thus reusing a non-biodegradable shoe.
We have donated 15,000 footwear so far and this year we would be donating 100,000 pairs in partnership with Axis Bank, Make My Trip and India Bulls.
How do you identity beneficiaries or are you collaborating with NGOs to distribute them? Is this pan India?
We have a team which is constantly on the ground surveying locations where people do not have footwear, while we get information from NGOs like Talapatra, Pratham and Rural Relations. We do distribution on our own, pan India.
We have donated to Jawhar, Uran, Talasari, Murbad in Maharashtra, and also in Gujarat. Our next major drive will be in partnership with Axis Bank. They are sponsoring 10,000 pairs and these will go to school children in Lucknow dist, UP.
Throwing away our old, though still wearable footwear comes easy to most of us. Yet you took these discarded items and refurbished them into something functional and comfortable. Tell us about the different aspects of your decision to start Green Sole.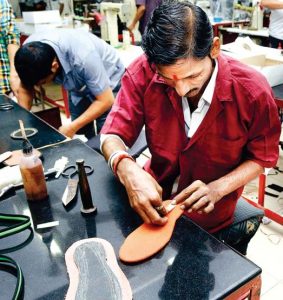 Half of the world's population lives on an income of less than $2.50 per day. This fact indicates the inability of 3 billion people to afford even a pair of slippers. Lack of proper footwear is more than a simple inconvenience of lack of comfort. Millions are infected or dying each year due to diseases like elephantiasis, tungiasis, etc contracted through unprotected feet.
'We have tie ups with organisations that are providing us with discarded shoes. Once the shoes reach our unit, they are taken apart. The soles go for die cutting to standardise the sizes and a new upper is created to be put together. We use parts of the shoe to make uppers for slippers and other recycled materials, thus reusing a non-biodegradable shoe'
Manufacturing a pair of shoes involves a total assembling of upto 65 discrete parts in 360 steps, which generates 30 lbs of emissions; equivalent to leaving a 100-watt bulb burning for a week. 20 billion shoes are manufactured each year which causes huge environmental emissions. Upto 45 lbs/pair as per a research by MIT and an estimated 350 million end up in landfills.
Greensole solves these two problems by bridging the gap and also creates employment in the process of refurbishing shoes. And I am glad to say that Greensole has been able to save 45000 lbs of CO2  being  emitted in the atmosphere.
How do you manage to sustain the movement?
We are receiving lot of corporate donations, individual donations and have also started our own retail range on used footwear repurchased by us to sustain and grow the impact. My vision is not just to sell recycled footwear but also to provide these to the billions of people who cannot afford them. And we are proud to say that we are the pioneers in refurbishing sports shoes to slippers.
What has been the response since you initiated Green Sole? Can you share some testimonials from some of your beneficiaries?
Response from the public, media and corporates has been phenomenal right from the beginning.
I also got a letter from Ratan Tata and Barack Obama, when I wrote to him about Greensole, sent a copy of my book "Birds of Aravallis" and also about the school I am running where we are developing women leaders.
Let me share a heartwarming story.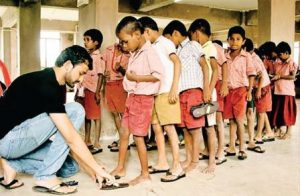 Sixteen year old Jagriti Khurkute looked at her worn out slippers and wondered when she will be privileged to possess her very own footwear. She is used to wearing hand-me-down clothes and slippers belonging to her elder sister. The only problem is that once the slippers break, as they often do, her parents are not able to buy another pair immediately. Jagriti is a Class X student of Government Primary Ashram School in Hiradpada in Jawhar, Thane district which is partly aided by the Maharashtra Government. Being in a residential school, her need for a pair of footwear is superseded by that of her sister, who has to walk 8 km to college every day.
Her parents are poor farmers, whose annual income is less than Rs.25,000. It is therefore difficult to purchase new shoes when there are far more important expenditures that require their attention, like the burden of unpaid loans, her brother's educational fees, daily household needs, etc. Though the government's Sarva Shiksha Abhiyan promises free uniforms for children between Classes I-VIII, and the school make sure the students have the required stationery, books, daily meals, etc., footwear has never been on the list of priority.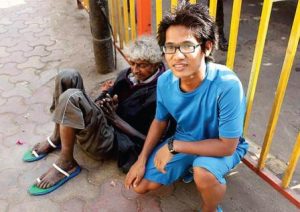 One fine day, Jagriti and her classmates received an unusual announcement. They would be given new slippers to wear! The students looked at one another in amazement with big smiles on their faces. "The teacher then called us one by one and took down our foot measurement.
'Greensole has been able to save 45000 lbs of CO2 being emitted in the atmosphere'
We made a countdown to the D-Day when we would be proud owners of a new pair of slippers. Our happiness knew no bounds when the day finally arrived and especially when we were given our very own pair of slippers. I now wear mine everywhere," says an excited and grateful Jagriti.
"Jagriti is lucky because she lives in the school hostel. Many other students walk through the jungles and hilly terrain to and from school, often 4-5 km each way. They play without shoes and are often bruised and hurt due to this," says Medage Rohidas, Headmaster of the Government Primary Ashram School, Hiradpada.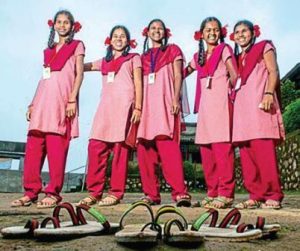 According to a report by the World Health Organization (WHO) published in 2013, around 1.5 billion people worldwide live with diseases that could have been prevented by using footwear. Soil-transmitted helminth infections are caused by different species of parasitic worms. Among these, hookworm eggs which hatch in the soil, release larvae that mature into a form that can penetrate the skin. People become infected with hookworm primarily by walking barefoot on contaminated soil.
Aside from being given shoes, children at the ashram school were told about the health risks of walking barefoot. Jagriti now wears her slippers in school, during her playtime and especially when she goes home. "I help my parents in the field whenever I go home. Having slippers to wear has made my work in the field very comfortable as it is usually wet," she says.
"My friends from the village often ask me where I got the slippers because they can see how they have made my life more comfortable. I hope my friends get them too so they do not have to walk barefoot anymore," says Jagriti.
What is the collection mechanism being implemented to collect discarded shoes? How can our readers reach you if they would like to donate old shoes or wish to support Green Sole?         
We have a few collection centers in Mumbai, which are at PDP Neapen Sea Road, Marol Andheri East, Powai and Navi Mumbai. After the launch of our video, people from different parts of the country have couriered tons of shoes to us. Employees from many corporate houses have collectively donated their gently used shoes in good condition and $3/pair to refurbish and donate the footwear. We also have manufacturers and footwear brands like Crocs who are recycling with us.
We accept donations in cash and kind. Through our website, one can donate or buy a pair of Greensole.
To send us shoes, they can courier the same to Greensole, C/O A463, Ram Fashion Exports Pvt. Ltd, MIDC, Mahape, Navi Mumbai- 400701
What is the way forward for Green Sole?
We are donating 100,000 walks this year, scaling our retail and setting up workshops in rural areas for localised refurbishing and donation towards our long term mission of footwear on every feet forever.