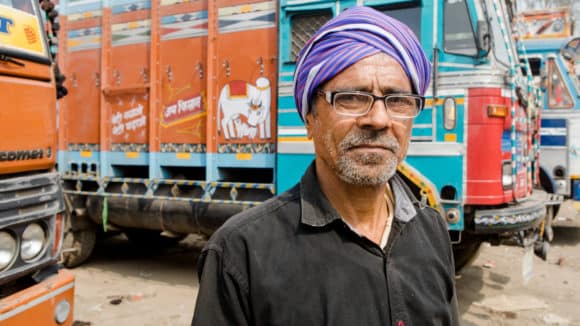 New Delhi: VisionSpring, India Vision Institute, Sightsavers India, and Mission for Vision hosted the 2nd annual Vision and Road Safety (VARS 2.0) Conference to raise awareness about the need to integrate vision screening and eyeglasses into the global and national agendas for road safety. More than 100 leaders from eye health and road safety sectors deliberated the issues and ways to scale up access to vision correction for drivers and allied transportation workers in order to reduce the risk of vehicular crashes and associated injuries and deaths.
The VARS 2.0 Conference builds upon last year's first-ever Vision and Road Safety (VARS) convening. Through their combined efforts to date, the co-hosts have screened the vision of 13.55 lakh (1.35 million) commercial vehicle drivers, helpers, cleaners, mechanics, and other transport workers in India. The participants discussed ways to build vision screenings into the National Road Safety Plan and the unique challenges of providing eye health services to this floating population in a sustainable manner.
In July 2022, UN General Assembly adopted the 2020 resolution for 'Improving Global Road Safety' proclaiming the Decade of Action for Road Safety 2021-2030, with the ambitious target of preventing at least 50% of road traffic deaths and injuries by 2030. Helping drivers with clear vision through eyeglasses would accelerate the achievement of the UN resolution's objectives.
Poor eyesight is a key contributor to road accidents in the world. India's nearly 1.5 lacs road deaths annually account for 11% of the total global deaths caused by road accidents. Numerous vision initiatives with commercial driving communities reveal substantial levels of uncorrected blurry vision – both distance vision required to judge oncoming traffic and avoid hazards on the road as well as near vision to see navigation apps – among truck, bus, and automobile drivers. With the increase in road networks and freight activities in the country, road accidents, and deaths are also rising. Given the situation and the fact that 90% of driving decisions are made from vision, there is an urgent need to include vision correction in the package of preventative measures such as seat belts, reducing speed, road and intersection design, overloading and defensive driving.
The conference was attended by key government stakeholders from Health and Transport, NITI Aayog, public health experts, industry partners, vision science researchers, health and transport stakeholders, and Corporate Social Responsibility leaders. 
VARS 2.0 Conference deliberated upon the importance of vision in road safety, looked into the current preventive health initiatives taken within road safety measures, and the scope of partnerships and resources required to address this important public health issue.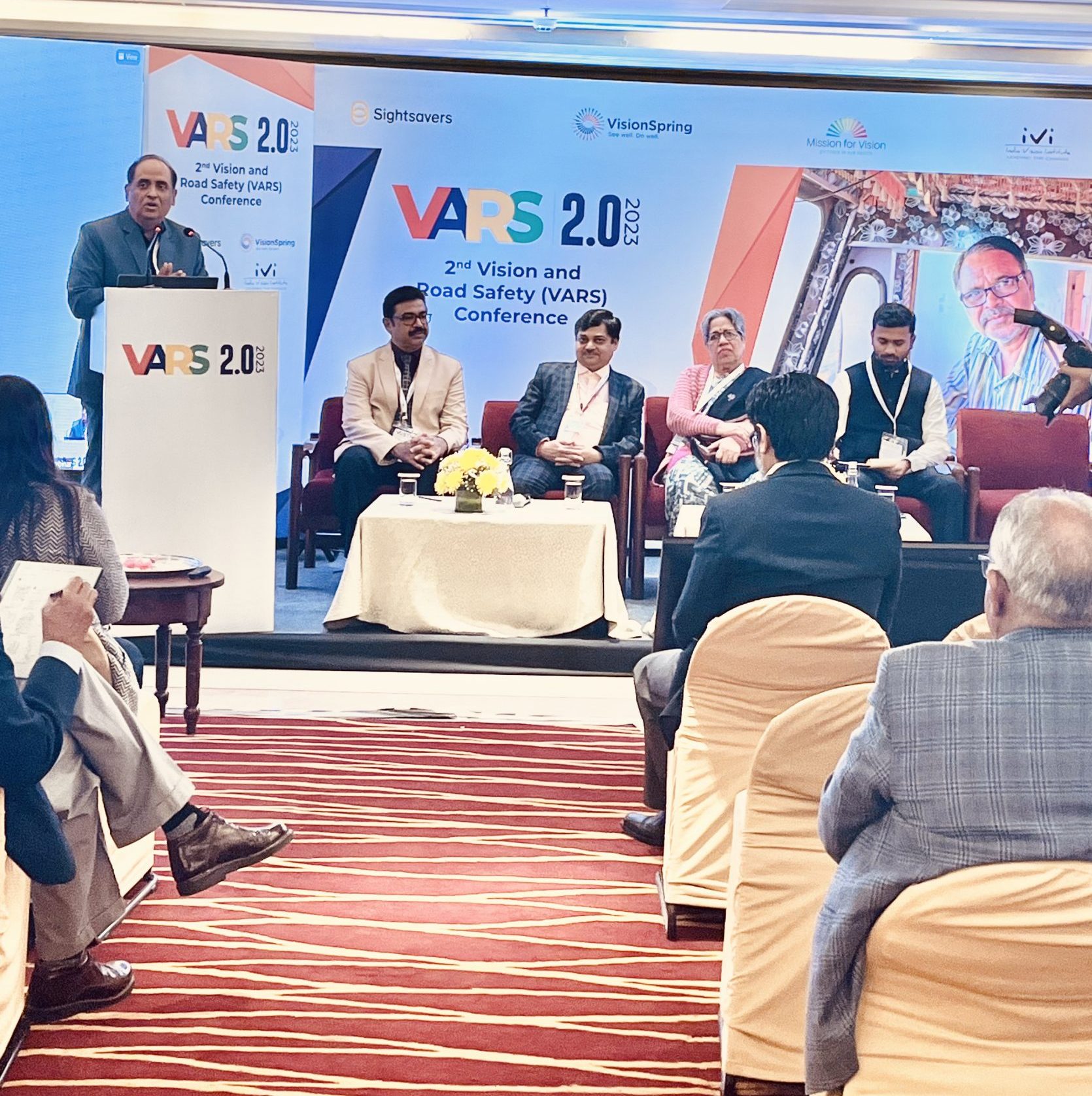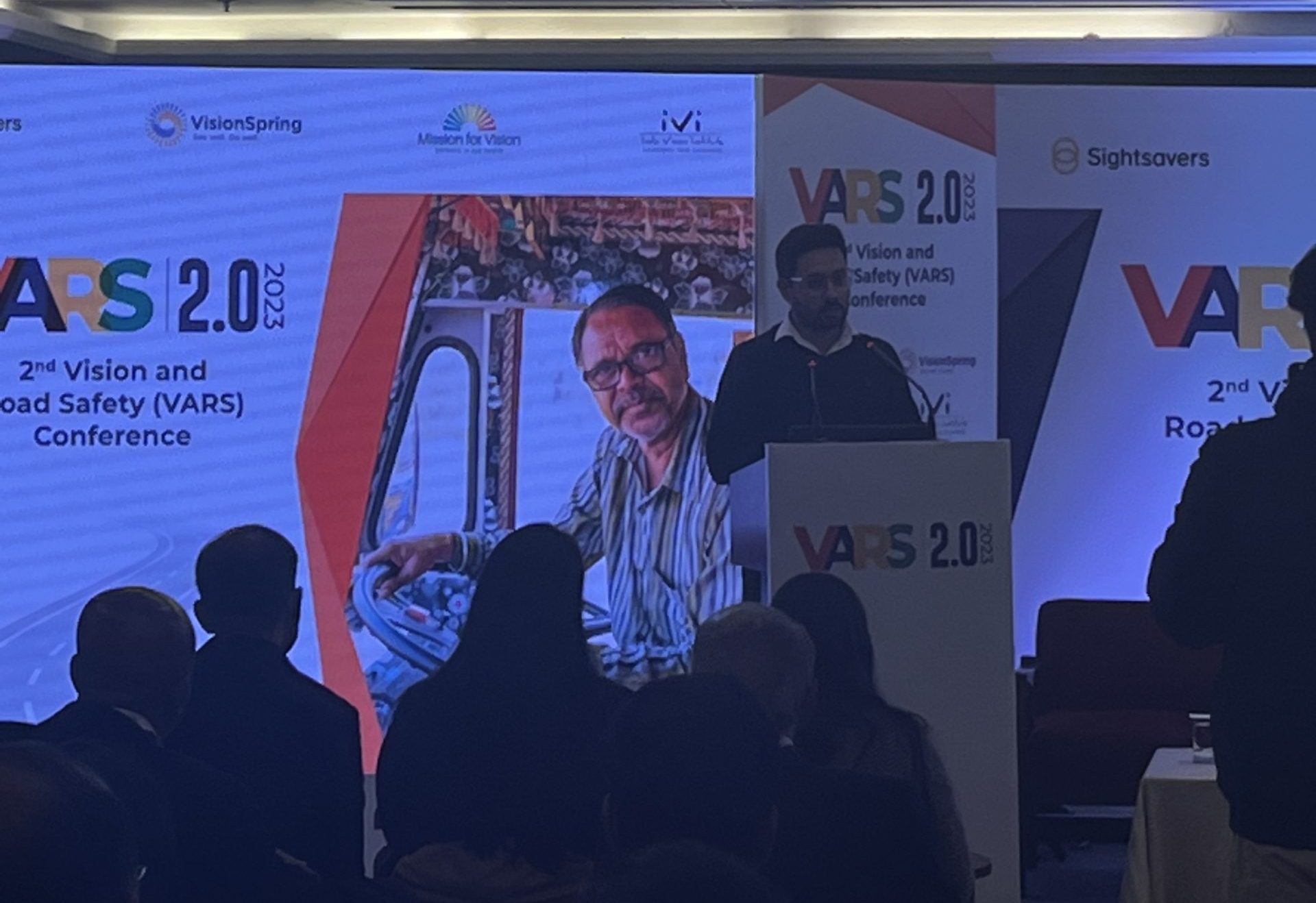 R. N. Mohanty, CEO, Sightsavers India, Anshu Taneja, Managing Director, India, VisionSpring, Vinod Daniel, CEO, India Vision Institute, and Elizabeth Kurian, CEO, Mission for Vision, have placed their "commitment to sustain this initiative by screening an additional 1 million commercial driving communities by 2025. The four organisations in their joint statement also agreed to collaborate with government, corporates, civil society organisations, corporate and philanthropic foundations to scale this initiative across the length and breadth of the Indian roads, to contribute to the reduction of vision induced road accidents. This initiative will strengthen India's vision towards Universal Eye Health Coverage by reaching out to this floating population and its commitment to increase the effective refractive error coverage." 
Speaking on the occasion, Ella Gudwin, CEO, VisionSpring, said, "To achieve SDG 3.6 and the objectives of the recent UN resolution, we must integrate vision screenings and eyeglasses into the global and national agendas for road safety. Our collective goal in India is to increase the rate of eyeglasses use among drivers who need vision correction to at least 70%."
N. Mohanty, CEO, Sightsavers India pointed out that "Clear vision is critical in ensuring road safety. Our Programme – RAAHI – seeks to make eye health accessible to overworked truck drivers. It is wonderful to collaborate with VisionSpring, Mission for Vision and India Vision Institute to deliberate and find solutions towards making our roads safer and eye health accessible."
IVI's CEO Vinod Daniel said, "We have found that of commercial vehicle drivers and allied staff screened, half of those requiring spectacles were first-time wearers, 24% had trouble seeing distant objects, and over 2% had refractive errors over 2D, thus severely compromising their distance vision."
Elizabeth Kurian, CEO, Mission for Vision, said, "Mission for Vision's research amongst truckers shows that 45.8% had a refractive error, among whom 39.1% required correction for both, near and distance vision, in at least one eye. We are committed to promoting behavior change and affirmative action towards this."
Dr. Anil Kumar, Additional Director General of Health Services, Ministry of Health and Family Welfare (MoHFW), Government of India, said, "It has been established by traffic safety research groups that uncorrected vision issues are common among drivers, regular eye testing for vision prevents road accidents and should be included for road safety and driver's well-being."
Piyush Tewari, Founder and CEO, SaveLIFE Foundation, said, "Vision plays a crucial role in avoiding crashes and ensuring road safety. Optimal visual health is crucial for drivers to be able to keep track of the various road signs, road furniture and infrastructure, and quickly navigate sudden movements by other road users. For commercial drivers, a vision test must be mandated every year and should be made available free of charge along various highways along with the provision of low-cost prescription glasses. For commuting drivers, it is recommended that a competent vision test be conducted at the time of issuance and renewal of the driving license. Police must also include vision testing as part of their crash investigation process."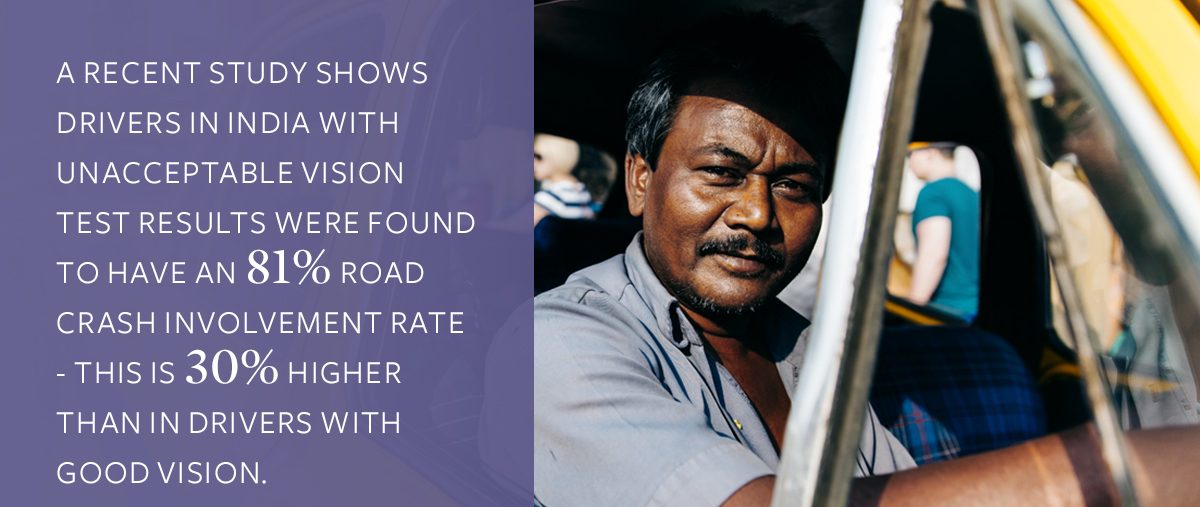 The conference also saw the participation of Shaleen Mitra, Secretary to the Minister of Urban Development and Health, Government of Delhi, Urvashi Prasad, Director, Office of Vice Chairman, NITI Aayog, Pankaj Ballabh, Director, Centre for Social Impact and Philanthropy, Ashoka University, Dr. Praveen Vashist, Office-In-Charge and Head of Community Ophthalmology, Dr. R. P. Centre for Ophthalmic Sciences, All India Institute of Medical Sciences (AIIMS), New Delhi, Dr. Promila Gupta, Former Director General of Health Services (DGHS), Ministry of Health and Family Welfare (MoHFW), Government of India, Rajni Gandhi, Founder and Secretary, TRAX Road Safety NGO, Rama Shankar Pandey, CEO, Tata Green Batteries, Chairman, Road Safety Sub Committee, FICCI, and Chairman, Aftermarket Committee, Automotive Component Manufacturers Association of India (ACMA), and Rajneesh Sharma, Director, CSR, MakeMyTrip, among others.