Today, women are playing a significant role in sustainability initiatives for their organisations which not only covers environmental and societal issues, but also focuses on issues of gender equality and inclusiveness in the workplace.
On the occasion of Women's Day 2018, Treeni Sustainability Solutions, a software product company focused on Sustainability and CSR, and YES BANK, joined hands to present the 6th Edition of Sustainability for Breakfast (S4B) in Mumbai to engage with sustainability leaders from across industries, highlight important milestones while taking on the challenges faced by women in sustainability.
This version of S4B is focused on the role women play in the area of sustainability. The platform not only discussed primary issues such as gender inequality and women empowerment, but also looked at how women leaders in sustainability have played important roles.
Going forward, Treeni looks to continue to build editions of S4B to facilitate a platform for the industry to discuss issues relating with sustainability and CSR.

Ankush Patel
Chief Executive Officer and Co-founder, Treeni Sustainability Solutions
"It was a great opportunity for us, on the occasion of International Women's Day, to address these important issues. There are some great examples of the need for, as well as the difference that gender equality makes to solving sustainability problems and driving social impact. This S4B inspires us to go back and become change agents in our respective organisations."
Deodutta Kurane
Group President-Human Capital Management, YES Bank
"The results are empirically doing better now as compared to yesteryear. We need to take one more logical step and understand why gender gap exists. If we understand the 'why', we will understand the gender differences….Women bring a difference in perspective, and when represented at the board, enable companies to perform better."
Namita Vikas
Group President and Global Head, Responsible Banking and Climate Strategy, YES Bank
"Investing in 'diversity of thinking' is extremely important, given that leadership and performance has more to do with competency rather than gender. I am sure the deliberations from the session would lead to inclusive mechanism to better utilise the untapped potential of women."
Deeksha Vats
Joint President – Sustainability, Aditya Birla Group
"What I believe sets a woman apart is the ability to be adaptable and less intimidating. So that makes conversations much flexible and easier. Also, having empathy is crucial in having faith and working hard. It is all in our heads that we see things work differently. How we see the world is how we see ourselves."
Mrinalini Kher
Honorary Trustee and Secretary, Kherwari Social Welfare Association
"There has to be an entity providing support, be it a mother or a husband. For example, the support of a spouse brings a general sense of awareness and balance to the approach of everyday life. Taking a hard step is not possible without support. No matter who you are, you need someone to be in your corner."
Shalaka Joshi
Gender Lead, International France Corporation
"Three out of five working age women are not among the workforce; which means that they are either not working or are not getting remuneration for it. Moreover, lack of knowledge, rather than lack of availability also can contribute to fewer women on board. We want to work with the private sector to build a strong situation for women in the workforce."
Shweta Munjal
Head of Corporate Affairs, Asia Pacific, Thomson Reuters
"It is very important how organisations view women. The leader's role steps in when they understand how to drive employees to deliver their best. Organisations who understand the importance of gender diversity must show leadership through various initiatives to support women at work as the agenda is not a 'women quota' but a matter of understanding if a woman in the workforce is growing, upskilling, and moving upwards."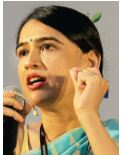 Priya Naik
Founder, Samhita
"We do not value our women in the industry. It is a systemic problem. They are seen more as empathetic figures, which might explain why we are able to raise money for a cause. Young girls and women are left to make the most important decisions, and even more often, help those who make important decisions."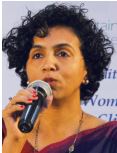 Naghma Mulla
COO, Edelgive Foundation
"We should not use the women card. And we often do so quickly, without thinking twice. When we talk about empowerment, we should be liberal and generous. For Edelman, it is a matter of starting life with skills and graduating to have access to justice. We do not hing individually. We collectively discuss and spread as it is a woman's natural instinct to share and spread. "
Sujata Khandekar
Founder Director & Chief Trustee, CORO India
"Social change is not about 'I' or "them", but it is about "us" because we are all part of a whole. That's the core of social mobilisation. Social change cannot happen in silos. We should go out there and build ecosystems. They are the means to bring about social change."
Sugandha Sukrutaraj
Founder, AMBA – Ashoka Fellow
"This community cannot deliver front-end results which is why we need to deliver back-end work. But when it comes to gender gaps, women have no options. The acumen of being street smart impacts women ultimately. It is not about showing someone to fish but enabling the fishing industry itself."
Naman Gupta
State Team Lead, DFID – Climate Change and Innovation
"There need to be a baseline data to show that there is leadership among women. It is imperative to bridge the gap between policy and implementation."