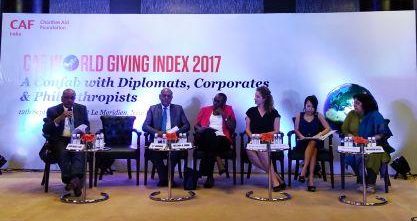 New Delhi, September 12, 2017: Charities Aid Foundation (CAF), India, brought together corporate stalwarts and country diplomats together in a high impact panel at Le Meridien, New Delhi, to deliberate findings of its recently launched 8th Edition of the World Giving Index – the leading global survey of generosity.
The event featured a key note address by P. Balaji, Director, Vodafone India, and eminent panelists, including Shaleen Garg, Director Corporate Strategy, Accenture; Abhijit Dutta, Director Communication and Government Affairs, Kimberly Clark; Sunita Menon, Sr.Director-HR – Carlson Wagonlit Travel; Mr. Jayaram Ramanathan, Vice President Corporate Communication, Aviva Life Insurance, along with diplomats from Kenya, Nepal, Singapore, Mauritius and Netherlands.
Speaking at the event, Ms Meenakshi Batra, Chief Executive Officer, CAF India said, "It is encouraging to see India climb up the rankings on the World Giving Index. India has delivered a record year and 31 percent jump is a milestone. CAF India is extremely proud of this achievement and it is heartening to see that as India's economy grows, this growth is translating into more people giving back to society. The ethos of giving has always been genuinely embedded in our society. The evolving philanthropic landscape in the country is facilitating modern giving in an integrated manner. I hope that the government recognises the vital role that civil society can play in volunteering and continues to work with charitable organisations to foster and develop India's culture of generosity."
Ms Shravani Dang, CAF India Board member, expounder of the Panel 'Mapping Generosity in India – Tête-à-tête With Corporate Leaders and Philanthropists' said, "Giving needs to go deeper than just donating to non profits. With evolving CSR landscape of our country, community involvement is moving closer to the core of what a company does. I commend CAF India on organising this meet and giving us a concrete peek into the worthy endeavours organisations are engaging in. Also, such occasions are significant to encourage stakeholders across communities – be it local governments, educational institutions, family units and even individuals to take giving as a civic responsibility by understanding what other countries are doing to stimulate the same."
Balaji, Director Regulatory, External Affairs and CSR, Vodafone India, said, "I congratulate CAF India for bringing out this important report which helps us as a society acknowledge all the 'Good We Do', collectively. With the mission of 'Connecting for Good', Vodafone is committed to improving lives of individuals and driving social change across communities. In India, we are actively engaged in addressing some of the nation's most pressing challenges related to education, equality and access while consciously working to bridge the prevailing digital divide. I look forward to outcome-based dialogues and collaborating working to improve our ranking as a country in the next World Giving Index report".
The Charities Aid Foundation, which delivers more than £500 million to charities annually has been producing the CAF World Giving Index since 2010 in order to inform wider research into the state of charitable giving at a national and international level. As per the survey, generosity in India has increased according to this year's CAF World Giving Index. India climbed 10 places to 81 in this year's Index, recording an all-time high of 31 percent. The result was driven by increases across donating money and volunteering both of which increased significantly by six percentage points from 2015.
The CAF World Giving Index, the leading comparative study of global generosity, records the number of people who helped a stranger in the past month, volunteered their time, or gave money to a good cause. For the 2017 report, 1,46,000 people were interviewed in 139 countries. This year, the global index was down slightly on 2016: donating money and helping a stranger were down 1.8 percentage points whilst volunteering was down 0.8 percentage points. The decline is most noticeable amongst developed nations which failed to maintain the increases made in 2016. The USA, the UK and Australia all fell three places, and despite remaining in fourth, New Zealand saw a two percentage point decrease in its World Giving Index score.
Conversely, whilst many developed nations fell, Africa showed the strong performance it saw in 2016, experiencing growth across all three giving behaviours (against its five-year average). It was the only continent to achieve this and a feat it has achieved for the second consecutive year.
Key Findings of the Report:
The Report suggests an overall decline in global generosity, particularly amongst developed nations. Only six of the G20 countries appear in the top 20 and all experienced a decline in their WGI score.
Africa is the only continent to buck this downward trend, experiencing an upswing across all three giving behaviours (against its five-year average). Kenya was one of the continent's star performers, jumping from twelfth place to third with an eight percentage point increase in its WGI score.
Sierra Leone now tops the league for the country most likely to help a stranger, 81percent of respondents reporting they had done so over the preceding month. Conversely, Cambodia now ranks bottom with only 18 percent of people reporting helping a stranger. Indonesia topped the table for volunteering with a participation rate of 55 percent. Armenia ranked bottom with a participation rate of just 4 percent.
CAF World Giving Index Top 20
| | | | | | | |
| --- | --- | --- | --- | --- | --- | --- |
| Country | World Giving Index Ranking | World Giving Index Score (%) | | Helping a Stranger Score (%) | Donating Money Score (%) | Volunteering Time Score (%) |
| Myanmar | 1 | 65 | | 53 | 91 | 51 |
| Indonesia | 2 | 60 | | 47 | 79 | 55 |
| Kenya | 3 | 60 | | 76 | 52 | 51 |
| New Zealand | 4 | 57 | | 65 | 65 | 41 |
| United States of America | 5 | 56 | | 73 | 56 | 41 |
| Australia | 6 | 56 | | 66 | 63 | 40 |
| Canada | 7 | 54 | | 67 | 61 | 35 |
| Ireland | 8 | 53 | | 61 | 60 | 39 |
| United Arab Emirates | 9 | 51 | | 71 | 55 | 27 |
| Netherlands | 10 | 51 | | 51 | 64 | 36 |
| United Kingdom | 11 | 50 | | 58 | 64 | 28 |
| Sierra Leone | 12 | 49 | | 81 | 26 | 41 |
| Malta | 13 | 48 | | 45 | 73 | 26 |
| Liberia | 14 | 46 | | 75 | 18 | 46 |
| Iceland | 15 | 46 | | 44 | 68 | 26 |
| Thailand | 16 | 46 | | 51 | 68 | 19 |
| Iran | 17 | 45 | | 61 | 50 | 25 |
| Zambia | 18 | 45 | | 69 | 33 | 33 |
| Germany | 19 | 45 | | 58 | 55 | 22 |
| Norway | 20 | 45 | | 49 | 55 | 30 |
Top 10 Countries By Participation In Helping A Stranger
Helping a Stranger:

Country and Ranking

People (%)
Sierra Leone
1
81
Iraq
2
78
Libya
3
77
Kenya
4
76
Liberia
5
75
Kuwait
6
74
United States of America
7
73
Uganda
8
73
South Africa
9
72
Saudi Arabia
10
71
Top 10 Countries By Participation In Donating Money
Donating Money:

Country And Ranking

People (%)
Myanmar
1
91
Indonesia
2
79
Malta
3
73
Iceland
4
68
Thailand
5
68
New Zealand
6
65
Netherlands
7
64
United Kingdom
8
64
Australia
9
63
Canada
10
61
Top 10 Countries By Participation In Volunteering Time
Volunteering Time:

Country And Ranking

People (%)
Indonesia
1
55
Kenya
2
51
Myanmar
3
51
Liberia
4
46
Tajikistan
5
44
New Zealand
6
41
United States of America
7
41
Sierra Leone
8
41
Mauritius
9
40
Australia
10
40