Bengaluru: Cisco and Social Alpha have announced five high-impact Agritech start-ups to be part of 'Krishi Mangal' – a scale-up accelerator programme to support start-ups working on solutions for smallholder farmers. The selected start-ups have developed Agritech innovations across supply chain traceability powered by blockchain, data analytics for crop management, energy-efficient cold-storage units, sustainable aquaculture solutions, and e-commerce solutions for livestock management.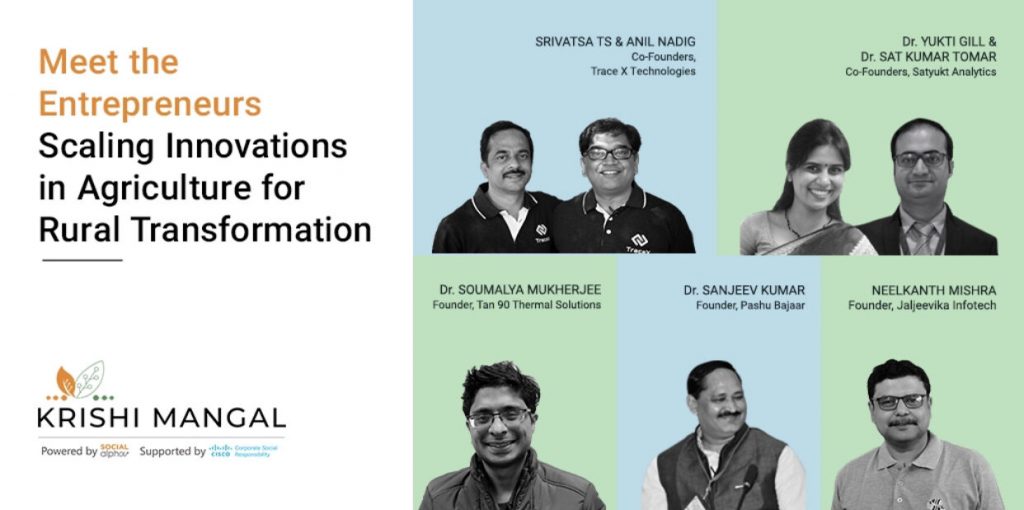 These five start-ups under Krishi Mangal are focused on income increase, creating jobs, and promoting micro-entrepreneurship along agriculture and its allied value chain:
Krishi Mangal brings together the power of innovation, entrepreneurship, and communities for the wellbeing and prosperity of smallholder farmers. It follows a two-pronged approach. Along with the accelerator programme, it will also promote India's first digital Agri collective that enables ecosystem-level collaboration and co-creation of solutions while helping start-ups navigate the ecosystem and accelerate their work in the agriculture and allied sectors. In Krishi Mangal's one-year scale-up accelerator, the five start-ups will each receive a grant of Rs 42.5 lakh to implement their solutions in a new geography or customer segment. Additionally, they will receive support in market access, sales and distribution, and fundraising.
Both Social Alpha and Cisco believe in rural transformation by supporting start-ups and initiatives targeting smallholder farmers. Krishi Mangal emphasises the need for innovation and entrepreneurship to enable farmers to deal effectively with occupational hazards and systemic inadequacies.
Harish Krishnan, Managing Director, Public Affairs & Strategic Engagements, Cisco India, said, "As part of our work, we seek to inspire and empower a generation of global problem solvers who will not only survive – but drive and thrive – in our increasingly digital economy. With the Internet of Things (IoT) and digital technologies connecting devices and data, innovative ideas now have the ability to make a difference more quickly than ever before – and we're here to help. While the prize money will help accelerate the adoption of breakthrough technology, products, and services that drive economic development and solve social or environmental problems, engagement with Cisco mentors during the course of the program will mean that organisations and entrepreneurs can leverage great domain expertise and strong market knowledge."
Manoj Kumar, Founder and CEO, Social Alpha, said, "Small and marginal farmers already face numerous risks to agricultural production, and climate change is making their livelihoods even more precarious. At Social Alpha, we have chosen to address these vulnerabilities and are constantly scouting for start-ups that are working on breakthrough technologies for large-scale impact. Social Alpha's partnership with Cisco will help us scale high-impact solutions to reduce risk and increase the income of smallholder farmers."
Social Alpha's deep engagement with the agriculture sector finds articulation in several key aspects-, such as increasing agricultural output value, increasing agricultural productivity, reducing post-harvest losses, enhancing climate resiliency through adaptation and mitigation, and improving transparency of value chains. In the last five years, it has nurtured over 25 Agritech start-ups.
Cisco has been actively involved in alleviating farming distress, and as part of it had partnered with NASSCOM last year to initiate a comprehensive study on the utilisation of the Internet of Things in the agriculture sector. The study focuses on technologies in reshaping India's agrarian sector output, improving land productivity, optimising input costs, and maximizing farmer incomes while bringing India at par with global agricultural practices. The report, titled "IoT Adoption in Indian Agriculture: A 2020 Landscape," will be available on NASSCOM Community for free download.