Only about one-third of rural households in India is reached by piped water supply. The balance two-third of rural households are still living 'beyond the pipe'
Around 60 percent of agriculture in India is dependent on rain water; and while India receives ample monsoon rainfall, more than 90 percent of this rain water is lost through run-off into the sea. With hardly five percent of the available rain water being put to use, the huge wastage of this precious resource is alarming. Our carelessness in making effective use of rainwater has led to the declining level of ground water. Moreover, with unpredictable monsoons, many villages, i.e. about 70 percent of India's population, face water scarcity throughout the year which makes it difficult to sustain normal life.
As a result, farming and related activities get adversely affected. Water is the key to prosperity. It is a basic necessity, and because of shortage of water, farmers are not able to cultivate their lands leading to abject poverty. They have no choice but to migrate to cities for employment and for survival.
Not just that, only about one-third of rural households in India is reached by piped water supply. The balance two-third of rural households are still living 'beyond the pipe'. It is said that India loses 73 million working days annually in the process of collecting water.
Drip or Drop, We are Saving it: Overview of Bisleri's CSR Initiative
For years, Bisleri has been on a mission to ensure that every Indian gets access to pure and safe drinking water. The brand that pioneered the concept of mineral water in India, Bisleri also focuses on sustainable growth. Which is why, through all its endeavours, Bisleri tries to give back more to nature.
As part of our Corporate Social Responsibility, known as "Our Social Responsibility" at Bisleri, we have undertaken several initiatives like rainwater harvesting through check dams and roof top rainwater harvesting and PET recycling to give back to mother earth. As part of these initiatives, effort is made to proactively involve as many consumers as possible in making our planet a healthier place to live in.
Every drop of rain water is God's given gift to us. There is no replacement to it hence, everyone should understand its importance and utilise this natural resource responsibly. Hence, while we cannot create water, we at Bisleri are taking small steps towards conserving it.
Rainwater harvesting is the most sustainable and effective way to address the water woes we are facing today. It is a low-cost method with plenty of benefits. It not just helps put rain water to effective use but also help in recharging the groundwater level for the future.
Bisleri's initiative on rain water harvesting are centered on building and restoring check dams in rural areas and installing rooftop rainwater harvesting system in urban areas. Of all the initiatives undertaken by us, the one that has created the greatest social impact is Project Nayi Ummeed through which we aim to conserve rainwater by building and restoring check dams.
What is a Check Dam?
A Check Dam is a small size dam constructed across a swale, drainage ditch, or seasonal stream to conserve rainwater. They store surface water for use both during and after the monsoon and also help in groundwater recharge of the area.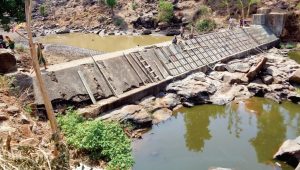 Compared to big dams, check dams have a faster implementation time line, are cost effective, and are simpler to construct. Because of this, their implementation does not typically displace people or communities nor does it destroy natural resources.
Check dams are economical, convenient and sustainable structures with high impact to harvest rain water and help recharge the ground water. Check dams create a reservoir of water that helps increase the water tables in the nearby wells and borewells across the stretch; farmers are able to grow multiple crops in a year, thus increasing their earnings. Thus, check dams not just conserve rainwater, they actually help in transforming lives, powering prosperity and growth.
Project Nayi Ummeed
Bisleri undertook the first Check Dam Project in 2001 at village Bara in Kutch, Gujarat. Since then, more than 50 check dams have been built or restored across Gujarat and Western and Central parts of Maharashtra.
"Thousands have lived without love, not one without water"- W.H. Auden
These check dams have covered more than 70 villages and benefitted around 8,000 families till date. As of 2016, they have helped harvest more than 11,000 million litres of water, recharge hundreds of wells and borewells, and helped irrigate more than 3,000 acres of land. As a result, the past few years have witnessed an average yearly income of each family increased by Rs.50,000. In fact, for every one litre of bottled water produced, Bisleri replenishes around eight litres of water to nature.
All our initiatives involve the participation of the community. Our rainwater harvesting initiatives are done in collaboration and with active participation of the community. This is done to ensure sustainability of the initiatives and create ownership amongst the community.
While several villages and families have benefitted from Nayi Ummeed, Lohnubhai's story is a live example of how check dams have changed the lives of farmers.
Kolvera is one of the villages of Kaprada Block, Valsad district, Gujarat. The village has been facing many problems, like water supply shortage, electricity outage, rationing of food grains issues, health issues, etc.
Lohnubhai Dhoom was unable to put his land to productive use due to acute shortage of water. With no money to meet even the basic necessities, the situation was quite grave. This compelled him and many others to migrate to cities in search of livelihood.
He said, "Lack of water was a major problem for us. It was the cause of our poverty." His wife, Dhakliben Dhoom added, "We did not have enough to eat nor had means to earn money."
Bisleri extended its support by restoring the check dam in their village. Its restoration was made possible with the cooperation of the village panchayat and villagers. The village now has good supply of water for a major part of the year. The harvested rainwater is used for irrigation, enabling farmers to cultivate their land not once, but multiple times a year. This has helped farmers become self-sufficient, thereby reducing migration to cities. The check dam has not only helped in putting rain water to better use but has also helped families stay together thereby strengthening their bond within the community.
Improvement in productivity of land has led to growth in income, resulting in better standard of living for farmers. They are now able to afford basic necessities of life and provide better nutrition to their families, but many of them are also able to send their children to school.
Lohnubhai Dhoom rightly summed up what every villager felt. "Check dams have made our lives better. We were able to use our land and earn money by farming. This has helped us meet our daily and medical expenses. Check dams have really improved our lives."
This World Water Day, Bisleri Spread the Message to Save Water

On the occasion of World Water Day i.e. 22nd March 2017, Bisleri associated with Mumbai Dabawallas who performed a flash mob outside Churchgate Railway Station in Mumbai to spread the message of conserving water. Earlier in March, Mumbai Dabbawalas also distributed Bisleri bottles containing eco-friendly colours to spread awareness of saving water on Holi. These bottles were delivered with the tiffin boxes by the Dabbawalas across Mumbai. Bisleri representatives also gathered at different toll nakas in Mumbai to give away colours promoting a waterless Holi.
We are extremely grateful to our customers as their decision to choose Bisleri has helped the brand take small steps in bringing a positive difference in people's lives.