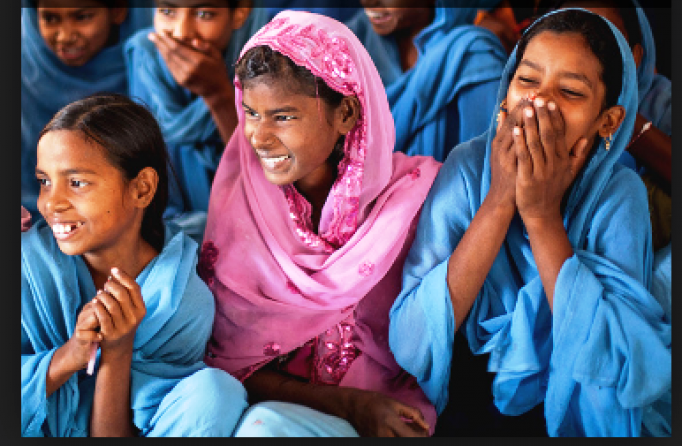 National: Stressing upon the importance of Menstrual Health and Hygiene, Dasra, a strategic philanthropy organisation is observing the internationally recognised Menstrual Hygiene Day. Menstrual Hygiene Day is celebrated every year on May 28 internationally. It is supported by the World Health Organization and many NGOs nationally and globally. As a part of Dasra's efforts, we at the 10to19 Dasra Adolescents Collaborative, are releasing a new episode of the Ab Meri Baari podcast, in collaboration with Yuvaa, our digital engagement partner, with Navya Nanda, Co-Founder of Aara Health and Founder of Naveli Project, and youth champion – Saba Rehmani from Farrukhabad, Uttar Pradesh, who is working on ground to improve awareness around SRHR (Sexual and Reproductive Health Rights) and menstrual hygiene. The conversation highlights the differences and similarities between their lived experiences, challenges, possible solutions and impact of the pandemic on menstrual health and access.
India's adolescents continue to be restricted by poor access to sanitation, education and healthcare, as well as deep rooted socio-cultural norms.  This pandemic has further highlightedserious consequences for India's adolescents and young people. Last year, the 10to19 Dasra Adolescents Collaborative, through the 'Lost in Lockdown' report, studied the ways in which the lockdown and pandemic affected the various essential and developmental aspects of the lives and well-being of young people. The study surveyed 110+ non-profit organisations serving vulnerable adolescents across the country. According to this report, 74 per cent of organisations before and/or after lockdown​ reported difficulty in obtaining sanitary napkins and about 43 per cent reported difficulty during the lockdown. These findings validate that the pandemic has severely affected adolescents and theiraccess to menstrual health and hygiene products. The second wave has only exacerbated these issues and gap; pushing this already vulnerable demographic even further into the trenches.
Apart from issues of access, a lot of communities are also battling misinformation and stigma surrounding menstruation and myths around the COVID vaccine and menstruation. The 10to19 Dasra Adolescents Collaborative, along with its partner EnterChangeInnovation, is urging adolescents from communities across Jharkhand to share their lived experiences around periods and menstruation through AbMeriBaari's Citizen Journalism Program Mobikaar program.
While talking about menstruation and the COVID crisis, Vithika Yadav, from Love Matters India and EnterChangeInnovation says, "Millions of adolescent girls in India are uncomfortable, lacking confidence, feel dirty and are uninformed about menstruation. Just like any other crisis, COVID-19 has had a disproportionate impact on women and girls, with far reaching consequences.  Traditionally, our lack of open discussion has created a very lonely and troubling problem for women and girls and this is why we need to keep talking and raising awareness about the same. The young 'new age' on ground reporters and change makers from our Mobikaar program in Jharkhand and Bihar have done a series of video interviews in their communities, highlighting menstruation experiences of women and girls, customs and social norms that are prevalent and what they feel needs to change when we talk about menstruation. The videos will soon be available on our social media channels."
Another key focus area of menstrual hygiene is to draw attention to the Menstrual Health Management (MHM) valuechain: Awareness-Access-Use-Disposal. To make MHM holistic and available for all, it is important to treat it as a full cycle and address its interlinkages with Water, Sanitation, Hygiene (WSH). Although 355 million women in India menstruate every month for the majority of their lives, very few have access to safe sanitation. Public health emergencies such as COVID-19 only magnify the sanitation-led challenges which disproportionately impact menstruators belonging to vulnerable communities.
Menstrual hygiene is an important discourse for the urban sanitation ecosystem, which Dasra actively participates in as the Secretariat of the National Faecal Sludge & Septage Management (NFSSM) Alliance. Dasra, through the NFSSM Alliance, is running an awareness-led social media campaign to emphasise the need to prioritize access to safe and clean sanitation facilities for ensuring a hygienic menstrual cycle every month, especially during the pandemic. #PrioritiseCleanPeriod is a call to all decision makers across city and state governments, the larger funding community as well as private sector organizations tobuild, invest in and innovate within the sanitation-led menstruation ecosystem. Advocating for safe and clean periods, the NFSSM Alliance believes that it is important to collaboratively prioritise sanitation-essentials such as individual household toilets, clean water access, affordable sanitary products as well as sustainable menstrual waste disposal systems to make menstrual hygiene a reality for all.
It is important to bring these issues around menstrual hygiene to the forefront to ensure that the needs of adolescents and young peopleeven through this pandemic. Poor access to menstrual hygiene stops young menstruators from reaching their full potential as they miss out on opportunities crucial to their growth. Poor menstrual awareness and access have far reaching consequences on school attendance, health and mobility. The health impacts as we can already see are catastrophic, especially in rural and marginalised communities, where women and girls are less likely to have access to MHM products and other important health information and services. We need to work together as a community to problem-solve for this issue.
To know more about our campaigns and initiatives in the youth space, meet us here – 10to19 Community