When we think of Canon, we think of quality. Canon, a world leader and specialist in manufacturing imaging technologies has been changing the way the world visualises things. The company which had its genesis at Tokyo, Japan in 1937 has a wide range of portfolio of products for consumers and businesses.
Canon India, a 100 percent subsidiary of Canon Singapore Pte. Ltd was incorporated in India in 1997 and has offices in 14 cities across the country.
Canon India believes in bettering lives both in its businesses as well as the societies in its areas of operations. Atula Imchen spoke to Kazutada Kobayashi, President & CEO, Canon India to find out more about the company's various CSR initiatives.
What is the philosophy adopted by Canon India regarding its CSR initiatives? How long has Canon Involve been active in the CSR initiatives in the country?
At Canon, our corporate philosophy of 'Kyosei', means "all people, regardless of race, religion or culture, harmoniously living and working together for the common good".
Corporate Social Responsibility being an integral part of Canon's corporate philosophy and business, we have integrated social development into our everyday work and operations.
At Canon, our corporate philosophy of 'Kyosei', means "all people, regardless of race, religion or culture, harmoniously living and working together for the common good"
Our efforts in the areas of Education, Environment, Eye Care and Empowerment are an endeavor towards achieving this end. We also promote our philosophy to our employees and stakeholders and have been diligently working as a team to promote it.
Our view of CSR extends beyond charity; it is a means to create self-sustaining communities that we can nurture for a long period of time. In January 2012, we established the Canon Group CSR Activity Policy, which outlines Canon's commitment to our CSR efforts in global as well as local communities by effectively leveraging the company's advanced technological strengths, global business deployment, and diverse, specialised human resources. Canon has been carrying out revolutionising initiatives in the country for a long time now.
Tell us about your flagship programme, "Adopt a Village" and the message behind this project. Why is this so close to your heart? How many villages have been included in this dream project? Have the outcomes been to your expectations?
We strive to make a positive and lasting impact on the environment and the community at large, so we decided to launch a unique initiative of 'Adopt a village' in 2012, under our CSR philosophy. Our aim is to create long term sustainable l iving for the less-privileged in the communities around us. We have chosen four key areas of work  that  include  Eye Care, Education, Environment and Empowerment.
We commenced the programme with our first adoption in Ferozepur Namak village in Mewat district, Haryana. The village adoption programme has spanned across all regions since its inception. Other villages followed suit: Maharaja Katte in Bengaluru, Karanjoti in Thane, Mumbai and Sol Gohalia in Kolkata. Each adopted village is an extended part of Canon family and holistic development of these villages is our mission. We at Canon believe that organisations should focus not only on the economic well-being of the nation it operates in but also upon its social fabric.
As a responsible business, Canon India takes pride in being socially inclined and focuses on sustained and effective CSR projects. Through our CSR efforts, we have been actively involved in various projects to reach out to the less fortunate and contribute towards their development.
In all our adopted villages, we abide by our '4E' philosophy of CSR – Eye Care,  Education, Environment and Empowerment. Our core focus area remains   education,   where   we  strive towards provision of best educational benefits to students and monitor quality education within the age group of 6-14yrs. We support activities such as establishment of an activity resource centre with educational aids and a library for children, improving source of drinking water through pipeline, taps and toilets. As a result, we have noticed significant improvement of enrolment of children in the schools in our villages.
Our flagship CSR initiative "Adopt a Village", comprising of '4Es' – Eye Care, Education, Environment and Empowerment
Under Eye Care, we establish sustainable eye care facilities 'Vision Centres' in the village to tackle eye ailments. These centres also supports eye screening of patients, provisions of spectacles and the patients who need special attention are referred to the base hospital for surgeries.
Canon India commits itself towards environmental conservation by participating in numerous tree plantation drives at its adopted villages and recycling drives across all offices. As an initiative to promote a green earth, Canon has set up solar panels in some of the   schools   in   its   adopted   villages, thereby solving the problem of electricity in the classrooms. Apart from this, we have adopted green patches around rapid metro stations in Gurgaon and maintain them on a regular basis.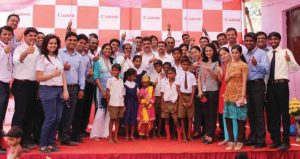 Canon India takes pride in being socially inclined and focuses on sustained and effective CSR projects. Through our CSR efforts, we have been actively involved in various projects to reach out to the less fortunate and contribute towards their development
Are you planning to expand this project to other areas as well, apart from the existing ones?
 CSR is an integral part of Canon's work ethics. We will continue our efforts with increased vigour and zest in all our CSR endeavors through 2016. We will reinforce our commitment in all the four adopted villages and take forward the initiatives with greater zeal. At present, our aim is to put increased efforts in our existing villages and renew our initiatives to provide the villagers a holistic lifestyle.
Canon the brand has a proven track record providing quality products  and solutions for decades. But you did not stop and rest on your laurels. You keep building the brand and are committed towards social responsibility and sustainability. Share with us in detail the 4Es that Canon Involve has dedicated itself to.
We strive to stay a step ahead of our customers. Along with being leaders in delighting our customers and providing them   cutting edge technology, our commitment also extends to the community we operate in. For us, Corporate Social Responsibility means much more than mandates, for us it is the way of life. The spirit of contributing towards the society has been an integral part of Canon's corporate culture across the world. In addition to offering excellent products and services worldwide, we have strived to ensure full compliance, protect the global environment and provide humanitarian support.
Our flagship CSR initiative "Adopt a Village", comprising of '4Es' -Eye Care, Education, Environment and Empowerment, receives immense support from our organisation and the employees.
Eye Care – As leaders in imaging technology, we consider i t our responsibility to establish 'vision centres' in our adopted villages. Under the Eye Care programme in the village, we establish a vision centre with a technician and vision assessment instruments. Each centre works as the solution for villagers' eye care issues, by supporting screening of patients, spectacles and referring cases which require surgeries to a nearby hospital.
Education – Special awareness sessions are conducted by the employees on universal right to education for kids. Imparting better education and making learning a fun process, students at the village schools are equipped with a resource centre with e-learning material, library and sports equipment. Giving prime importance to health and hygiene, we ensure provisions for safe drinking water and actively coordinate with local education authorities for infrastructural improvements in the school.
Environment – Our steps towards improving the village environment include planting tree saplings in order to create a green haven in the area.
Empowerment – We realise that children and the youth are the building blocks of the future. At Canon India, our commitment is towards overall development of children by providing them basic amenities and good education. All the collaborative efforts unite to empower the youth by providing them computer training which shall help them have a sustainable living ahead.
How have these core areas been able to transform the lives of the beneficiaries since they were adopted by you? Have they met your expectations?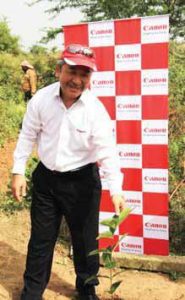 We recently celebrated the first month anniversary of Karanjoti village in Thane. Through our '4E's policy, we are glad to witness impactful progress in the village.
In a span of one year, Canon India has made all efforts to ensure better education facilities, sustainable environment, health and hygiene along with complete eye care facilities for village dwellers. To mention a few developments, capacity building in the school has led to students returning to the village school to enjoy better classroom infrastructure, clean drinking water supply, a resource centre with a non-formal education teacher to impart computer literacy, art and craft skills and encouraging sports among the students of all grades along with a vision centre for better eye care services.
The students are not the only beneficiaries. The village has witnessed many developmental activities throughout the year. Solar panels have been set up in two buildings which were devoid of electricity, new water tanks and water purifiers have been installed and toilets have been reconstructed along with new doors. Pursuing the facilitation of eye care facilities, the vision centre in the village has screened around 62 villagers during the last one year. With the enthusiastic participation of the school children, employees and villagers, Karanjoti anniversary celebration was a notable event in the CSR journey of Canon India.
The company has also been involved with many other CSR activities in the past. Share with us about each of them and their impact on the beneficiaries.
Canon India has been involved in many initiatives that have made considerable difference to people, environment and the society as a whole. Adopt a Village remains our flagship initiative. Here is a view into our various CSR initiatives:
'Adopt a Village' Progress
Canon India adopted its first village Ferozepur Namak in Mewat district, Haryana on 8th November, 2012.
Vision Centre was set up wherein we placed our own brand's eye checkup machine. More than 6200 patients were screened, facilitations of 312 surgeries, 142 spectacles were given and 80 eye camps were held in neighbouring villages. Canon adopts second village near Bangalore- Maharaja Katte at Kanakapura district on 19th June'2014.
Constructed a Resource Centre, wherein a library with books and sports equipment is provided for school children.
Facilitated computer classes at the Resource Centre. A Computer teacher has been designated especially for taking computer classes for kids.
Set up of Vision Centre and basic eye check-up facility. 2010 villagers screened in first year of operations. Total number of spectacles– 209, eye surgeries– 82.
Reconstruction of toilets in the schools. n Installed Aquaguard RO machine for clean drinking water at the school. Canon India celebrated first anniversary of Maharaja Katte Village Adoption.
Subsequently, children identified with refractive errors during free eye check- up camp conducted in the school were given spectacles and all the school children were given a pair of new shoes and two pairs of new socks to the joy of their parents and school staff. Karanjoti village in Thane district of Mumbai, Maharashtra was adopted on 28th April, 2015. The school building was revamped, Resource Centre improved and t ree plantation drive was undertaken.
CSR Employee Engagement Activities in Canon India
World Day against Child Labour
To influence the young minds to raise awareness, empathise with the less fortunate children and set an example to the promoters of child labour to end this menace in the society, we urged our employees to educate their children against Child Labour and encouraged them to draw a painting showcasing 'How to Stop Child Labour'. The young participants were felicitated for their efforts.
We launched a 'Walk in my Shoes' drive in which all the employees were encouraged to donate their gently used shoes in good condition for the less privileged children and their families in the society.
Launch of 'Each One Teach One' Campaign
Under this campaign, we encourage our newly hired employees across the country to spend quality time with the school children in the adopted villages. This campaign has been included in the Corporate Orientations with an objective to instil a sense of social responsibility in the employees from the very beginning. The employees dedicate their time and efforts to teach these children basic hygiene manners, art & craft skills, communication skills, basic computer literacy, importance of teamwork, photography or any subject of their interest. One of the most important parameters while selecting the village for adoption is its proximity from Canon office in the area. We enable our employees to travel to the villages and make an impact in the lives of the students and the villagers.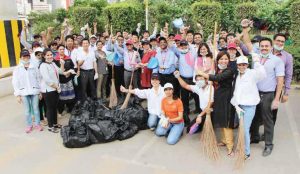 We organised a 'Go Green' drive which is a step towards making the environment greener. Our employees planted 150 saplings in bio-diversity parks in Gurgaon as a step towards its continuous efforts to bring eco-friendly and sustainable changes in the community.
We organised a cleanliness drive in collaboration with another Japanese company, Yokohama Tyres in our office premises. The drive came up as a humble endeavour to contribute towards the Government of India's initiative, 'Swachh Bharat Abhiyan'. Many employees came out in support to prevent the growing strain on planet earth's natural systems.
Awareness Rally on Energy Conservation
Our employees visited Karanjoti Village in Mumbai and explained the concept of Earth Hour to students through pledge campaign and audio-visual presentation. The students participated in an awareness rally on energy conservation in the village and educated the villagers about saving electricity and water for their better future. The students also participated in a painting competition and came out with beautiful thoughts on conserving the environment.
A country as big and as vast as India with an equally large population has many challenges in every  aspect  of  its social fabric where there are innumerable unmet needs and expectations that the Government alone cannot resolve. What do you suggest should be the way forward for companies to act upon, apart from the issues that are being addressed?
In my view, social responsibility cannot be forced. Organisations need to instill this commitment in themselves and their employees. I appreciate the government's mandate and feel they can be utilised as guidelines. Following these mandates in the best manner possible and ensuring growth and escalation of the community is essential.
You have been with the India operations since 2012 and have been directly and actively involved in every aspect of Canon's CSR projects. What has brought about this passion and desire  to  give  your  all  to  see  that   projects and initiatives are implemented?
CSR needs to be carried out on a voluntary basis, it cannot be forced. Personally for me, contributing to the development   of   the   social   fabric   is extremely essential. I get immense joy seeing happy and smiling faces around me. For me CSR is one of the most important contributors in the growth of an organisation as well as individuals. Having said that, the focus is development of communities – which is the larger objective of the CSR law as well.
I visit the villages frequently and interact with the students and the villagers; it fills me with greater faith in the initiatives we have undertaken and encourages me to contribute more towards the society.
Canon India staff are also encouraged to get involved with the causes they are passionate about. How has this impacted their lives and what has been their feedback as they help fulfill the company's vision and philosophy of Kyosei?
Yes, as I mentioned earlier, we do encourage our employees to dedicate and make a difference in people's lives. Their lives have been deeply impacted in the process. Take for example the 'Each One Teach One Campaign'. Employees have been visiting these villages on special occasions like Diwali and Christmas and have also been celebrating their special moments like birthdays with the school children. I can proudly say that the children and villagers are an extended part of the Canon family.
Testimonials from Canon employees on the eve of Karanjoti's First Anniversary celebrations
"It was a heart-touching experience. The kids were wonderful and confident. I really liked their dance performance and art and craft exhibition. Science exhibition was marvelous too. The event was a perfect blend of creativity, hard work and persistence by students, teachers and Canon volunteers. I would love to come here time and again and spend time with the children, teach them and learn from them simultaneously. Thank you Canon for giving me this opportunity to participate in the event."
Sujatha Kallivalappil
"I was spellbound to see the decorations and proud to see the smiling children all full of energy and excitement to perform and leave a mark on our memories. What a great day to spend with the children and learn a lot of good stuff in terms of art & craft and science exhibition. I could make out the level of happiness when all the students were gifted with school bags, shoes and socks by Canon. Thumbs up for the event."
Sheetal Kapadia
"I was among the luckiest ones who got the opportunity to volunteer for the event. Based on my interaction, I must say that all the children were not only good in studies but sports too. Carrom competition was amazing as it got cheers from everyone, along with science & craft exhibition. Great combination of skills, knowledge and art were on display and happiness was in the air at the event."
Sameer Sawant