Gurugram: Diverse stakeholders came together on a common platform to discuss and deliberate on the issues of road safety and transportation systems that would contribute to paving the way for creating sustainable cities. The conference titled 'Sustainable Cities – Strengthening Road Safety and Transport Systems', hosted by DLF Foundation, in association with UN Global Compact Network and Fleet Forum, also identified gaps in road safety and aimed to address the issue in a holistic manner.
The session kick-started with a welcome address by Dr. Uddesh Kohli, Senior Advisor, United Nations Global Compact Network. He stressed on the need of awareness as being crucial to address the issue of road rage.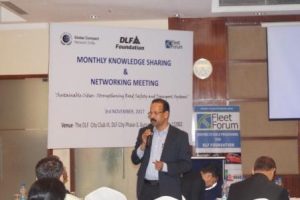 On the occasion, Mr. P.K. Joseph, Director Programmes (CSR), DLF Foundation said: "The city of Gurugram represents a case of unplanned development which has led to a host of road safety issues including encroachments, car culture, resulting from lack of adequate public transportation, cycle tracks, pedestrian paths, car pooling and public parking. The aim of DLF Foundation is to work with various stakeholders to  find lasting solutions to road safety through research, policy advocacy, stakeholder education, identifying models of excellence in road safety and scaling them up with public-private partnership which can be meaningful CSR engagements."
A call for action by Gurugram's stakeholders was made under the banner of Gurgaon Rejuvenation Project, a multi-stakeholder platform to address the infrastructural, social and environmental issues of Gurugram.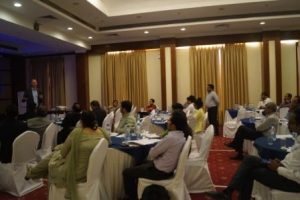 DLF Foundation, in partnership with Fleet Forum, Netherlands have launched 'Driving to Gold' programme. The programme aims to convert Gurugram drivers into professional drivers to contribute to road safety and pleasant passenger experience. The training comprises three blocks. Under the first block, the drivers undergo an hour and a half duration of training and evaluation on the driving skills. As part of the second block, the drivers are made to watch videos and then discuss the things they observe and how it can reflect in their driving behaviour. The last block aims to put into place mechanisms that measure the extent of learning that has been put into practice (re-assessing the level of the driver).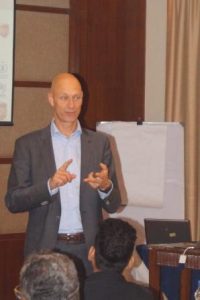 On the occasion, Mr. Paul Jansen, Executive Director, Fleet Forum said: "Over 1 lakh 50 thousand people are killed every year due to road accidents. It accounts for $58 billion loss annually. It is thus of utmost significance that the issue is addressed promptly. The need of the hour is a collaborative effort by multiple stakeholders to address the issue.
The workshop also witnessed interactive presentations which highlighted the critical road safety scenario in Gurugram and identified gaps in the process.
According to the `Road Accidents in India – 2016′ report, there were 4,80,652 road accidents in 2016, claiming 1,50,785 lives and leaving 4,94,624 persons injured. The accident severity measured by a number of persons killed per 100 accidents has reached 31.4, and 46.3 percent of accident deaths were in the age bracket of 18-35 years.