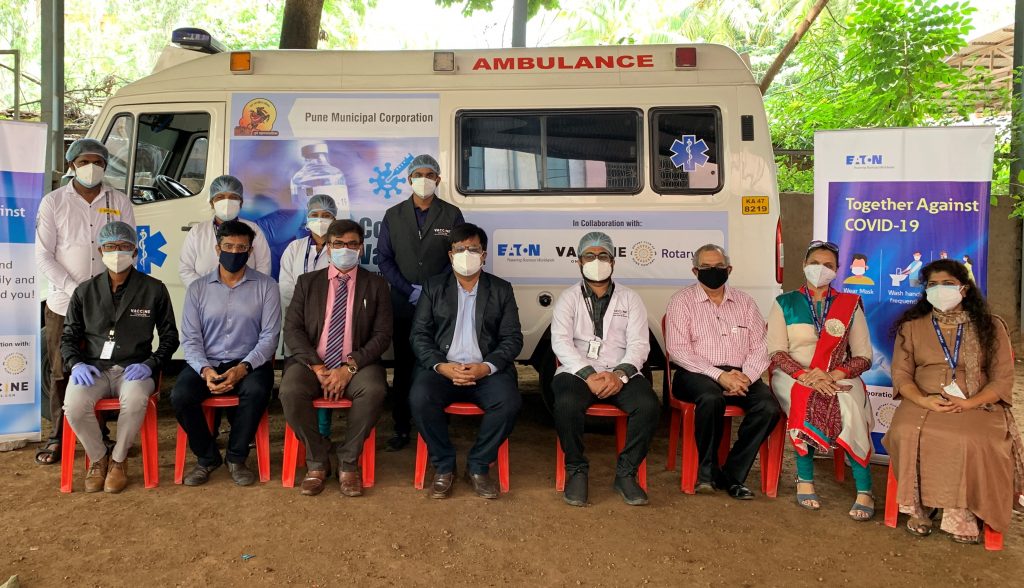 Pune: With its commitment to making communities stronger, power management company Eaton announced a collaboration with Pune Municipal Corporation (PMC), VaccineOnWheels, and Rotary Club of Pune Central to roll out a six-month COVID vaccination programme. This is a Public-Private-Partnership (PPP) led by Eaton India Foundation to benefit under-served community members, including the trucking community, daily wage and migrant workers and people with disabilities.
"Eaton continues to contribute to the nation's fight against the pandemic," said Shailendra Shukla, Managing Director, Vehicle Group, Eaton, at the campaign kick-off. "With this unique programme, we aim to proactively support the vaccination of about 15,000 beneficiaries free of cost. We are grateful to our partners for making this mobile and easily accessible for underserved members of our society," he added.
"We, along with Eaton and PMC, will provide vaccination services by running a mobile vaccination van," said Jignesh Patel, Founder and CEO, VaccineOnWheels. "We hope that by bringing vaccinations directly to people in the community, we will increase immunisations and help mitigate the spread of the virus."
"Through this programme, we intend to provide vaccinations to as many people as possible, with a focus on those most vulnerable to the disease," said Ravi Kapoor, Chairman, COVID Vaccination Project, Rotary Club of Pune Central. "We are pleased to partner with Eaton on this important initiative."
Eaton India Foundation is a public charitable trust established to streamline and broaden Eaton's community efforts in India. Eaton India Foundation has assisted various COVID-related relief measures, including providing frontline workers with healthcare and safety equipment, migrants and daily wagers with essentials like meals and ration kits, among other causes. Eaton's CSR and community efforts follow a structured approach engaging in far-reaching and long-term sustainable programmes through funding, in-kind contributions, volunteer programmes, and technical collaboration with specialised nonprofit organisations.