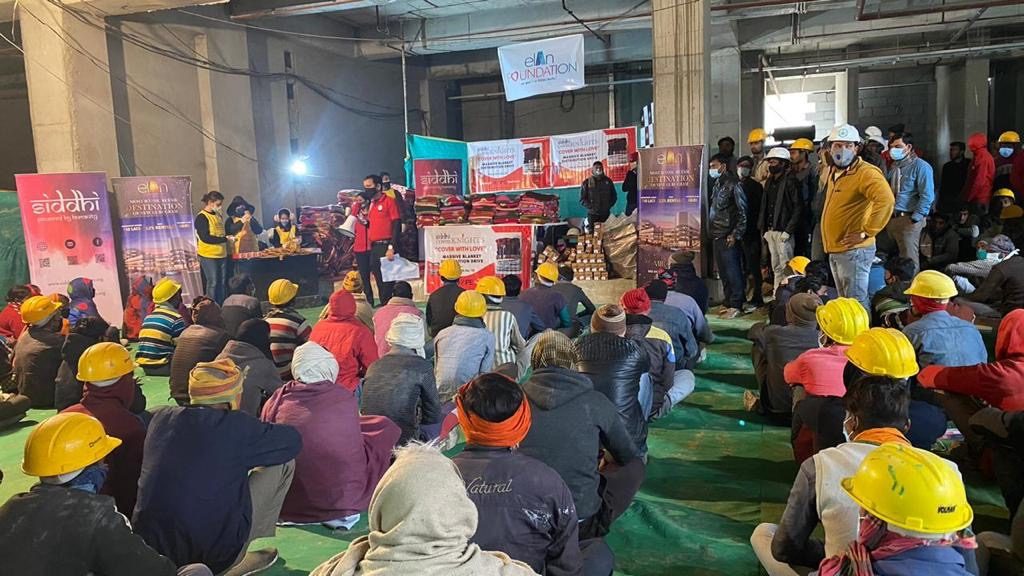 Gurugram, January 9, 2021: Elan Foundation, a philanthropic arm of commercial realty developer Elan Group, organised a Sanitisation & Hygiene Awareness Campaign with the distribution of blankets, hygiene care goods and clothes for onsite labourers and their families at Elan Miracle, Sector 84, Gurugram. The drive was organised in collaboration with Siddhi Philanthropic Foundation. The objective of the initiative was to mitigate the hardships faced by construction workers and their families as well as sensitise them on the importance of hygiene and sanitization amid COVID-19.
The campaign sensitised the construction workers and their families on the significance of maintaining hygiene and sanitisation to reduce the transmission risk of the COVID-19 pandemic. As part of the drive, blankets and clothes were also distributed to help the construction workers brave the rapidly falling temperature.
Ravish Kapoor, Managing Director, Elan Group, said: "This is an unprecedented time when the onslaught of the cold weather and the COVID-19 pandemic has gripped us. It has led to a lot of hardships, especially for the marginalised section of society. The initiative is a part of our endeavour to extend our helping hand to the marginalised and make their lives brighter. Elan is committed to augmenting the efforts of bracing the battle against COVID-19 as well as the cold."
The initiative comes amid Gurugram witnessing frigid temperatures, with a maximum of 19 degrees Celsius and a minimum of 5°C.  Simultaneously, the COVID-19 pandemic rages on, albeit reporting a decline in average daily cases in Gurugram.
Elan Group has been instrumental in aiding the marginalised through various initiatives. During the lockdown, Elan Foundation had also bolstered humanitarian relief efforts by distributing one-month ration, masks and sanitisers, free of cost to over 2000 labourers.