Emaar India, India's leading real estate developer, organised a daylong celebration marking World Aids Day 2016 at its various project sites in Gurgaon and Mohali, aiming towards achieving the goal of an AIDS-free generation. The initiative was part of Emaar India's CSR wing EMCARE (Emaar Community of Aware and Responsible Employees) that believes in "Welfare for All".
As per WHO guidelines, World AIDS Day is celebrated globally on 1st December every year with 'Hands up for #HIVprevention' as this year's theme.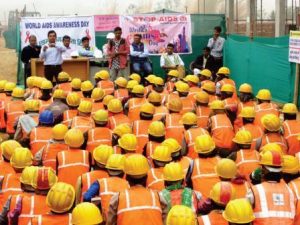 On this occasion, Emaar India organised AIDS awareness and education sessions, health check-up camps and provided free Tetanus Toxoid (TT) vaccinations for its construction staff and site labourers. As many as 8000 workers attended the camps organised at different project sites of Emaar India including Palm Terraces Select, Marbella, Palm Hills, Palm Gardens, Imperial Gardens, Gurgaon Greens, Emerald Estates, Emerald Hills, Emerald Plaza, Digital Greens and The Palm Drive in Gurgaon, and Mohali Hills in Mohali.
To ensure the success of this campaign, the company representatives also conducted HIV/AIDS awareness marches from the project sites to respective labour colonies and the neighbourhood. These initiatives were organised in collaboration with representatives and doctors from Haryana Government Aids Awareness Program, various NGOs including Samarth, and local hospitals.
Thanking all the stakeholders for being part of this drive, Mr Arman Chaudhary, Chief of Human Resources, Emaar India said, "Emaar India is a proud and regular supporter of the HIV/AIDS prevention initiative which aims at creating a prosperous interdependent and healthy society by walking together while caring for each other. Being attached to so many lives, we take it as a responsibility to do our bit to ensure a healthy, safe and productive generation through these small but significant steps. Most importantly, endeavours like these offer an added opportunity of engaging with our biggest asset, our human capital, and realizing our corporate social responsibility by associating with our social partners."