India, December 23, 2019: Embassy services, the integrated facility management giant is set on to not only render the best facility services to its clients but also to the purpose of making small yet notable differences for the society at large, meeting the needs of the present without compromising the ability of future generations to meet theirs. For them, it is the three main pillars: economy, environment, and society, which ESPL has relentlessly brought in its approach. The Company is committed to contributing to the economic development as well as improving the quality of life of the community and society at large. As a company, it looks beyond just profits, and how through their client practices and their business ethics they provide larger benefits to the community. Embassy Services under its community engagement programme for office parks called Energize is managing a campaign called, "Gift a Smile," the 4th edition of its flagship Christmas celebration.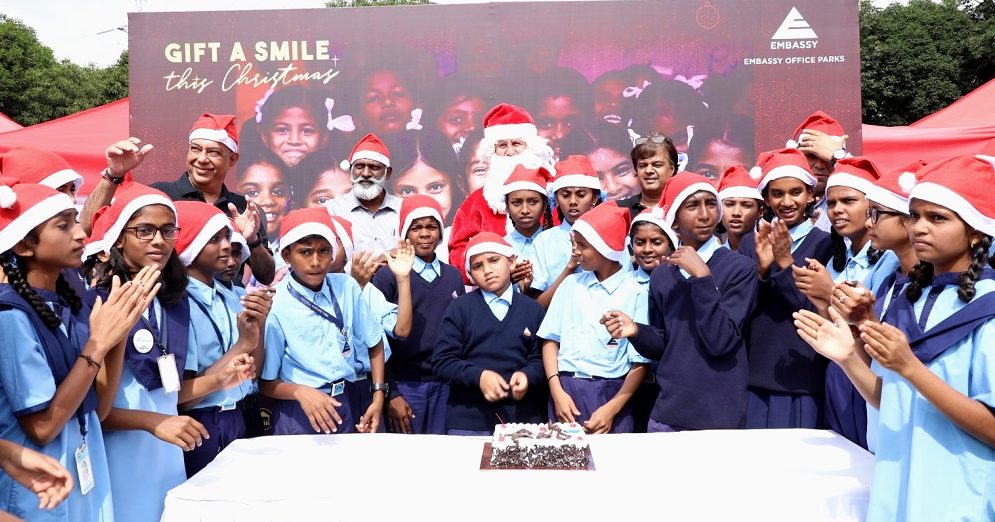 Through this initiative, they focus on education and CSR. The company is associated with the NGOs Colours of Life and Care Works Foundation which allows them to support 22 Government schools in the region. The campaign promotes individuals to purchase gifts through their website giving it the reach to 8000 kids while spreading joy in their lives. Additionally, they are holding events at three of their office parks- Embassy Manyata Business Parks, Embassy Tech Village, and Embassy Tech zone to bring the Christmas spirit to some of the children. The company will personally escort to the event venues more than 110 children in AC shuttle buses used for employees and park users. The day-long activity entails fun like game stalls, a flea market, cake cutting, gifting by top management of the business parks and a Santa Claus to entertain the children. The ESPL employees will be on the floor to engage with the children ensuring a memorable time.
Embassy Services is escalating its sustainable approach to the next level. They have set up Upcycled Christmas trees using industrial waste combined with household and automotive waste at the business parks. The trees are made of 100 percent found material which helps to look at unwanted material differently. Upcycling Christmas trees are a small part of making the future better by consuming less and using already existing material.
Embassy Services invests in the right talent to achieve sustainable goals through four pillars – Client, People, Infrastructures and Communities. These pillars create innovative and forward-thinking solutions for a better tomorrow and help businesses in implementing sustainable initiatives using various methodologies in the properties managed by them.
Embassy Services manages a portfolio of 150+ clients across 70 million sq. ft. providing a range of services for all verticals of real estate including energy management, water management, transport management as well as the environment, health, safety and security services. They work closely with their clients to implement solutions to create a significant impact on the overall reduction of energy, water, and other resources.