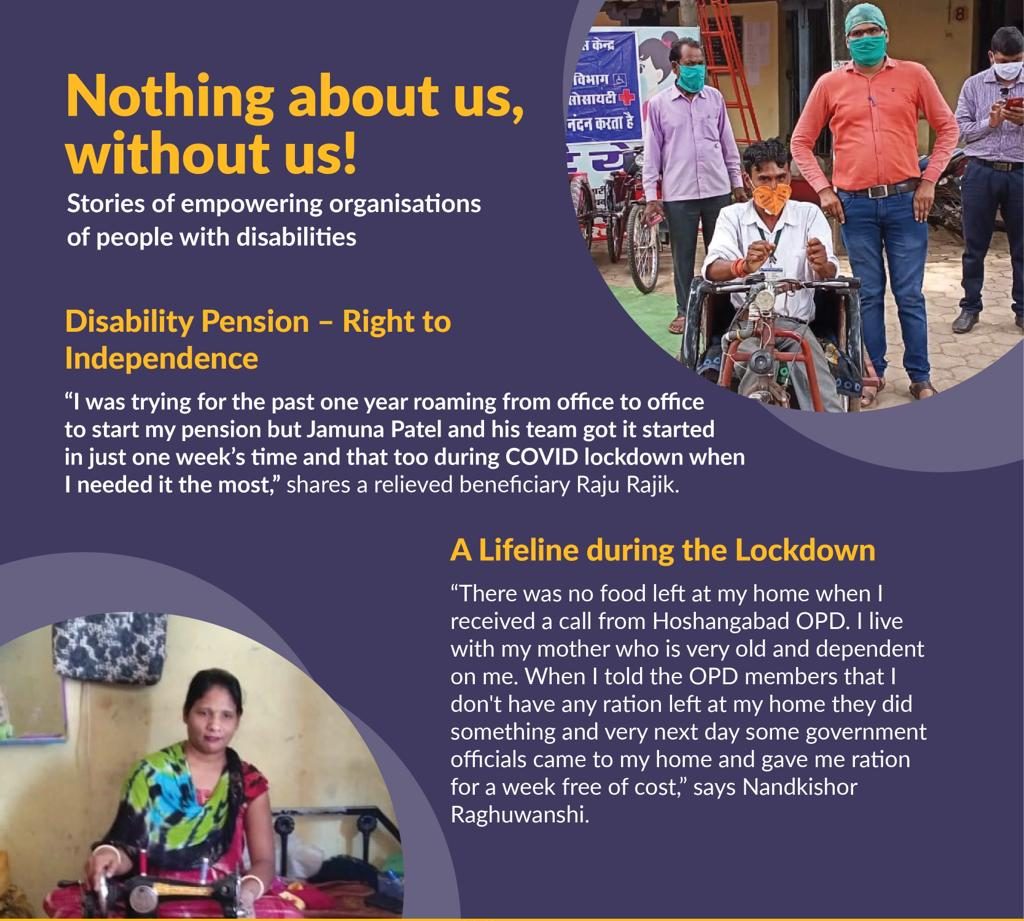 National: As part of the Building Partnerships for Sustainable Development Goals – Empowering Organisations of People with Disabilities project supported by the European Union, Sightsavers along with the European Disability Forum launched a case storybook – Nothing About Us, Without Us! Stories of Empowering Organisations of People with Disabilities.
Amidst the COVID-19 pandemic, organisations of people with disabilities (OPDs) from 15 districts of Chhattisgarh, Jharkhand, Madhya Pradesh, Odisha and Rajasthan shared their stories around livelihoods, accessibility, entitlements, empowerment and participation. There are ten powerful stories of resilience and grit from five States of India.
The project supports people with disabilities to engage in, shape and monitor the implementation of the 2030 Agenda. Since 2018, Sightsavers' project has been working towards ensuring that women and men with disabilities engage, shape and monitor the implementation of the Sustainable Development Goals in India. While working with 15 OPDs, the project strengthened policy dialogue and partnership between Indian OPDs and the European Disability Forum.
RN Mohanty, CEO, Sightsavers India said, "The Building Partnerships for Sustainable Development Goals – Empowering Organisations of People with Disabilities through its capacity building initiatives has enabled rural OPDs that is Organisation for People with Disabilities, to engage with the government for implementation of SDGs, implementation of the RPWD Act and local accountability mechanisms. The project has been able to capacitate many people with disabilities for doing independent and structured advocacy with real tangible reasons. The partnership with EDF and EU have added tremendous value to us at Sightsavers and we are looking forward to continuing these important partnerships through our shared vision of an equal world."
Each story presents the different grassroots challenges that were overcome to support people with disabilities in realising their potential in remote corners of India. When you read Husaina Bi's story, securing livelihoods in the pandemic lockdown, you will discover how women with disabilities can be skilled professionals in delivering high-quality, affordable food to underprivileged people, even during a national emergency.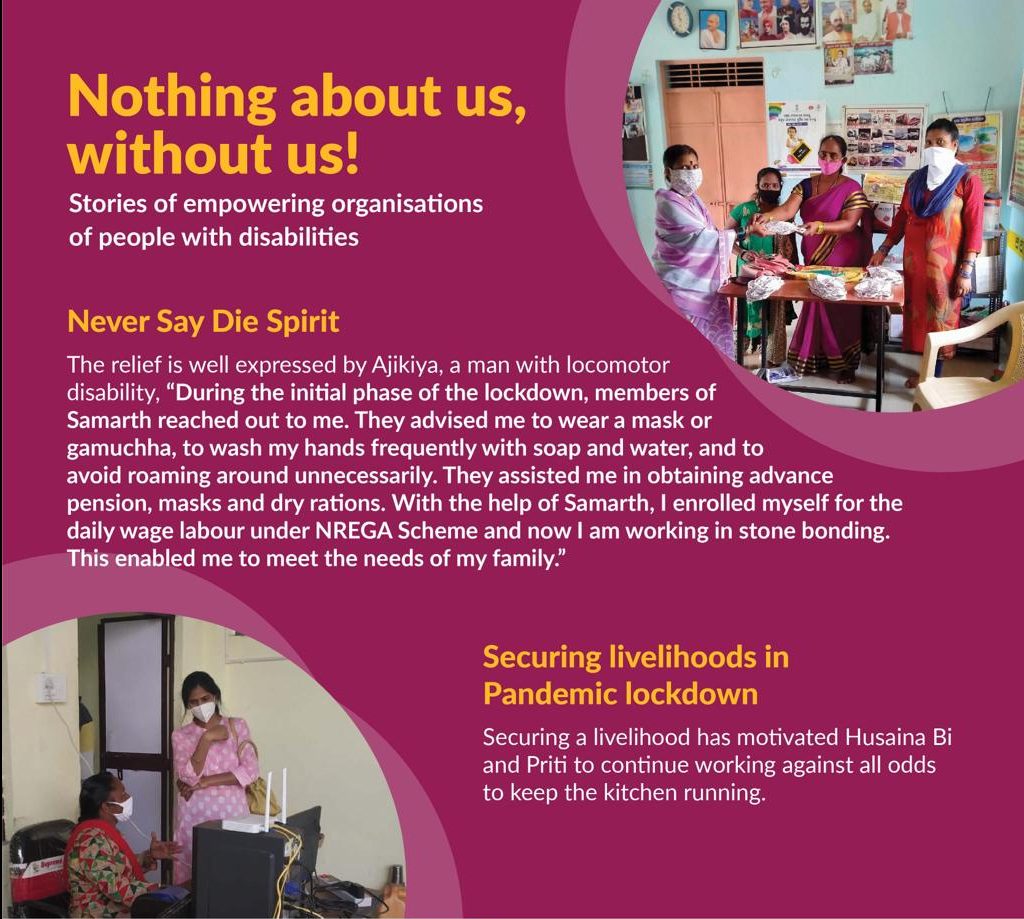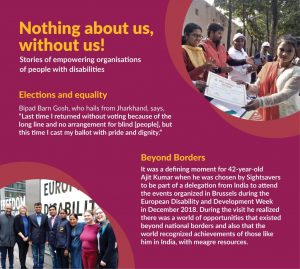 Catherine Naughton, Director, European Disability Forum, said, "It has been our pleasure and honour to be a part of the project. We have enjoyed working with all the project partners and I really encourage you to read the publication. To hear the direct stories of people with disabilities in India talking about education, about employment, transport and of course the impact COVID-19 pandemic has had."
The story titled Beyond borders captures the marvellous impact of exposure visits to Brussels during European Disability and Development Week in December 2018. This visit was an eye-opener for OPD members in India as it gave them a fascinating window to the world and allowed them to explore ideas that could be adapted for local needs. While OPD members were greatly enriched by their European visit, they also inspired representatives from other countries with their grassroots work and achievements, despite not having the resources that are provided in European countries.
Andrew Griffiths, Head of Advocacy, Policy & Programme Strategy, Sightsavers, said, "Some of the work that I have seen with OPDs in India, with OPDs in Europe, some of the tools that have been developed, things like disability inclusion scorecards, have just changed lives. The successes highlighted in the book speak for themselves."
This targeted capacity-building and advocacy project in 15 districts and 5 states of India has facilitated the certification of disability for 11,152 people, provided disability pensions to 8,144 people and supported the issuing of voter IDs to 8,450 people with disabilities.