Desai Foundation's Projects Serves as an Impetus for Women to March Forward
With multiple goals, especially in empowering women and girl children, Desai Foundation, a US-based NGO has been working in several areas of South Gujarat in India and a few areas in the United States. With a mission to improve social and economic life in the villages of India and to develop and implement educational programmes to promote Indian culture and heritage in the United States, the Foundation has been working to achieve these goals over the last two decades. The Foundation envisions a society where everyone leverages their experiences and resources to reach out to others in greater need to promote health and education.
Extending their work steadily, the Foundation has included health, education, Indian art & culture, technology and community support. Their primary focus is to elevate health and livelihood, particularly for women and children, through community development programmes. Their Sanitary Napkin Programme empowers women and girls in rural South Gujarat by providing employment and menstrual health education. Megha Desai, President, Desai Foundation, in conversation with Archana Sinha, talks about the journey and the way forward.
"Partnering with people and organisations at the grassroot level in India is a crucial part of our model. We wholeheartedly believe in a ground-up approach, that is, empowering the communities through developing leaders within the communities"
How do you mobilise women and girls to produce these napkins?
We are able to help these women mobilise because they understand the challenges of promoting menstrual health in their communities better than anyone else. Many are hungry for the opportunity to do something about it while also improving their income through a new, fulfilling job. Their work tackles the stigma surrounding menstruation and lack of access to proper hygiene products that would otherwise prevent women and girls from working or going to school. Making these products easily available also reduces serious health risks caused by using rags and other makeshift materials during menstruation.
Deep understanding of the obstacles to self-care motivates these women and makes it easier for them to recruit other women to join the programme. Our job is to provide the resources and support to help make this happen.
Women are trained and employed in two teams: manufacturing and sales. The former operates easy-to-use machines that make pads from materials we provide to ensure a comfortable and hygienic product: wood pulp, cardboard, and tissue paper. The sales team distributes the product and help educate the community on menstrual health management. These jobs provide women with a stable source of income besides the satisfaction of learning a new skill. We typically identify women to lead the programme from local self-help groups but are working to develop it so that employees can effectively recruit other women to join the programme. This is how we aim to generate support among the greater community.
When did you start the programme? What has changed since then?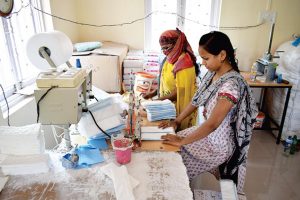 We piloted the programme in 2013. Since then, much has changed. The original machines we were using to manufacture the product kept breaking and were not user-friendly. We spent a good amount of time researching many manufacturers for the production. Materials are also important to us. We wanted to produce a high quality, lower-cost product that was also safe for the environment. Our products are now 98 percent biodegradable. We also shifted our outreach and sales programme. We have found that women actually are more successful in small teams, so we have been shaping that training. We imagine that we will always continue to improve and tweak this and all our other programmes so that they can evolve according to the needs of the community. Eventually, we hope to include men in this process so that they too can learn to de-stigmatise the issue of menstruation. We also look forward to the day when this programme becomes successful on its own merits and operate without us. We build all our programmes with sustainability in mind.
Which are the districts covered by this programme? Do you have plans for expansion in to other districts/States, etc?
After successfully piloting the programme in the village of Kharel in Navsari district and opening our second centre in Talangpur, Surat, we are working to implement it in Untdi, Valsad district, Gujarat. We also hope to expand in Gandhinagar and other regions of South Gujarat. We want to impact 250,000 women and girls through it. We are also looking at fine-tuning the programme by improving the training curriculum, the menstrual hygiene education, working more closely with women to better understand their needs, working with local schools and hospitals to expand usage, and much more.
Since the projects undertaken by the Foundation are fundamentally women-centric, are women educated on their reproductive health, pre and post natal care? If yes, what has been the impact?
We have many other programmes at Desai Foundation that cover these areas. The main service that we offer in terms of reproductive health is pre and post natal care- providing vital health education to teach women on how to care for themselves and their newborn during and after pregnancy. This helps promote hygiene, nutrition, and other good practices during this critical time. Additionally, our gynaecological camps provide much needed check-ups for around 400 women. Our other general health camps across the region particularly emphasise on women and children's health.
How often do you travel to India to oversee your campaigns? Do you have a team of people here working at the grassroot level to see the campaigns reaching the desired target audience and bringing the change you wish to see?
Yes, partnering with people and organisations at the grassroot level in India is a crucial part of our model. We wholeheartedly believe in a ground-up approach, that is, empowering communities by developing leaders within the communities. In fact, many people who are served by the Desai Foundation would not recognise the Foundation's name! That is actually something we are quite proud of. We tap the resources closest to the people we are serving, and that is really the only way to have a lasting impact. We are also very hands on. We travel frequently, several times a year, to meet with our leaders, our supporters, our partners, and those we serve.
What are the other health enhancement programmes being undertaken?
We have several health-focused programmes. Our Bal Mela health camps, in particular, serve up to 2,000 young children at a time across many regions. These lifesaving camps which are conducted several times a year provide screenings, hygiene training, health education, nutrition education as well as fun games and activities so the children can take them home and share with their family members as well.
We also provide hygiene training for women to help prevent dangerous diseases and infections, as well as prenatal care camps and trainings. We offer hygiene education in a couple of schools in the region with the hope that the consistent message imparted in the classroom will help these children carry this knowledge with them their whole lives, and perhaps even bring that knowledge home to their families. We also do some health programmes in the US that address some of the challenges that South Asians living in America face.
Do share with us the other projects the Foundation is currently involved in.
We place great emphasis on our health programmes, but I would also love to point out that we also have several powerful programmes across education and vocational training for women. These include:
• A highly innovative partnership with IIT Gandhinagar, inspired by our work with Columbia University's Community Impact in NYC, activating students as volunteers to transform communities around the school vicinity.
• Science Schools (Lok Vidhyalay School of Math and Science) serving 13 villages in rural Gujarat.
• Computer Classes and Computer Literacy Training for village youth, as well as women and adolescents.
• Sewing Classes that employ women, providing them with a job and dignity.
These are still small steps, but inroads have been made. There is still much work to be done but the gratifying aspects of these programmes are that they are starting to bear fruit.