Delhi: CREDAI NCR undertook a health check-up camp and eye check-up camp for National Capital Region (NCR) construction workers. It is part of its proactive Corporate Social Responsibility (CSR). The health camp was held on June 7, 2023, at Eldeco Centre, Malviya Nagar. More than 200 attended the camp.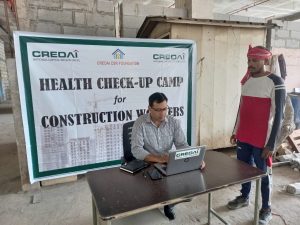 The construction workers underwent thorough examination by a physician including blood pressure, sugar, height-weight check-ups etc. Construction workers consulted certain routine problems which were duly responded to by the physician. Similarly, their eyes were tested by an ophthalmologist. CREDAI NCR has partnered with Felix Hospitals, a leading healthcare service provider, for this purpose.
"At CREDAI NCR, we firmly believe in making a meaningful impact on people's lives and strive to foster sustainable growth in the real estate sector while ensuring the well-being of all stakeholders. This is an ongoing effort on our part. Recently, we donated oxygen cylinders to leading charitable hospitals. This healthcare initiative for construction workers aligns with our core values and demonstrates our commitment to their well-being," Manoj Gaur, President of CREDAI NCR and CMD Gaurs Group, stated.
CREDAI NCR has planned 14 health check-up camps in different parts of NCR. Two have been conducted on the 7th June, and the other twelve i.e., two per day will be held on the 8th, 9th, 12th, 13th, 14th and 15th of June at SG Shikhar Heights (Ghaziabad), Migsun Vilaasa (Surajpur, Greater Noida), Eros Sampoornam (Gh-01, Sector2, Greater Noida West), Eldeco Accolade (Sector-2, Sohna), Eldeco Live by Greens (Sector 150, Noida) and Gulshan Dynasty (Sector 144, Noida). From June 16 onwards, these camps will be scheduled back to back at the projects of other member developers as well.