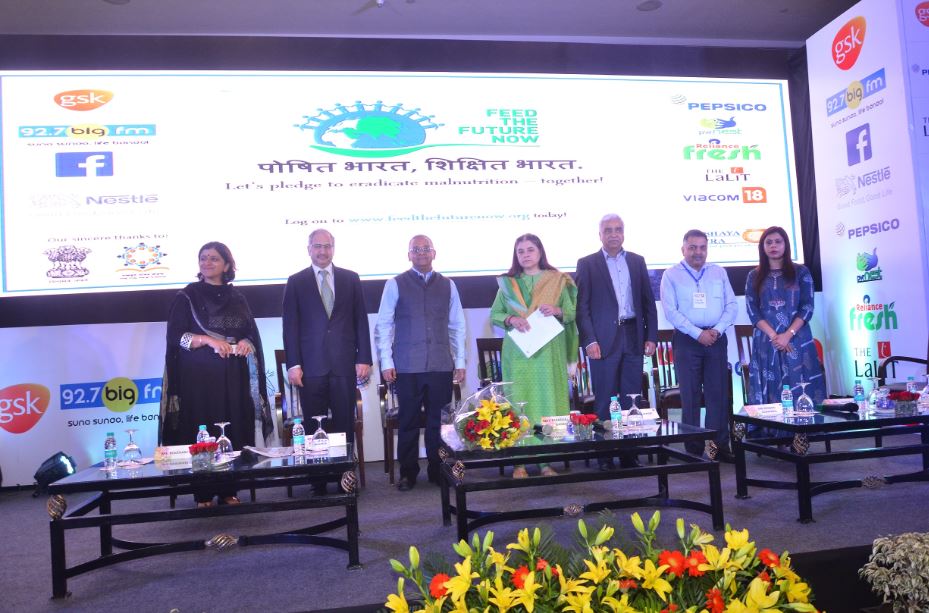 Mumbai, 29 May, 2017 – On the occasion of 'World Hunger Day', The Akshaya Patra Foundation, in partnership with GSK Consumer Healthcare, Nestlé, PepsiCo India, PVR Nest, Reliance Fresh, Facebook, The LaLiT, Reliance Broadcast Networks Ltd, Viacom 18, and the Government of India, flagged off a movement to raise awareness about the importance of nourishment amongst children and its impetus to education. Christened as 'Feed The Future Now', this movement is set to serve five billion meals to children across India by 2020 with a view to create a 'Poshit Bharat, Shikshit Bharat.'
The movement was flagged off by Hon'ble Minister for Women & Child Development,
Smt. Maneka Sanjay Gandhi. The launch was graced by Mr. Shridhar Venkat, Chief Executive Officer, The Akshaya Patra Foundation along with the CEOs and senior representatives of nine leading corporate partners. At the launch, each partner pledged to drive initiatives that raise mass awareness about need for the right nourishment amongst children. To meet key global nutrition milestones, future growth requires significant investments critical to ensure school-going children do not drop out due to direct and indirect impact of hidden hunger and micronutrient deficiency.
Raising awareness on the issue of child malnourishment, Maneka Sanjay Gandhi, said, "I congratulate the Akshaya Patra Foundation for the launch of this movement. It is a one-of-a-kind institution doing great service. Malnutrition is one of those issues that require urgent attention. The focus should not be on feeding just food, but providing a nutritious meal. I believe children should be provided packets that contain 600-1000 calories and nutrients and I urge the Akshaya Patra Foundation to take up this initiative. I will whole-heartedly support you and take this initiative to all the States. I congratulate all the corporates today for partnering with this cause and I am sure you will achieve great results through this movement."
The Akshaya Patra Foundation's CEO, Shridhar Venkat said, "We are very thankful to all our partners especially the Government of India (GoI) who have come together today to raise awareness about the growing need to ensure children are well nourished at the age of 0 – 12 years and join us in our mission to serve five billion meals by 2020. Food is not charity. Food is life. Setting a child on a proper course with good daily nutrition and the ability to attend and succeed in school is our collective social responsibility and one which reaps unlimited rewards as new generations grow and thrive."
Pledging their support for the cause, Mr. Manoj Kumar, Managing Director, GSK Consumer Healthcare said, "'Feed the Future Now' resonates well with GSK's core philosophy of doing more, feel better and live longer. In India, where nine out of ten children are micro-nutrient deficient, this partnership that aims to provide nutritious meal to children will definitely help nurture the future of our children. Under this partnership, GSK will provide nutritious meals to over 50,000 children. In addition, under 'Mission Health', our CSR programme, we have taken on us the task of educating and building awareness around micro-nutrient deficiency among children. We are currently reaching out to over 150,000 children in the country."
Mr. Damodar Mall, Chief Executive Officer, Reliance Fresh also supporting this cause, said: "We are pleased to be ground partners for the 'Feed the Future Now' initiative with The Akshaya Patra Foundation. In our stores and on our communication platforms, we will take the message of this movement to millions of our customers. Jointly with our customers, we are happy to help ensure hunger does not come in the way of good education."
Joining hands with the movement, Mr. Sanjay Khajuria, Senior Vice-President, Corporate Affairs, Nestlé India, said, "Nutrition is an important focus area for Nestlé. It has been our endeavour at Nestlé to contribute to nutritional education. Our flagship nutrition awareness programme, 'Nestlé Healthy Kids' aims to ensure adolescents adopt appropriate nutrition and physical activity habits, which are important for their development and learning ability. We believe that it is imperative for stakeholders to join hands in the journey towards building a nutritionally-empowered society. We at Nestlé are committed to contribute towards alleviating the challenge of malnutrition. We pledge our commitment to 'Feed the Future Now' movement for a Nourished India, Educated India."
Adding more insights, Ms. Poonam Kaul, Vice-President, Communications & Corporate Social Responsibility, PepsiCo India noted, "The fundamental issue of malnutrition and hunger amongst our young children threatens to derail our progress and economic ambitions for the future. As a responsible leader, PepsiCo's 'Performance with Purpose' vision focuses on creating a healthier relationship between people and food, and to achieve this, we are transforming our product portfolio around nutrition. At the same time, we are committed to providing access to at least three billion servings of nutritious foods and beverages to underserved communities and consumers globally by 2025. In India, we started the 'Quaker Feed a Child' program last year, with our partner, Smile Foundation, as part of our concentrated efforts to address the problem of malnutrition among children. As our flagship nutrition brand, Quaker pledged half a million nutritious meals to underprivileged children in the country last year. We are happy to join the 'Feed the Future Now' initiative with a commitment to continue our efforts to alleviate the issue of hunger and malnutrition through various initiatives in the area of nutrition."
Speaking about the need for addressing classroom hunger, Ms. Sonia Huria Gupta, Senior Vice-President, Corporate Social Responsibility, Viacom18 said: "According to the UNESCO Institute of Statistics 2016 report, every year 47 million Indian children drop out of schools by the time they reach 10th Standard. There has been direct correlation between dropping out of schools and classroom hunger. At Viacom18, we believe that education is the key to unlock India's true potential and it is the future generation that needs to be equipped and nurtured today. We are delighted to partner with the Akshaya Patra Foundation for the 'Feed the Future Now' movement."
Mr. Tarun Katyal, CEO, Reliance Broadcast Networks Ltd, said, "We reach out to a wide set of audiences across the country. In the past, we have leveraged this reach to spread awareness and bring various social causes to light which resonates with our positioning of 'Suno Sunao Life Banao'. Taking this forward, we are now partnering with The Akshaya Patra Foundation, with an aim to focus on the issue of 'world hunger' through their 'Feed the Future Now' movement. By virtue of this association, we hope to highlight the relevance of this issue in India by motivating our listeners to take cognizance of its seriousness and support it collectively as a society."
Commenting on the movement, Ms. Deepa Menon, Senior Vice President (Corporate Communications & CSR), PVR Ltd, said, "Nutrition and development are interlinked. Therefore, being a socially sensitive organisation, PVR is supporting 'Feed the Future Now' initiative through the use of its physical infrastructure. The initiative is also in sync with the ethos of PVR Nest, which concentrates its efforts towards mainstreaming underprivileged children and restoring confidence among them by investing on education, health & nutrition, skill development and employability through our 'Childscapes' program."
With the support of our partners, 'Feed The Future Now' assets were unveiled at the launch which included movement logo, website www.feedthefuturenow.org, awareness video and anthem.
Based on three pillars – Awareness, Nutrition and Education, the campaign will create a rallying call-to-action and promote policy advocacy as well as behavioural change on the twin issues of nutrition and education.