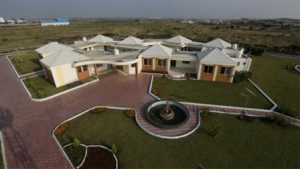 Baramati (Pune), November 16, 2016: Over 150 kids from Baramati celebrated Children's Day with Ferrero India at the company's Pietro Ferrero Kindergarten facility. The fun event was graced by the President of Baramati Municipal Corporation, Shri Yogesh Jagtap, along with the leadership team of Ferrero India.
The celebrations also marked the 2nd anniversary of the Pietro Ferrero Kindergarten. On the occasion, children displayed their talent through a cultural show, 'We are the World', organised by the Company.
Ferrero India had also organized a drawing competition, 'Celebrating with Ferrero' for children at the Kindergarten and the community as well as a culinary competition for their parents. The top 12 pictures selected from the drawing competition will be used for the company's upcoming annual calendar.  Participants in the culinary competition had to create recipes using the core ingredient – Nutella.
Speaking on this joyous occasion, Shri Jagtap said, "I am privileged to be invited to Pietro Ferrero Kindergarten today. Ferrero India is doing exceptional work for the community in Baramati and contributing to India's bright future. I am confident that children growing up at the Kindergarten will grow up to be healthy and responsible citizens of the country."
Speaking about initiative, Mr. Inder Chopra, Secretary General, Ferrero India, said, "Corporate Social Responsibility has been at the core of the Ferrero Group since its inception. This initiative is a part of our social enterprise initiatives where our focus is on building sustainable communities by creating employment opportunities, providing skills training for our employees and support initiatives that promote good health care and education for the children in the communities we operate."
Standing by its philosophy of spreading joy and developing communities around its area of operations, Ferrero India – one of the three Ferrero Social Enterprises of the Ferrero Group started a world class childcare centre close to its production plant in Baramati, Pune two years ago.
Mr. Pietro Ferrero was the force behind the Ferrero Social Enterprise and one of his social spirit initiatives aimed at safeguarding health, education and social development of children under the motto: United Kinder of the World. The Kindergarten is very close to the heart of the Ferrero Group. It has been constructed in an area of 2 acres with plenty of space for children to play and run around and it has built up area of 10,000 sq. ft. The Kindergarten is a home away from home where children of women employees as well as children from the nearby community are taken care of. Their needs for nutritional food, personal hygiene, healthcare, early childhood education, play and development of social skills are developed at the Kindergarten. The Kindergarten caters to children between the age group of 0-6 years. The facility provides opportunities for holistic development of children and the objective is to make children healthy, intelligent, confident, competent learners and good citizens of India.