Finolex Industries Ltd is one of India's largest rigid PVC pipes and fittings manufacturer and market leader in the supply of PVC pipes and fittings for the agriculture and non-agriculture sector. The company has been running various water schemes in different parts of Maharashtra since 2007, some of them being in Ratnagiri district. These schemes were started in the backdrop of water scarcity and unavailability of sustainable water cleaning solution available to the inhabitants of the various villagers in the district. Nitin Kulkarni, President, Sales and Marketing, Finolex Industries Ltd., speaks to Archana Sinha on the crucial role of proper plumbing in efficient water conservation and the initiatives the company is undertaking in skilling plumbers.
Skill development training programme through strategic partnership with Kushal-CREDAI for  the  first  batch of 500 plumbers is a great initiative towards efficient water conservation and bringing trained plumbers in the construction industry. You have a goal to train 1 lakh plumbers. How do you plan to take this initiative forward?
On the occasion of World Plumbing Day, Finolex Industries Ltd with a participation of approximately 3000 plumbers organised '60 Plumbers Meet' across   the   nation. These meets were conducted in 26 States and 58 cities across the country to thank plumbers for their contribution and to make them aware of this training programme. The Government of India already has a robust proposal which is being executed by the National Skill Development Corporation to bridge the gap between the skill demand and availability in an efficient manner. The road map chalked out during the last budget is also encouraging. On our part, since we have the infrastructure and know-how available, we are using our resources to help the industry in this way. It was very encouraging to see tremendous interest in this training programme shown by the plumbers, builders and related stakeholders from the construction industry.
What is the duration of the training? Will this programme be held pan India?
The training is of two months' duration. The first leg which commenced in March 2016 had 500 plumbers. This pilot project was sponsored by us. Construction workers and labourers from Pune and nearby cities attended the training. When we launched this programme, we also created a 20 minute video training module. It is expected to teach construction workers and unskilled plumbers the basic do's and dont's of plumbing and plumbing essentials like safety guidelines, sewerage system, drainage systems and septic pipes. A handbook for plumbers and trainers was also released during the event.
Our long-term aim is to train 100000 workers in the next five to seven years. Along with this, we will also provide training charts with products and display boards at plumbing model rooms. The training module is a healthy mix of 80 percent on job training ('on-job- on-site-earn-while-you-learn') and 20 percent classroom training, entailing zero wage loss for workers. We plan to take the programme to every part of the country where Kushal CREDAI plans to take forward this initiative.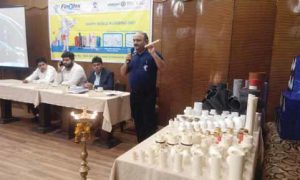 Apart from these, our dealers and sub-dealers play an important role in helping us plan and execute skilled training programmes in the respective regions.
Is this programme also supported by placement facilities for the plumbers to use their newly learned skills on the job?
This programme trains existing workers who are deployed at construction sites in Pune. While they might be doing their work, not all of them are skilled and trained professionally. Most of their learning is self-taught and may not be technically correct. Many of them are school dropouts without any formal training in the job.
Under our skill development programme, there is no loss of pay  since most of the learning is  on-job. We are not only facilitating the process of skill upgradation and re-skilling of the existing workforce, but also taking up strong advocacy campaign to promote a paradigm shift in the labour market to make skill training to aspirational standards. A mentorship programme will be created in order to support trainees who have successfully completed the training programme and are in the process of looking for enhancement in their current profile. The course will also teach soft skills like spoken English and customer handling which will help them upgrade their profiles and also give customers a greater sense of satisfaction.
Your initiative to conserve more than one crore litres of water before monsoon is noteworthy. How are you planning to do this?
For our initiative to conserve more than one crore litre of water before monsoons, we collaborated with Indian Plumbing Association Pune Chapter (IPAPC). This initiative was first announced on the occasion of World Plumbing Day on 11th March and has now reached its second phase. Finolex Industries Ltd. along with IPA, came up with a unique initiative of fitting aerators on taps to fix the problem of water wastage at home. The aerators (which can easily be screwed onto the faucet head) can create a no-splashing stream and a mixture of water and air thus saving considerable amount of water. It not only reduces water output from the tap but delivers good flow during use which gives the impression of heavy flowing water to the user without compromising on the hygiene of the individual. The Indian Plumbing Association (IPA) in Pune has implemented 90 percent of the model projects planned and the annual water saving through this is expected to be approximately 5 crore litres. The major landmark projects taken up in Pune are: Phoenix Mall, DAV Public School, City Pride Kothrud Multiplex and the domestic airport, to name a few. Finolex Industries is helping promote this activity through financial and advocacy campaigns.
Finolex Pipes has products which aid in optimum utilization of water both from the plumbing and sanitation point of view. With the current water crisis it is not only important to use Water Efficient Plumbing Fixtures (WEPF) but also bring about behavioural changes in how we consume water in our daily life.
Can you share with us more about the simple adoption of green products?
One may make simple changes in water usage in their day to day lives.
One great example will be the use of aerators on the faucet head of a tap.
Opt for a bucket instead of the overhead shower for bathing.
Do not leave taps open while brushing or doing routine cleaning-up activity.
Try rainwater harvesting in any form possible. This could be as insignificant as putting a bucket out in the balcony while it is raining. This water could easily be used for cleaning activity at home.
We also realised during our work in this area that human beings are slave to their habits. While grownups have habits that might be difficult to change, we need to impart this training to children so that when they grow up, they will pass on to their future generation.
Last year we initiated and ran a water saving campaign – Every Drop Counts.
How is Finolex helping the community at large to understand the importance of water conservation and replenishment?
We believe that a company will only benefit if it engages the stakeholders in the community it operates. Such an engagement is not only helpful to the community but also rooted in business objectives that make it beneficial and sustainable in the long run.
One of our steps towards water conservation is our collaboration with Indian Plumbing Association (IPA). These aerators have tremendous potential to reduce water consumption. India loses a lot of water due to pipe leakage. Finolex Pipes has been trying to instil realisation in public on how crucial water as a resource is. We have executed several water-saving initiatives like 'Paani Ko Paani Ki Tarah Mat Bahao' and 'Each  Drop  Counts'  which questions citizens on their attitude and conservation regarding water and urging them to pledge for the cause.
We have also helped people in Ratnagiri district area in implementing various water schemes like setting up of wells, piping infrastructure, rainwater harvesting system so that they can channelise the water available in a constructive way.
This is the era of corporate participation and cooperation. Being a national company, are you also planning to enter into such partnership with other companies and NGOs and take the initiative to spread this programme beyond Maharashtra and other parts of the country?
Finolex has successfully collaborated with different organisations for various projects. Some of our existing collaborations for the projects are Kushal CREDAI for skill development, IPA for water conservation, Indian Institute of Entrepreneurship Development and Research (IIEDR) for skill development for women plumbers, Little Hearts & Ruby Hall for Healing Little Hearts where we also collaborate with our CSR partner – Madhav Foundation to treat babies with heart ailments and ITI Patiala for efficient training of students registered for plumbing and sanitation course in the college.
As a company, we always believe in working as a team. No goal or mission can be achieved alone. We have always tried to collaborate with reputed organisations to achieve our mission/goals.
We work very strongly with our dealer partners in various locations across India. We use their network and reach out to train plumbers and farmers regularly on better plumbing techniques, water utilisation in farms, etc.