Mumbai/Pune, 15 January 2017: In their mission to create road safety awareness and implement measures to reduce accidents, Mukul Madhav Foundation, the strategic CSR partner of Finolex Pipes, along with Gulf Oil Lubricants India Ltd (GOLIL),with the cooperation of Pune Police and Traffic Police Department, Pune, organised a 36km Road Safety Rally to commemorate 'Road Safety Week'.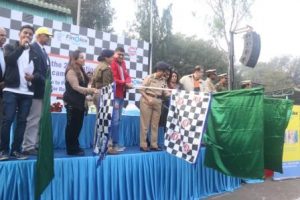 The rally was flagged off by dignitaries including Ms. Rashmi Shukla, Pune Police Commissioner; Mr. Anil V Whabi, Director Finance, Finolex Pipes; and Mr. Ravi Chawla, Managing Director, GOLIL. Over 400 police officers and 200 bike enthusiasts from prominent biker groups participated and supported the drive.
To reinforce the importance of safety gear among riders, the two companies distributed over 1600 helmets and face masks to the Pune Police officials during the rally. Volunteers and participants of the rally sensitised locals to follow traffic rules and regulations for a smooth and congestion-free driving experience.
Speaking on the initiative, Ms. Ritu Chhabria, Director – Finolex Industries Ltd. and Managing Trustee – Mukul Madhav Foundation, said, "This helmet drive has been a unique collaboration between two corporates coming together for the common social cause of encouraging safety for the Pune Police Force. Finolex, as an organisation, has an existing association with the Pune Police, by way of extending support with the upgradation of hospital equipment at the Pune Police Hospital. This initiative is only another way of showing solidarity where required."
Speaking on the occasion, Rashmi Shukla, Commissioner of Police, Pune said, "Following traffic rules is a matter of our own security and that of our loved ones, to avoid accidents, damage to vehicles and life, disturbances to public and for setting a good example to our citizens. Traffic rules are very simple and following these rules should start from within. If you love your family, we urge you to follow traffic rules and discipline while riding and driving."
"As more people embrace personal mobility as the preferred means of transport, adherence of road safety is a priority for all of us. We salute the exemplary role played by the traffic police in ensuring discipline on the roads— indeed their endurance and sacrifice to keep us safe sets a precedent for all the citizens to be respectful of the rules and regulations governing Indian roads. On this Road Safety Week, each one of us can pledge towards making India the country with the lowest road fatalities in the world", said Mr. Ravi Chawla, Managing Director- Gulf Oil Lubricants India Ltd.