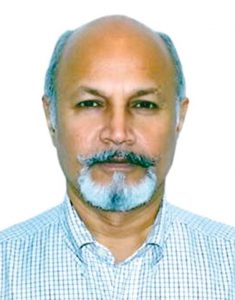 Corporate Social Responsibility refers to the ethical commitment of a Company to give back to the environment and society in which it functions. According to Schedule VII of the Companies Act, 2013, CSR activities can be in various areas such as eradicating poverty, malnutrition and hunger, preventing infant and child mortality, preventive and promotive healthcare, promoting education, women's empowerment, rural development, promoting livelihoods, advocating for gender equality, environment sustainability, enhancement of vocational skills, and promotion of rural sports, among others. CSR initiatives by Indian companies saw a substantial increase in 2016, according to CRISIL Foundation, the philanthropic arm of credit-rating firm CRISIL. Their report shows overall spending increased by a significant 22 percent, with the majority of funds going to education, skill development, healthcare and sanitation initiatives. Average spending rose 29 basis points to 1.64 percent as compared with 1.35 percent in 2015.
"Many more stakeholders are now entering the healthcare field which goes on to show that it is not just restricted to hospitals and healthcare service providers anymore. This is how CSR has helped expand healthcare in India"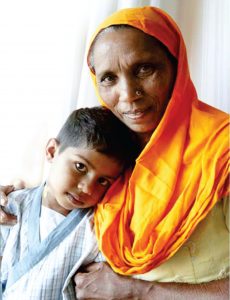 CSR is now being recognised as a tool for development and is collaborative and organised in nature. Companies can setup their own Foundations or work with NGOs to execute their CSR activities in a structured manner. Since health infrastructure and systems present a huge challenge in India and government resources are not adequate to meet these, health as a sector has been a focus area for many corporations and organisations as part of their CSR. Lifebuoy's campaign connects hand washing habits to save lives of millions of children under the age of five; Dettol brand providing health education to new mothers on immunisation and educating school children on healthy sanitary habits; Abbott India's thyroid campaign and Coal India's programme on eye check-up camps are some examples. Today, organisations are looking at comprehensive health programmes that focus on preventive rather than curative health. All programmes with regard to health have a 360 degree view angle and are viewed through broader lens. Many more stakeholders are now entering the healthcare field which goes on to show that it is not just restricted to hospitals and healthcare service providers anymore. This is how CSR has helped expand healthcare in India.
In line with the growing need for better healthcare services, especially to the underprivileged, Fortis Foundation has also been ardent in its quest to do its part in easing the pain and burden, physically and financially, of those needing help, thus giving them a new lease of life. The work of the Foundation is supported and executed by two entities- The Fortis Charitable Foundation (FCF)- a Trust setup in 2005 and The Fortis Foundation (FF)- a Section 8 Company set up in 2013. The Foundation was formed with the aim to provide preventive and curative healthcare to the unprivileged sections of society. The philosophy of the Foundation revolves around building partnerships with other like-minded organisations and people which support sustainable, scalable and high impact programmes. There are three programmes which operate under the ambit of the Fortis Foundation: Sewa, Aanchal and Savera.
Sewa
In a disaster situation, timely medical help and assistance is one of the primary needs. Under the Sewa programme, Fortis Foundation recognises this and seeks to provide and support relevant emergency medical services. The programme does this by planning, preparing and executing an organised response to disasters. Volunteers are trained in first-aid and basic life-support. Proper equipment, protocols and logistics are established to help the workers navigate safely in disaster-struck areas. Sewa has reached out to over 24,000 people affected by disasters. The resources available under this programme are also leveraged for running charitable dispensaries and health camps. These initiatives help improve access to basic health services and bring awareness on health and hygiene amongst the public.
Aanchal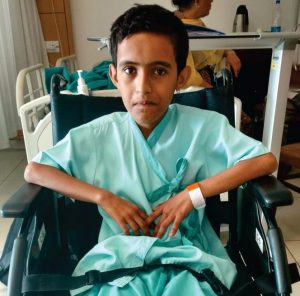 A programme that focuses on the health and well-being of mother and child, Aanchal strives to ensure a healthier start in a child's life by working with, and through, the mother. To drive a deeper impact, Aanchal has identified target intervention areas under its Umeed initiative facilitating surgeries for children with congenital heart defects.
Congenital Heart Defect (CHD) is the structural or functional abnormality in the heart that are present at birth. This may pose a grave threat to the well-being of the child or can even lead to death. Despite the magnitude of the CHD problem, it is still largely unrecognised and understated. Fortis Foundation (FF) treats over 400 underprivileged children suffering from Congenital Heart Defect (CHD) every year. The Umeed-Dhadkan initiative has set a high benchmark and FF works closely with key partners like Being Human Foundation, Rotary Trust, Swadesh Foundation, CM Relief Fund, Genesis Foundation and Needy Heart Foundation to provide treatment to children. Umeed is designed to provide healthcare service for children from underprivileged section of the society suffering from CHD and who may not have access to quality healthcare. Fortis Foundation has so far supported 3,895 children who were suffering from congenital heart defect.
Case Study: Krishna was diagnosed with congenital heart defect at birth. His father worked as a cook at a small restaurant, earning a meagre salary of Rs. 800 per month. Initially, the owner of the restaurant assured the family of financial support but later retracted his offer. With no option left to finance his child's surgery, Shyam (Krishna's father) approached Fortis Foundation (FF) and Being Human Foundation (BHF) for help and they readily agreed to support the surgery. Shyam, said, "Managing the medical expenses for Krishna has been very difficult. I have sold all my assets and taken loans from several people. Getting support for his treatment from Fortis Foundation and Being Human Foundation was a miracle at a time when I had lost all hope."
Cleft Lip and Palate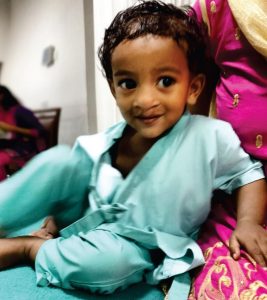 Cleft Lip and Cleft Palate deformity is another area where the Foundation provides intervention and help. Cleft Lip leads to problems where the child has difficulty in eating, drinking, breathing and speaking. There are an estimated 35,000 children who are born with this problem who need surgical treatment. The surgery required to remove a cleft lip is immediate and transformative in nature. The Umeed-Smile initiative started in Gurgaon in February 2015 and expanded to three centres including Ludhiana and Jaipur. 78 children have had corrective surgery till date.
Case Study: Two patients, Pranav and Varun, were born with cleft lip. They were able to successfully undergo surgery because of the effort put in by Fortis Foundation. In Varuns's case, he had already undergone a surgery in a government hospital which did not go well in his favour. This resulted in him being unable to eat properly for nearly a year post the surgery. As a result, he was required to undergo surgery again, this time facilitated successfully by FF.
Savera
Savera is a programme that focuses on developing, collating and providing access to healthcare information. It leverages different channels of communication– children's books, audio-visuals, posters, and social media to create awareness on nutrition, health and hygiene. It seeks to provide a platform to initiate and share research to create awareness on critical health issues and work towards driving opinion and public policy around viable options. Savera aims to create a credible knowledge repository of disease-related information under an open platform for sharing. Different aspects of health are extremely useful ensuring that there are higher chances that the right steps will betaken to ensure a healthy life.
Savera has also identified target intervention areas working with partners focusing on awareness about tobacco control with specific focus on educational institutions and an Academy for First Aid and BLS training.
Acid Attack Survivors (AAS)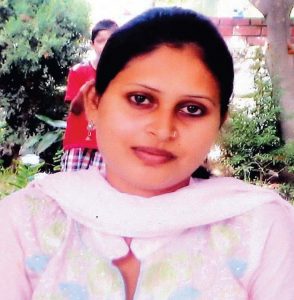 Acid attack refer to a form of assault where acid (a corrosive substance) is thrown onto a person with the intention of maiming them. It is a violent form of torture that causes permanent disfigurement of a person. The number of acid attacks has grown greatly in India. It is a sign of an unrestrained person inflicting great pain upon another individual, traumatising them and leaving them scarred for life. Since 2013, acid attack has been recognised as a separate offence under Section 326 A and 326 B of the Indian Penal Code. In 2014, 225 cases were reported. This rose to 249 in the year 2015.
FF has focussed on providing comprehensive treatment to acid attack survivors. The Foundation not only provide medical and psychological support, it also ensures that through continuous interaction, survivors regain their confidence in society.
Case Study: Inderjeet Kaur is a visually-handicapped girl who is a personification of determination and resilience. She is an acid attack survivor as well. In 2011, Inderjeet and her mother filed a complaint when a local boy began to harrass her. They withdrew the complaint on the promise that the boy would stay away. However, the very next day, the boy threw acid on Inderjeet causing her excruciating pain. She had to undergo two painful, unsuccessful surgeries. In 2012, Fortis Mohali heard about her condition and with FCF's help, Inderjeet's treatment is now being facilitated and she is striving to live a normal life.
"Savera aims to create a credible knowledge repository of disease-related information under an open platform for sharing. Different aspects of health are extremely useful ensuring that there are higher chances that the right steps will be taken to ensure a healthy life"
Even as our initial area of focus is towards curative healthcare, our long term objective is to deliver programmes in the area of preventive healthcare and improve the overall quality of life for our stakeholders and the society at large. This is in line with our core beliefs that as participants of society, we have an obligation to leave a better world than the than the one we inherited.