Proper Utilisation of CSR Funds Vital for Reduction of Poverty
Poverty is the biggest disease which slowly kills lives with evidence that is hardly noticeable. In my opinion, a major chunk of CSR funds should be invested in projects that have the capability to reduce the level of poverty. The Corporate sector should urgently identify those projects and programmes that have the potential to address poverty directly. CSR should be an effective tool to address the problems faced by the poorest of the poor living in the remotest of the remote.
Development is a continuous process that never stops. Our priority should be to upgrade mindsets and enhancing positives of the masses towards their local resources, land, and water, natural habitats and surroundings. Human development and a balanced ecology should be the focus rather than mere infrastructure development under CSR. Creating infrastructure without inculcating among the people the sense of utility and capability to maintain serves no purpose.
Poverty is the biggest barrier for the progress of businesses. It is a burden to any society, government or nation, and thereby a threat to the stability of the economy and democratic system. Bringing equality should be the primary effort of people, institutions and businesses. Serving the need of the poorest of the poor should be the prime focus of CSR and should be seen as an opportunity in bringing equality and creating opportunity for this section of people. Business can only grow and flourish in a progressive and prosperous society. Business needs good society. That is why business should serve the poorest of the poor.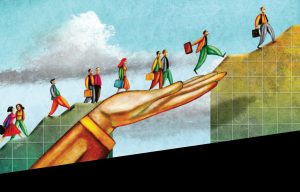 The government must ensure that inequality should not be able to breed further.
We must have a development model that should increase dependency on agriculture and allied areas for livelihood. Our educated new generation avoids physical work and would rather avoid participating in agricultural activities in villages. What we should realise is that we are actually destroying our agricultural ecosystem. With the help of technology, we need to create new hopes towards agriculture among our people.
Success of CSR should be measured with indicators of how much it has been able to serve the poorest of the poor and its ability to upgrade their thought process towards democracy and positives towards life. Without overcoming poverty, people cannot be happy, and ultimately their existence will not add value to the system. It is therefore not surprising that poverty thrives among illiterate people.
People are unable to find new ways to enable and upgrade their lives due to the fact that enormous socio-economic challenges over the years have defeated their mental and creative faculties. Many problems are directly linked to inequality.
Most CSR programmes are bogus and carry no meaning for the people as they are not designed scientifically. CSR should not promote technology and business and should not be a tool to satisfy the market. I have seen various companies' CSR models and have found that their CSR programmes are only drafted to protect their business interest and promote their hidden business agenda.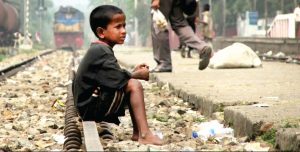 Under their CSR schemes, most of the companies in India are trying to satisfy the government's ego and markets' needs. PSUs are most lethargic in implementation of CSR. They still believe in the philanthropy model of CSR. They donate cheques and give heavy amounts to the various government organisations and agencies in the name of development rather than implementing them. PSUs have shown their gross inefficiency in CSR spending.
Corrupt people in the system are channelising CSR funds for promoting their interest. CSR money is hijacked before reaching to the poorest of poor.
How is the Statue of Unity (dedicated to Sardar Vallabhai Patel) serving the poorest of the poor? Oil companies have contributed Rs121Cr of CSR funds to the agency that has been given the responsibility of constructing this statue. This is utter corruption, misleading the common man in the name of development. Responsible politicians should look into in this matter. A certain Minister had earlier sought CSR funds for cleaning the river Ganga. Tell me, how will this address poverty and inequality?
Addressing economic inequality is a huge challenge before the government. The biggest challenge before the country is minimising the inequality gap.
"Human development and a balanced ecology should be the focus rather than mere infrastructure development under CSR. Creating infrastructure without inculcating among the people the sense of utility and capability to maintain serves no purpose"
There is no focus on creating jobs for our rural youths despite the fact that India produces more and more educated and talented manpower year after year. We should have a model where we can channelise our youth's energy in social progress and wealth creation.
The government should have a vision in this direction. Job creation for millions of rural youth, developing scientific temper among the new generation, focus on agriculture, and sensitising communities towards local resources, micro business and education should be among the prime agenda for businesses and CSR for the next decade.
How can the poorest be key stakeholders of progress? Every company should identify the poorest of the poor and start improving these areas, irrespective of whether they are part of their areas of operations or not.
Rusen Kumar is Founder of India CSR Network -www.indiacsr.in
He can be reached at editor@indiacsr.in