National: 'She-Leads Bharat' is a coalition of 30+ partners from civil society, government, market-based service providers, and impact investors coming together to create long-term income economic opportunities for 1 million rural women entrepreneurs and guarantee access to essential goods and services for 100 million households in India. She-Leads Bharat is curated by Frontier Markets, a social enterprise that launched the tech platform, "Meri Saheli," a unique tech platform that provides a seamless connection to women and rural communities – creating a direct line between them, markets and ecosystems through commerce and data. 
Launched in partnership with the Rajasthan, Uttar Pradesh, and Maharashtra Governments, She-Leads Bharat is the largest effort of collaborating organisations that applies open source technology, data, and a women's network of intermediaries to address vital last mile access and development barriers in India. The initiative will unlock $1BN of working capital from governments to support 1 million women entrepreneurs by 2030. The effort is jointly anchored with leading organisations in digital payments, e-gov services, training and capacity building, healthcare, and finance; the initiative leverages the strengths of each partner's proven reach, scale and experience in helping women's networks access skilling, capital, entrepreneurial opportunities, and infrastructure to drive a collective approach to elevate the potential of women. Market-based service providers include Haqdarshak, Samunati, Dawa Dost, Sheroes, Mahila Money, and Eko, and then we work with brands like P&G, Unilever, Samsung, Bajaj Finance, and others for e-commerce. 
The initiative has already onboarded over 50 partners to date, including UBS Global Visionary, Jubilant Bhartia Group, and Primus Partners to support scaling the initiative with a goal of supporting 100,000 women entrepreneurs by 2024. Speaking on the launch, Ajaita Shah, Founder & CEO, Frontier Markets commented, "Rural women of India are the future and the leaders of tomorrow. 'She-Leads Bharat,' is a collective effort to onboard more partners and organisations to scale our proven model to invest in one million rural women to reach their full potential to support 100 million rural families. Together, we invite the coalition of partners to bring the voice of rural women to the world, and we will design solutions with them and witness sustainable, scalable, and impactful growth."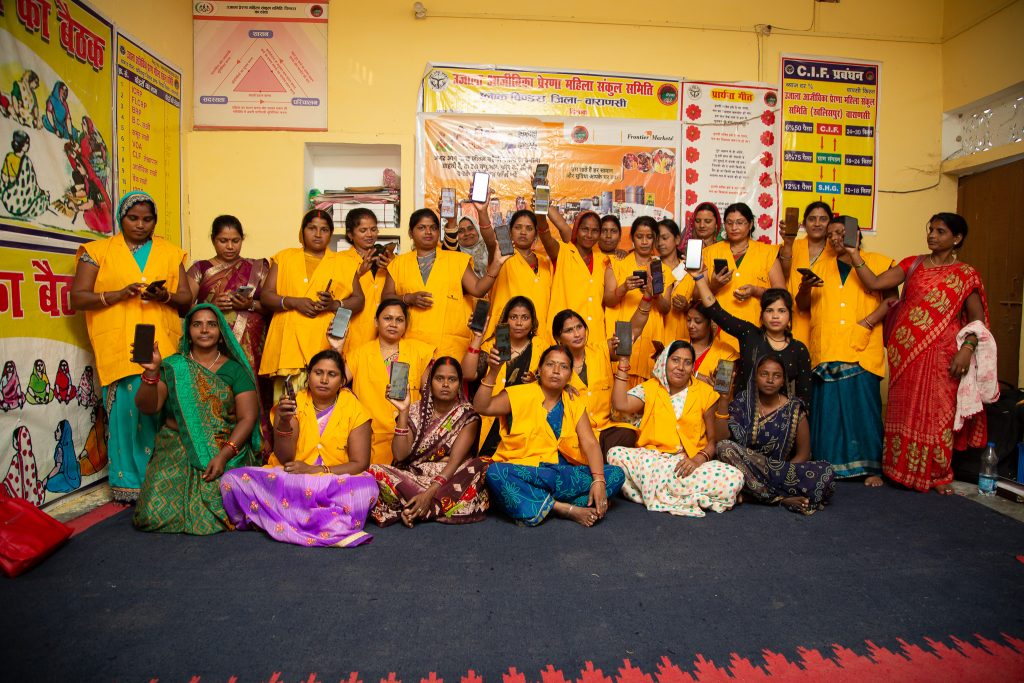 In India, the burden of unpaid care and household work as well as social barriers have resulted in the fact that rural women today are still way behind on digital transformation and on accessing holistic services to help them gain long-term income opportunities. Today, less than 20% of rural women in India are engaged in any kind of economic activity (Macíotíend, 2021) while 80% of all job losses in the informal sector involve women (Centre of Monitoíing Indian Economy, 2021). Eight hundred million people in rural India have limited access to relevant products and services (Observer Reseaích Foundation, 2021).
"Women lack ways to make their voice heard, especially in rural areas. Pocket-size programmes must be upscaled to give mass expression to women's empowerment in day-to-day personal struggles as experienced by thousands of women. She Leads Bharat will provide a unified mechanism for women-driven entrepreneurial ecosystem and scheme convergences," added Charu Malhotra, Co-Founder and Managing Director of Primus Partners.
"We are delighted to support Ajaita Shah of Frontier Markets, one of the finalists of Social Entrepreneur of the Year Award 2022, institutionalised by Jubilant Bhartia Foundation and Schwab Foundation, in her new initiative – She Leads Bharat," said Ajay Khanna, Group Global Strategic Advisor & Group Global Ombudsperson of Jubilant Bhartia Group.Launched in 2018, Frontier Markets as an organisation has invested in 35,000 rural women entrepreneurs who provided deep insights about the needs of one million rural families, and helped access over 50 million solutions in healthcare, finance, agriculture, digital services, and essential care.