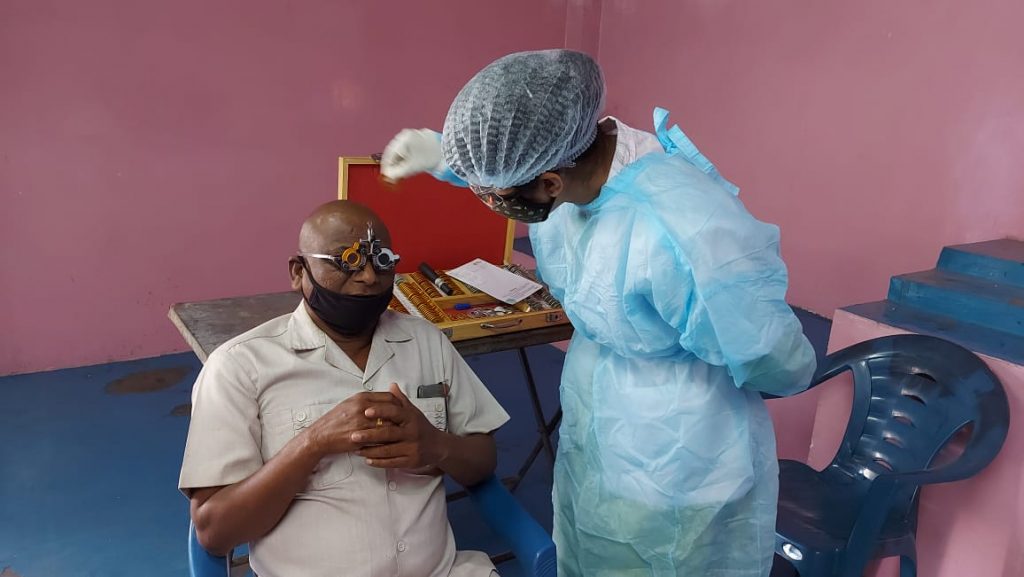 Hyderabad, January 4, 2021: In the run-up to New Year, express logistics major Gati Ltd, an Allcargo Group company, touched lives and sent a heartwarming message of hope and new beginning by organising Drushti Eye Camp in Jeedimetla on Friday, December 25, 2020.
The camp is the first of the series of 15 Drushti Eye Camps lined up in and around Hyderabad during December 25, 2020 – March 31, 2021, to offer eye care, treatment, and surgeries free of cost to the people and senior citizens in particular from the under-privileged sections of the society. Organised in collaboration with Foundation of His Sacred Majesty, the eye camps aim to treat more than 7000 people.
The Drushti Eye Camp in Jeedimetla treated over 350 patients suffering from various eye diseases and disorders like cataract, glaucoma, etc. Gati CSR Head – PS Mohendra, Dr Nilratan Shende, GM CSR Allcargo Logistics Ltd, Gauthama Prabu, Director, Foundation for His Sacred Majesty and other dignitaries were present at the camp. Social distancing norms and health advisories were strictly followed at the camp.
The Drushti Eye Camps are equipped with qualified doctors, ophthalmologists, optometrists and trained community workers and support staff bring eye care facilities within the reach of the less-privileged sections of the society to treat preventable blindness. After the Jeedimetla camp, the forthcoming eye camps will cover almost 14 locations in Hyderabad such as Hanuman Nagar, Silpa Park, Bhagya Nagar Colony, Fortune Fields, Siddiq Nagar, New Hafeezpet, Kondapur, Bikshapathi Nagar, Kaithalapur, Gayatri Nagar, Sri Ram Nagar, Sarojini Naidu Nagar Prem Nagar and Venkata Ramana Colony.
While commenting on the initiative, Adarsh Hegde, Managing Director, Gati-KWE said, "With the Drushti Eye Camp, we have joined the nationwide drive to cure preventable blindness. Our Drushti Eye Camp led by qualified doctors and support staff will help people from the under-privileged sections to avail free of cost eye care services to cure their vision, become self-reliant, and contribute to the growth of the economy. We thank the local administrations for supporting our mission to make eye care affordable and accessible. We have received encouraging response from the Jeedimetla camp and we are expecting even more encouraging response from our upcoming camps."