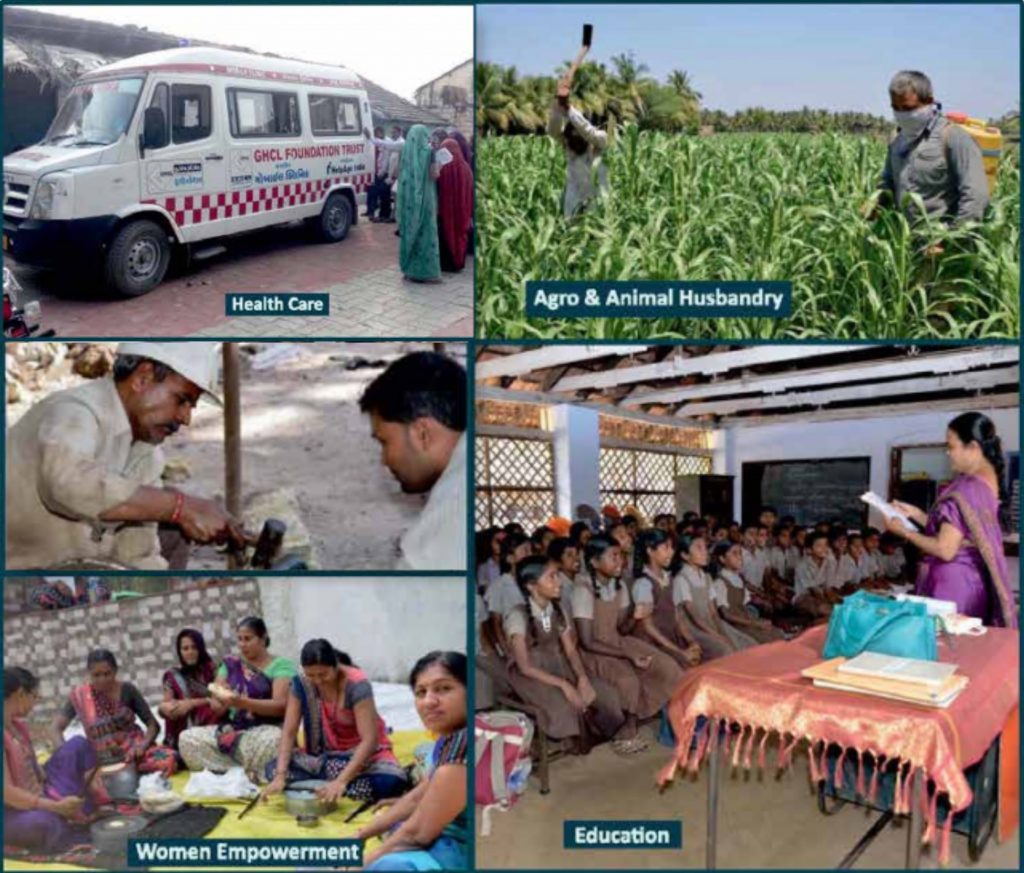 Madurai: GHCL Foundation Trust, the CSR arm of GHCL Limited, has extended its CSR activities in Madurai district and Manapparai town under the municipality in Tiruchirappalli district of Tamil Nadu. The key focus areas of CSR activities are agriculture and animal husbandry, health, education and women empowerment. 
The CSR initiatives were introduced in 2019-20 with a primary focus on health impacting more than 500 lives to begin with followed by more than 11,000 in 2020-21; over 14,000 in 2021-22; and more than 15,000 lives in 2022-23 in Madurai and Manapparai.
By the end of FY 2022-23, more than 45,000 lives were impacted across Madurai and Manapparai in the areas of health, agriculture and animal husbandry, education and skill development and women empowerment.
The CSR programmes in the area of health, education and skill development for the community are conducted on a periodic basis as per the community need which is assessed during field visits and through partners (Govt. line depts.). In addition, GHCL Foundation has detailed Need Assessment reports for reference. These programmes have predetermined objectives
and outcomes based on various parameters for identification and assessment in order to improve and develop the lives of people living in communities close to plant locations. Initiatives such as health awareness camps, sanitation, water purification, livelihood development support, school education support, women empowerment programmes, etc. are some of the major
programmes contributing towards the overall development of both employees and the community.
The GHCL Foundation works with the rural community through direct and indirect modes of intervention. GHCL Foundation teams organise the rural community by encouraging volunteers
and conducting need-based intervention programs in partnership with government departments as 'Knowledge Partners'.
Commenting on the impact of the ongoing CSR programmes, Balakrishnan R, CEO – GHCL Textiles Limited, said, "GHCL Foundation has always been at the forefront of spearheading CSR activities on the ground that help the underprivileged rural families in achieving social status. We also aim at creating a holistic development of the communities and are committed to providing our support in more ways than one. We have attained a significant impact in making the communities self-sustainable through our focus on agriculture and animal husbandry, health, education and women empowerment. We will continue with similar programmes in the area of waste management and organic farming as per the need of the community."  
As an indirect mode of intervention, GHCL Foundation has collaborated with NGOs such as HelpAge India for mobile health unit services in Manapparai; Family Planning Association of India (FPAI) on rural health and sanitation programmes, Formation of Educational Development Centre for Rural Organization and Training (FEDCROT) for skill training programmes for women empowerment and adolescent girls; and Annai Institute of Vocational Training (AIT) for skill training for women empowerment programme