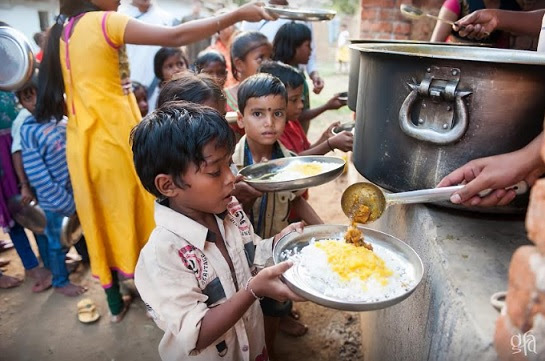 Mumbai: The festive season brings with it celebrations galore, reconnections and many social obligations. Increasingly, these times have also pushed us to reflect on our indulgences and respond to those less fortunate to celebrate or even get a square meal. Bearing this in mind, GiveIndia and Tring have partnered to launch an initiative called 'Gift a Tring, Gift a Meal'. With this, many of the customers who book a personalised message from celebrities through the Tring platform also end up gifting a meal for the underprivileged; all this at no extra cost to the customer. GiveIndia will then provide these funds to cater to thousands of neglected or less fortunate people in areas around the country.
This initiative is significant from a customers' context as most orders booked on Tring platform, are for birthdays, anniversaries, festive occasions, etc usually dedicated to their loved ones. The contribution from Tring – on the customer's behalf – is a gentle way to make the customer know that it is not just a loved one who will receive a special gift, but a neglected one who will also be gifted.
What better than to coincide this with the Joy of Giving Week. In fact, Tring and GiveIndia have decided to make this a three-month-long drive and provide as many meals to the less fortunate. To propagate this initiative, the teams have a robust digital campaign that includes paid marketing, social media, emailers as well as key celebrities encouraging people to 'Gift a Tring, Gift a Meal'.
Speaking about the initiative, Sumit Tayal – COO, GiveIndia said, "Tring's 'Gift a Tring, Gift a Meal' initiative comes at a very opportune time – both because it is timely for Daan Utsav and the hunger crisis in India as an aftermath of COVID. Daan Utsav is the best time to show that we care, and gifting a meal is the most thoughtful present one can give to those who are finding it difficult to feed their families. GiveIndia will leverage its network of partners on the ground and provide nutritious meals to the underprivileged."
Akshay Saini, CEO & Co-founder, Tring also had this to add, "Giving is so much more powerful than receiving. And our platform epitomises that in every sense where we have thousands of customers booking celebrity wishes to surprise their loved ones. The simplicity of 'one order equals one meal' is brilliant and we are proud to partner with GiveIndia who has always focused on the betterment of society. Let's join together to make this festive celebration so much more meaningful in every sense of the word."