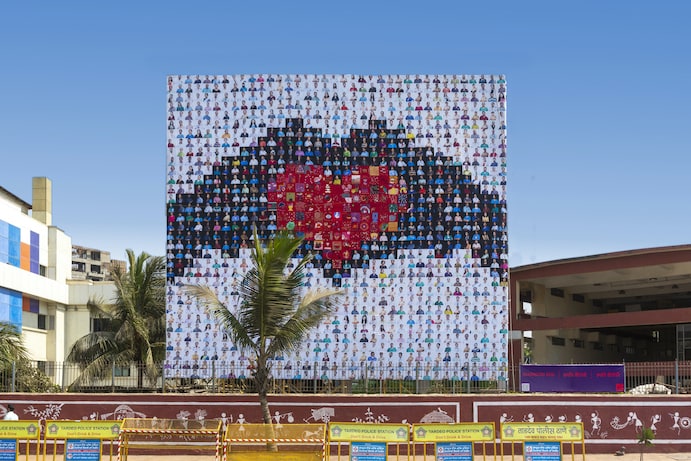 Mumbai: The Corona Quilt Project presents a diverse array of, site-specific installations, scattered throughout the city. The Corona Quilt Project was conceived during the initial weeks of the pandemic as a way to connect people, discuss self-expression and mental health, and bring communities together.
Quilting is a method of stitching layers of material together. The history of quilting can be traced back at least to medieval times. For this project, we have employed a modern take on quilting — each patch is made up of unique materials ranging from repurposed fabric and gunny bags to tablecloths and paper collages. We encouraged interactive virtual square making sessions, to be mindful of, and to adapt to the restrictions posed by the lockdown. These cross-border submissions, each expressing an individual's personal journey, are being printed on upcycled fabric and will be a part of the final presentation.
The year-long public programme culminates in five separate installations and will kick off in March 2021 with "Rise" by Dia Mehhta Bhupal, a Mumbai/Hyderabad-based interdisciplinary artist.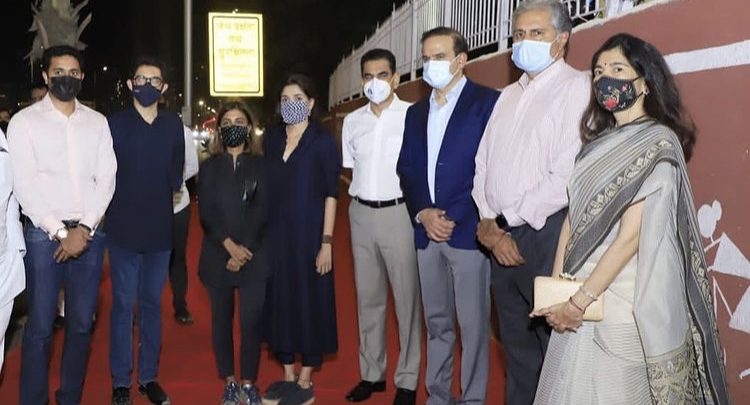 The Project was inaugurated on March 12, 2021, by Aaditya Thackeray,  Cabinet Minister, Tourism and Environment, Government of Maharashtra.
Talking about the inauguration and Corona Quilt Project, Aaditya Thackeray shares, "If you pass by Worli Sea Face and Haji Ali, you will find these beautiful quilts put up on the Worli Sea Face School and Haji Ali Pumping Station. The one at the Haji Ali Pumping Station is about thanking our frontline workers from the Mumbai Police and BMC who are still ensuring that our battle against COVID goes on to protect our citizens. The one at Worli Sea Face School is about hope and rising! A beautiful collage of thoughts put by people world over on fabric for the Corona Quilt Project as hope! I am thankful for the beautiful art display and to be a part of this initiative."
In association with the project, Gayatri Divecha, Associate Vice President – Good & Green, Godrej Industries Ltd said, "This year has been like no other. As we fight this pandemic together, we have stories and experiences that have shaped us as individuals, as a business, and as a group. Associating with the Corona Quilt Project helps us to visually mark this unique time in our history as a Godrej family. Over 200 Godrej employees participated by crafting their thoughts, fears, hopes, experiences and stories on to a digital square. Our memories are now a part of thousands of others that will be publicly displayed across Mumbai. Later, we plan to display this artwork at Godrej One – our head office in Vikhroli. We are glad to be a part of this project that inspires resilience and connects with our community in an innovative way."
The Corona Quilt Project presents a diversity of experiences, celebrating the strength and resilience of people. The squares explore themes of home, safety, nature, the environments in which we exist, and the pandemic, each made through unique forms of mixed media and materials. The Project draws inspiration from the vibrancy of Mumbai and seeks to delight and inspire joy with those who experience it.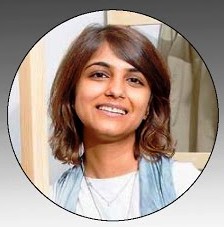 "This movement has connected people of different ages from different cities and countries – echoing the belief that we have all endured this crisis together, no matter our age, gender, occupation or nationality. The presentations are meant to help us move forward, heal and be reborn. The location on the Worli-Peddar Road junction is especially exciting. The locations connect high-traffic areas in Mumbai allowing us to bring this to the public and make this presentation highly visible," said Neha Modi, Co-Founder of the project.
Bhupal's presentation incorporates a transformative, uplifting journey symbolically coming together in natural elements such as the ocean, butterflies, along with portraits of the frontline workforce who have led the fight against the pandemic. The artist's intention is to present the full range of depth, diversity and ingenuity of the squares collected.
Honouring the frontline workers, "Warriors Rise" a montage of portraits will be presented on the facade of the Haji Ali Pumping Station. The focus is a pumping heart, a symbol of all the workers have done to keep us safe and healthy. It features individual portraits of doctors, nurses, the police force and members of the Bombay Municipality Community (BMC), who have been our core strength and support during the pandemic.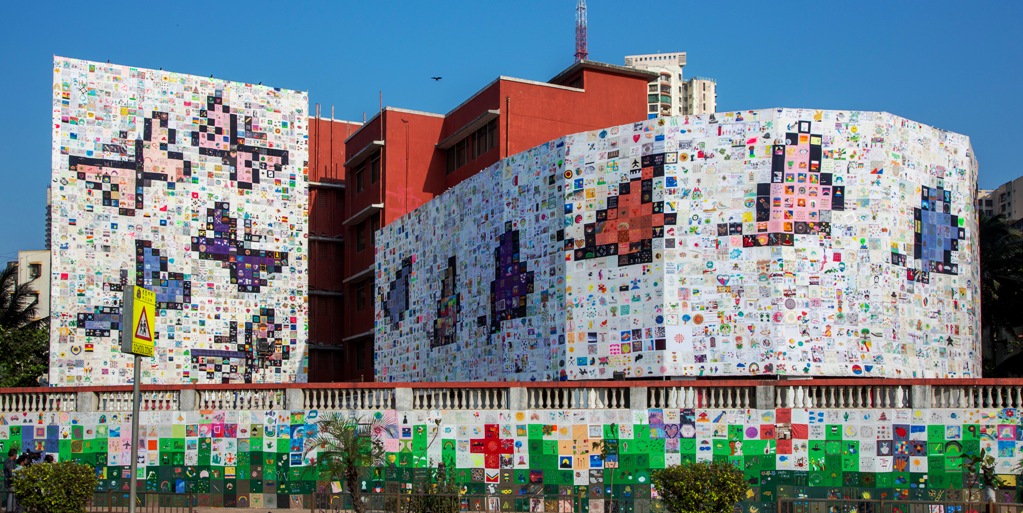 "On the Rise", the presentation on Worli Sea Face, wraps around the facade of the building with over 5000 individual narratives coming together. It draws a parallel from the butterfly – a symbol of transformation, evolution and resurrection. This has been a time of monumental and purposeful metamorphosis that has given birth to new perspectives and visions.
"My presentations have been inspired by children's drawings and their inner innocence. Rise draws continuities and solidarities between human and nature, artificial and natural, then and now. The concepts chosen embody our current reality and the consequences of the pandemic. It's truly humbling to have the opportunity to work on the individual stories that connect and collectively empower the community," said Dia Mehhta Bhupal.
The Corona Quilt Project started in June 2020. The project has received over 12,000 squares from corporates, schools, NGOs, foundations, individuals and others.
Quotes
Rakul Preet: "My participation in The Corona Quilt Project celebrates the strength and resiliency of the community in the midst of the pandemic. The darkest times produce the brightest stars!"
Samantha Prabhu: "We will look back at this time and be proud of one another that we never gave up."
Sania Mirza: "The world right now needs a little bit more love..a little more kindness…and a little more empathy."
Mahesh Babu: "Glad to be a part of the Corona Quilt Project, a wonderful initiative that connects people through art. Always keep hope alive. For those who hope nothing is impossible! It's going to get better!"
Twinkle Khanna: "A flower is what the earth uses for gift-wrapping joy. This initiative aims at connecting people through art during this period of despondency."