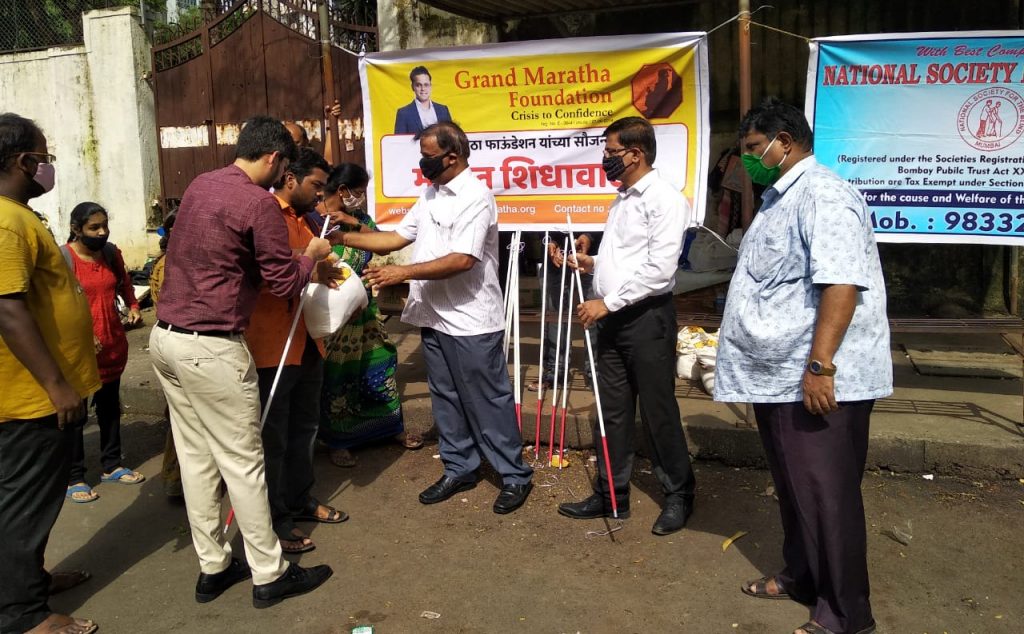 Mumbai: Grand Maratha Foundation, a non-governmental organisation based in Maharashtra, organised a free grocery and foldable walking sticks distribution drive for the visually impaired in association with the National Society for the Blind, Mumbai. The welfare distribution drive benefitted more than 100 visually challenged people at Kashi Nagar, Bhayandar. The drive was successfully conducted with the support of Anil Dalavi, Chairman, National Society for the Blind, Mumbai and Harichandra Patil, Secretary, National Society for the Blind, Mumbai under the guidance of Madhavi Shelatkar, Trustee, Grand Maratha Foundation and Rohit Shelatkar, Founder, Grand Maratha Foundation.
Speaking on the free grocery distribution drive, Rohit Shelatkar, Film Producer, Founder of Grand Maratha Foundation said, "The outbreak of the COVID pandemic since last year and the recent second wave have been a testing time for all of us. However, the biggest challenge was faced by the visually impaired who had no other means to fulfil the necessities of life and had been relying on others. We understood this urgency and support they required, thus initiated this drive to contribute towards the welfare of the society in any which way we can."
Expressing his views over the joint drive, Anil Dalavi, Chairman, National Society for the Blind, Mumbai said, "We are absolutely delighted to be a part of this drive with Grand Maratha Foundation who have been successfully organising similar drives in the past. They deeply understood the need of the hour and provided the essential support to the visually challenged."
Earlier this week, Grand Maratha Foundation also conducted a free grocery distribution drive for more than 150 gym workers including maintenance staff, trainers and security personnel at Muscle Build Fitness Gym, Ramchandra Nagar, Thane. This grocery drive was organised to look after gym workers who were left with limited resources due to the restriction on gyms/gymnasiums across States.