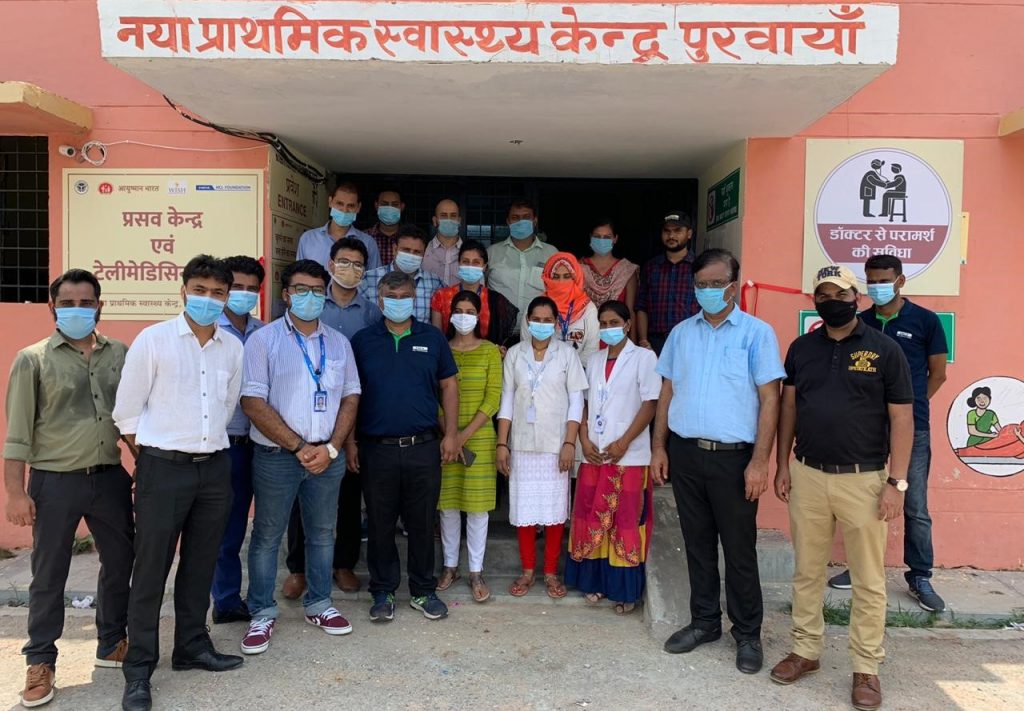 Uttar Pradesh: HCL Foundation virtually launched ten telemedicine cum institutional delivery facilities at Health & Wellness centres in eight blocks of Hardoi district in Uttar Pradesh. This initiative is part of HCL Samuday, an ambitious programme of HCL Foundation working towards creating a scalable and replicable development model for rural India. The centres will provide cost-effective and quality healthcare services to the rural community; offering teleconsultation from qualified and experienced doctors from various specialties, from across the country; and will reduce the travel time of patients to avail medical consultation. The initiative will cover nearly 60-70 Gram Panchayats with a population of close to two lakh inhabitants.
The new centres are aligned with the existing government-provisioned Health & Wellness Centres (primary healthcare centres). These are set up in addition to the three existing ones that were introduced by Samuday in Kacchauna and Kothawan blocks in 2019. Roshni Nadar Malhotra, Chairperson, HCL Technologies and Chairperson, HCL CSR Board Committee virtually inaugurated the 10 centres in the presence of Alok Varma, Project Director of HCL Foundation.
During the virtual event, Roshni Nadar Malhotra, Chairperson, HCL Technologies and Chairperson, HCL CSR Board Committee said: "Telehealth services have tremendous potential in our country where healthcare facilities are heavily concentrated in urban cities while the majority (67 per cent) of the population resides in rural areas. In a pandemic-affected world, technology-enabled services including telehealth have become more relevant than ever. Given this, I am happy to virtually inaugurate the 10 new telemedicine centres that will help bring access to quality medical consulation services to the villages."
Alok Varma, Project Director of HCL Foundation, added: "HCL Samuday has been providing telemedicine facilities to the rural community in Hardoi since 2019. Due to the rising demand for telehealth services during COVID, we have expanded our programme to eight new blocks of Hardoi. We have partnered with the Government of Uttar Pradesh and Neurosynaptic Communications for their support in making this a reality. This initiative has the potential to benefit over one lakh people annually." 
The new telemedicine centres will operate six days a week, with services available from 9 am to 4 pm. The free services provided include initial investigation, consultation with a medical officer through video conferencing, diagnostic tests and report/data generation, real-time data sharing with doctors, authorized prescription by doctors, medicine dispensation and explanation of medicines along with precautionary measures.
The eight blocks where this facility will be extended include Ahirori, Bharawan, Bilgram, Madhoganj, Mallawan, Sursa, Sandilla and Tadiyawan.