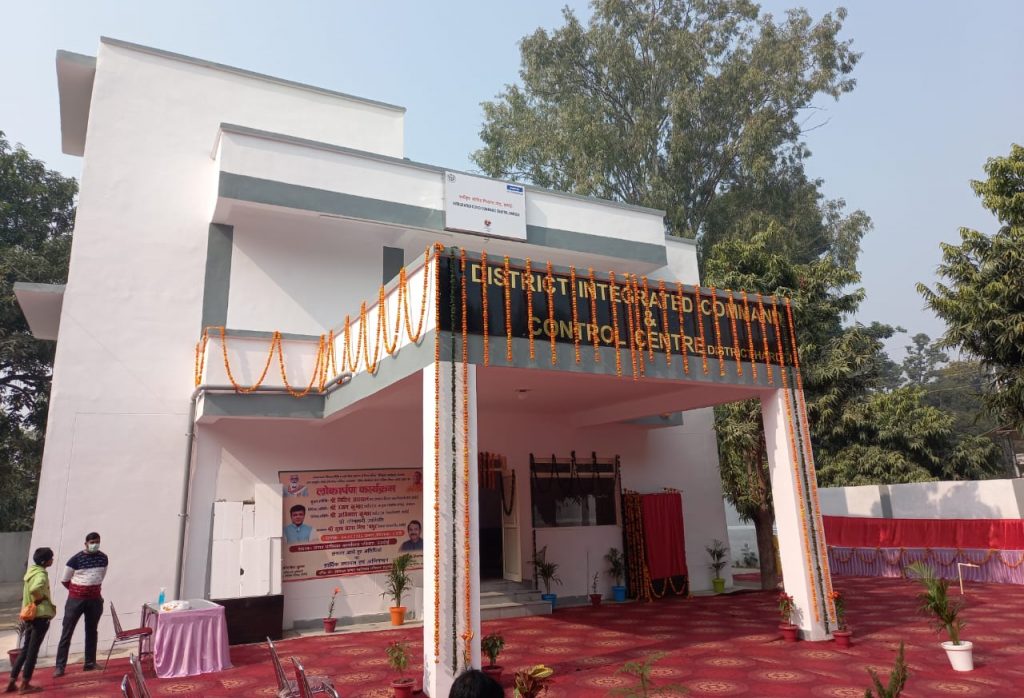 Lucknow: HCL, a global conglomerate, announced that it has successfully upgraded the Integrated COVID-19 Command Centre (ICCC) in the Hardoi district of Uttar Pradesh with support from the District Administration. The advanced Centre is aimed at ensuring critical support for the citizens of the district in the wake of a possible third wave of the COVID-19 pandemic. The ICCC, which was previously operated manually, has now been strengthened with an automated call management system, updated software for end-to-end connectivity as well as infrastructure support for smooth functioning of the Centre. The upgraded Centre was inaugurated by Shri Nitin Agarwal, MLA, Hardoi and Shri Ranjan Kumar, Commissioner, Lucknow Division, in presence of Shri Avinash Kumar, District Magistrate Hardoi, Akanksha Rana, Chief Development Officer, Hardoi; and Shri Alok Varma, Project Director, HCL Foundation.
The Integrated COVID Command Centre will operate as a single source to address citizens' issues and will play an important role in day-to-day operations and COVID management efforts. Residents can reach the ICCC through help-line numbers – 05852237627, 05852237629 and toll-free number 1075. Trained staff from the Centre will help screen callers and queries before referring them to a designated team of respondents including doctors, policemen, ambulance and other officials appointed by the government for further course of action. They will also follow up with COVID positive patients regarding their health and wellbeing and will ensure vaccination reminders are sent to those who have received the first dose of COVID vaccination. The Centre can further be used during any disaster response operations.
During the inauguration of ICCC, Shri Avinash Kumar, District Magistrate of Hardoisaid "HCL has been providing critical support towards COVID response efforts and uplifting the overall health services in the Hardoi district. We appreciate their support towards upgrading the integrated COVID Command Centre at this crucial time. This facility is a true example of how public-private partnership can assist in enhanced services for the citizens."
Alok Varma, Project Director of HCL Foundation, added: "A significant part of HCL's COVID response efforts has been to leverage technology solutions to help improve and strengthen public services for the citizens. As we prepare for a possible third wave of the pandemic, the Command Centre will play a critical role in maintaining the continuity of critical services and limiting the spread of the highly contagious Omicron variant. Our technology and infrastructure modernizations efforts at the Command Center also include an automated calling software to meet any surge in call volume; Infrastructure support for soft calls and digital management of data. We strongly believe this setup will help the district officials to respond to the community grievances in an efficient manner." 
HCL has assisted several State Governments with COVID response efforts during the first and the second wave of the pandemic. It is committed to providing tangible assistance to meet real needs on the ground. Previously, HCL commissioned two oxygen plants in Hardoi in partnership with the State Government. The two plants at – Sandila Community Health Center and at District Women's Hospital – can individually produce 375 litres of oxygen per minute (LPM) and have the capacity to together support 150 beds at a time. HCL also provided essential equipment and consumables at the District Hospital in Hardoi.