The country is undergoing an even more challenging period in 2021 than it did last year. The second wave of COVID-19 sweeping the country in a brutal force has left many States grappling for solutions. The Corporate world and many NGOs have taken a stand to help people who need it the most through extensive community relief outreach awareness drives, vaccination drives, setting up of COVID care centres, provision of oxygen concentrators, providing food, safety kits, and more. The nation is grateful. 
ACT Grants, Swasth Alliance and Feeding India to Donate 50,000 Oxygen Concentrators
In the middle of the second wave of COVID-19, India needs to rapidly augment oxygen supply to hospitals. In order to save as many lives as possible, ACT Grants (a not-for-profit movement created by the VC and start-up community in India), Swasth Alliance (a not-for-profit alliance of over 150+ healthcare organisations) and Feeding India (a not-for-profit run by Zomato) are working towards the goal of sourcing and distributing 50,000 oxygen concentrators. These oxygen concentrat ors will be donated across India free of cost, largely to various public health institutions and NGOs working for public health. Delhivery (logistics partner), Amazon (Logistics partner), Temasek Foundation (Sourcing and Funding partner), Paytm (Sourcing partner) and several others from the ecosystem are supporting this effort. MyGov is supporting the initiative by ensuring proper coordination with various stakeholders involved, in particular the District Collectors for most optimal utilisation of the oxygen concentrators. These oxygen concentrators will be donated within the month of May. Over 2500 concentrators have already been delivered, another 7500 will be shipped in the next seven days, and the remaining will get delivered over the next three weeks in batches.
Deepinder Goyal – Founder & CEO, Zomato & Representative of Feeding India, said, "Given that demand for oxygen concentrators currently outstrips supply, an allocation methodology has been developed leveraging publicly available COVID-19 data. This methodology is further refined using predictive analytics generated by the Aarogya Setu ITIHAS interface (Developed by IIT Madras) for emerging hotspots. The methodology is published on MyGov (mygov.in), Swasth (swasth.app) and ACT websites."
The district-level distribution of oxygen concentrators will also be made available on: https://self4society.mygov.in/ and https://www.swasth.app/oc-deployment
Demand for oxygen concentrators from the frontline is being collected through a form hosted by the Swasth Alliance for all – (https://www.swasth.app/covid19)
MyGov.in for District Collectors – (https://self4society.mygov.in/collector)
Various district magistrates, state governments and not-for-profit healthcare providers are required to fill in their requirements of oxygen concentrators in this form. The committee is focused on rapid deployment of these oxygen concentrators in order to save the greatest number of lives, as soon as possible.
Cloud Kitchen Cheferd Foods Extends Free Meal Service to Marginalised People Around AIIMS, Safdarjung and Okhla
Even as lockdown continues to affect businesses across the country, the heroic efforts of some continue to reiterate 'we are in this together'. One such example is New Delhi-based cloud kitchen – Cheferd Foods, which runs brands like POMP, Burger in My Box, and Deli Salad co., is extending free meal service to daily wagers and marginalised communities across South Delhi at present.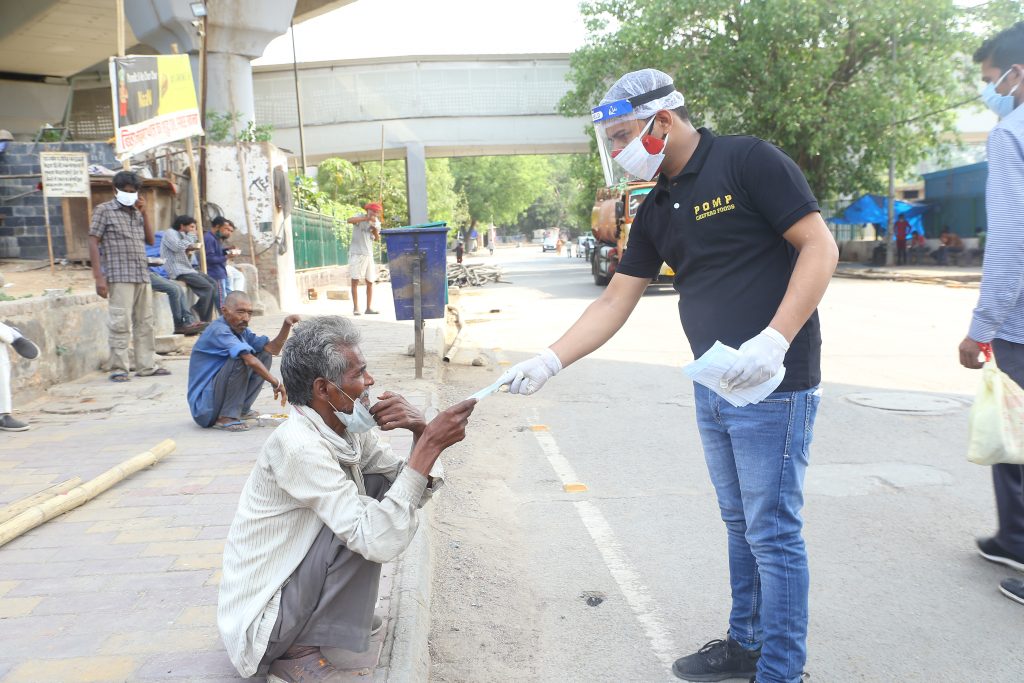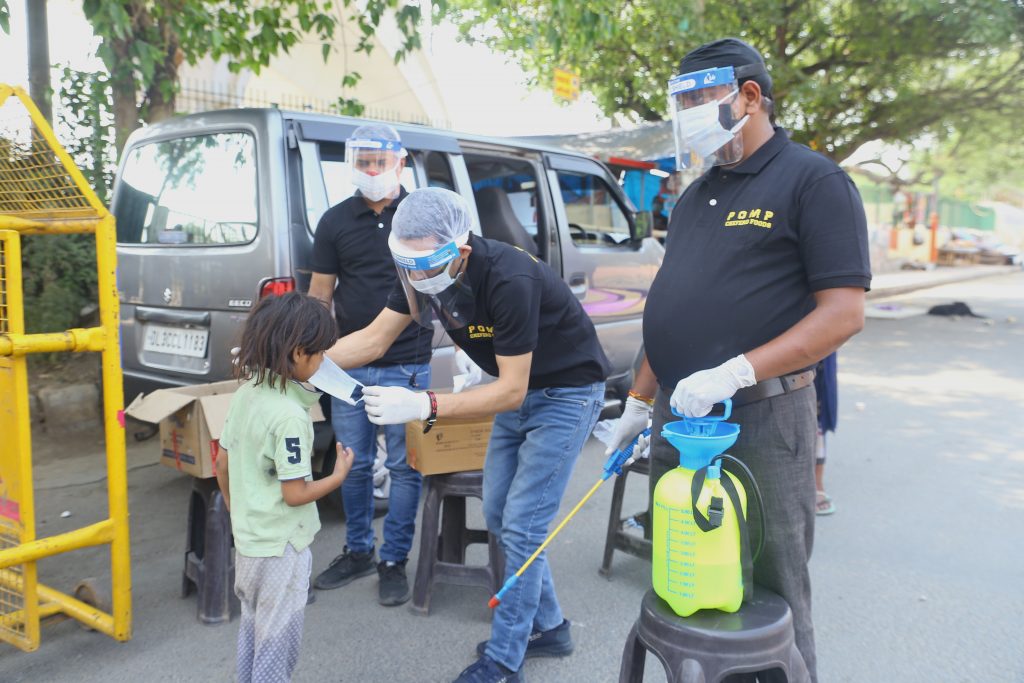 Cheferd Foods has been distributing meal packets for more than a week now across AIIMS, Safdarjung Hospital, and slum regions around the Okhla region. The meal distribution takes place during the lunch hours between 2 pm and 4 pm every day, wherein a nutritious meal box is given to people across these regions. To keep its patrons delighted, Cheferd Foods also changes its menu daily.
The cloud kitchen aims to continue this service for at least one and a half months and will extend it depending on how the situation unravels. Cheferd Foods is also extending three masks per person to create awareness around the pandemic. At present, the overall distribution is to the tune of 700 to 800 boxes a day and is expected to be scaled up to 1,500 to 2,000 boxes in the coming few days.
Sehaj Singh Kukreja, Co-founder, Cheferd Foods said, "Our society is going through an unprecedented time as of now. However, the most affected people are the ones at the bulging bottom of the pyramid. They are the most vulnerable in this situation. Our food distribution service is to ensure that we do everything in our capacity to help them in this hour of need. We believe that if as many enterprises come out in their support, we will prove to the world what a truly cooperative society means. We sincerely request all business leaders to do anything in their capacity in and around their operational bases."
Tushar Anand, Co-founder, Cheferd Foods said, "Cheferd Foods operates with strong ethical values. We believe that the COVID-19 outbreak has had an impact on everyone in our society, especially the migrant workers and daily wagers. While the government is doing everything in its capacity, we also must do what we can to support less-privileged people. We can see the impact of our initiative. We believe that even if our efforts bring a smile to the face of a single person, it makes everything that we do a lot more meaningful."
TVS Motor Company to Provide 2,000 Oxygen Concentrators to Various State Governments
TVS Motor Company, along with Sundaram Clayton and its group companies, has pledged Rs. 40 crores as part of an integrated approach to support the nationwide efforts to curb the spread of COVID-19. The funds will be utilised to provide lifesaving supplies such as oxygen concentrators, PPE Kits, medicines and medical equipment across the country. This initiative is undertaken by Srinivasan Services Trust (SST), the social arm of TVS Motor Company and Sundaram-Clayton Ltd.
As part of this initiative, the company will supply 2,000 oxygen concentrators to hospitals and health centres and over 20,000 food packets per day for essential services workers in Tamil Nadu, Karnataka, and Himachal Pradesh during the second wave of COVID-19. This will be supported by distributing over a million face masks, thousands of oximeters and PPE kits, hand sanitisers and essential medicines to more than 500 government health centres and hospitals in these states. Additionally, the company will continue to facilitate all possible assistance to COVID-19 care centres in rural areas across the country.
Commenting on this, Venu Srinivasan, Chairman, TVS Motor Company, said, "We are experiencing an unprecedented crisis due to the deadly second wave of the COVID-19 outbreak in our country. This situation demands that we unify our efforts towards mitigating the severe impact of the pandemic. We are working with the Government to provide assistance to various health centres in rural India and create easy medical accessibility at the grassroots. We are focused on doing whatever it takes to alleviate and enhance the quality of lives of the communities we serve, as we have done in our 100-year history.''
TVS Motor Company is also working closely with two hospitals in Chennai: Rajiv Gandhi Government General Hospital and Stanley Medical College Hospital, to support them with supplies and aid their effort in treating COVID-19 patients. The company is working with local authorities and has dedicated two ambulances for villages near the TVS Motor Company factories in Hosur and Mysore. These ambulances are equipped with essential medical facilities for the immediate treatment of patients with mild COVID-19 symptoms.
These efforts are supplemented by several other programmes to provide protective face masks and food packets to TVS Motor employees and the communities near our plants and offices.
TVS Motor had earlier announced a contribution of Rs. 60 crores towards relief efforts across various States during the first wave of COVID-19 last year. Over the past year, the company has provided close to two million food packets and over one million face masks to healthcare and essential services workers. 
Sleepwell Donates COVID Care Supplies to Noida Traffic Police
Amidst the second wave of ongoing health crisis in India, it is the frontline workers that are showcasing extraordinary courage and helping keep the community safe. Sleepwell, India's leading mattress brand from Sheela Foam Ltd. has continued to support the nation throughout the pandemic with its donations through the year. Once again, realising the need of the hour, Sleepwell has donated special COVID Care Kits to the Traffic Police department of Noida.
Frontline workers including traffic police personnels are one of the many crusaders that are committed to ensuring the safety of their citizens every day. It is our duty to protect them to the best of our capacity and therefore, Sleepwell has donated complete COVID Care Kits which comprise of safety essentials such as face shield masks, 3-ply face mask with nose pin, surgical gloves, sanitisers, traffic police jackets and traffic batons.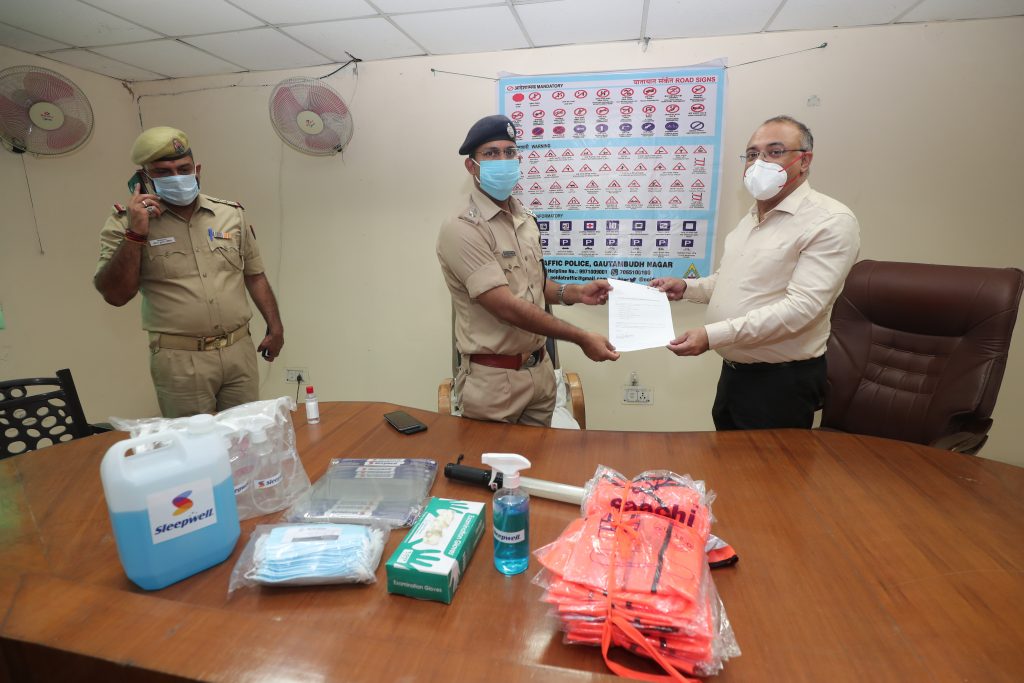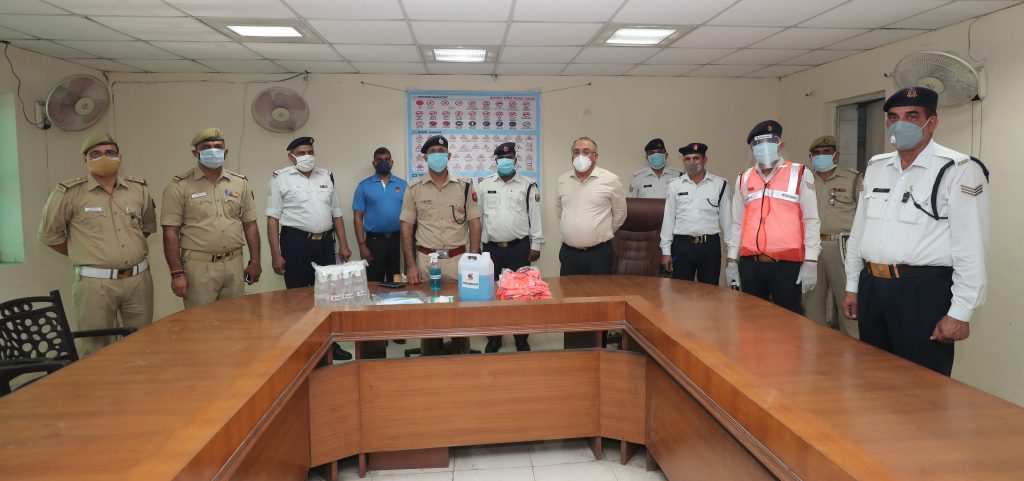 This initiative is in continuation to the efforts of Sleepwell donating bedding units to India's largest COVID-19 facility to support healthcare efforts across the country.
Commenting on the initiative, Rahul Gautam, Managing Director, Sheela Foam Ltd. said, "Traffic Police are amongst many frontline warriors who have been taking grave risks in working for the citizens as they navigate through the pandemic. They are keeping us safe and need to be protected. At Sleepwell, continuing with our commitment to help nation fight the pandemic, we have decided to stand with the Noida Traffic Police by ensuring their health and safety. We hope our COVID Care Kits with all the safety essentials will keep them safe against the virus." 
As a responsible corporate, Sleepwell places the health and safety of its employees and users ahead of business and we will continue to do so. The company adhered to stringent SOPs to maintain hygiene across the entire value chain, from factory to the distribution of Covid Care Kits at the Noida Police Station.
Pinkishe Foundation Extends Support to Low-Income Group Families Who Lost Breadwinner Due to COVID-19
Pinkishe Foundation, a prominent NGO working towards Menstrual Hygiene Management, free Sanitary Pads Distribution and other areas of Women Empowerment, has started accepting applications under the 'COVID-19 Response Fund 2.0' in association with GiveIndia, India's most trusted online donation platform. The foundation informed that the fund would provide financial assistance to low-income group families who lost the sole bread earning member due to COVID-19.
Families in urban or rural areas in and around Ghaziabad, Noida, Gurgaon, Faridabad and Hapur with a monthly income of Rs 10,000-20,000 are the initial target group. Families must show that their breadwinner died due to COVID-19, and the foundation will move the funds to the beneficiary's bank account after verifying the documents.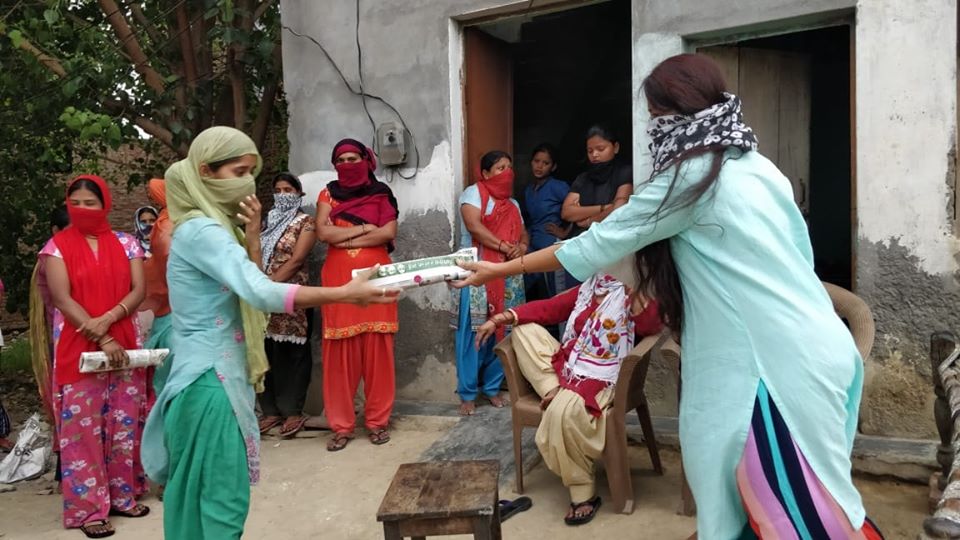 The Foundation does not limit itself to any specific region in India. "We're rising to support needy families from all over the country," says Shalini Gupta, National General Secretary. "We will need to do some basic verification to ensure the genuineness of applications and prioritization so that the benefit reaches most needy families. We have 1.6 lakh women linked to us across India, and the foundation has asked all of them to recognize families so that support can reach them as soon as possible," says Rajrani Sharma, Branch Secretary.
The Foundation hopes to support 800-1000 families; however, there is no set amount for families because it will vary depending on the need assessed by the team. The aim is for the families to be able to support themselves for a few months. "We know that nothing can replace their tragic loss, but we hope that the money will help these families get over their immediate financial challenge and provide them with a time cushion to create alternate work and earning options", says Ruchi Jain, National Leader of Pinkishe Foundation.
In rural areas, the sum would be enough to cover a family's expenses for three months. In urban areas, it would be enough for two months," says Monika Pal, one of the volunteer leaders working with Pinkishe Foundation.
The Foundation is reaching out to the families through social media and women volunteers. "Anyone can contact us by filling out the form provided by volunteers and posted on social media. Processing and verification can take two to four weeks due to current logistical challenges. However, we will do whatever we can to get the money to the affected family as soon as possible. We want to be there for them in their darkest hour," says Eeshu Awasthi, Volunteer Leader.
Locobuzz Launches Pan-India Emergency App for all COVID Resources
To answer COVID SOS calls by people in distress, Locobuzz – a data analytics and customer experience management startup – has launched a COVID resource website by aggregating crowd-sourced leads on Twitter –  https://COVID.locobuzz.com/ can be accessed from any handset. Its AI-powered algorithms are engineered to assimilate and present crowd-sourced Tweets and leads coming in through various sources and handles.  It covers the widest range of geographies and supplies across the country. It provides the latest confirmed leads for oxygen, beds, plasma, medicines and critical supplies for COVID patients. It also provides trends on the supply and demand of these resources which can help NGOs and governments see if the situation on the ground is changing for better or for worse.
The COVID Relief Project is Locobuzz's contribution to give the latest updates on COVID relief through their customer experience platform which synthesises technologies like Artificial Intelligence, Machine Learning and Big Data Analytics. The platforms collate relevant real-time data from Twitter presents them in a user- friendly format. This ensures that the gap between those looking for assistance and those who can supply it is bridged as the platform helps connects both individuals by providing them easy access to available helpline numbers in a centralized manner. Individuals looking for assistance can also set notifications to get the latest updates on information on their Twitter accounts. The COVID Relief platform is functional in Delhi, Pune, Bengaluru, Mumbai, Nagpur, Chennai, Nashik, Lucknow and more. The startup is exploring ways to make it available for non-English speaking audiences as well.
Droom Announced Rs 1 Crore to Combat COVID for its Employees and Dealer's Community
Droom, India's largest and pioneering AI-driven online automobile marketplace, has announced Rs 1 Crore budget to combat COVID for its employees and dealers' community under the banner – Droom Cares. Droom Cares is an initiative by the company for the well-being of its employees, entire dealers' community and other stakeholders. This umbrella initiative has been conceptualised to stand with all our stakeholders and support them in this gloomy situation.
As a part of this initiative, Droom will ensure proper sanitisation of a few healthcare facilities, police stations, clinics, pharmacies, as well as the homes of healthcare workers in Delhi NCR to ensure they are protected from the virus. The company will be using Germ Shield, its anti-microbial coating developed by the company and certified by NALB, FICCI, and Grant Thornton.
Not only this but also for the well-being of society, Droom has created a COVID SWAT team to verify all leads regarding oxygen supply, hospital beds, ICU availability, oximeters, food suppliers, plasma donors, and COVID-related life-saving drugs, this initiative enables Droomers to help anyone in need.
To extend helping hand to the worst hit small and medium enterprises, Droom has launched programmes for its 20,500+ dealers to assist on pharmaceuticals, COVID vaccination, medical assistance and also provide isolation ward to asymptotic dealers with basic medical facilities.
Droom has also launched multiple programmes for Droomers by converting its Sector 15 office into an emergency response centre with telemedicine services, nurses, and all basic healthcare facilities. Moreover, taking a step further to ensure the safety of Droomers and their families, Droom has increased the medical insurance coverage by five times this year, providing medical coverage group insurance for parents, and has even launched a telemedicine consultation for mental and physical health free of cost for Droomers. A unique Buddy Program has been initiated where Droom will assign one employee to another who is recovering from COVID-19 and requires assistance.
Speaking on the initiative, Sandeep Aggarwal, Founder, and CEO of Droom said, "The second wave of the pandemic has triggered an unprecedented crisis for the country. We would like to show our commitment to society by trying to help people in these difficult times. To overcome this situation, Droom has activated its Droom Care initiative for all its stakeholders, that will provide immediate relief to combat the current situation. We have organized a COVID SWAT room for quick assistance and have converted one of our office facilities into emergency wards with basic medical facilities and doctor teleconsultation for our employees in times of need.
He further added, "Not only this, but we have also created a special insurance scheme for all our employees and dealers to have hassle-free treatment in these stressful times. The insurance scheme will give five times more cover to our employees and to be also extended to their parents and current family members. Our endeavour has always been to stand firmly united with our stakeholder in the most stressful times and we are confident to overcome these together." 
Bajaj Group Commits Additional Pledge Rs 200 Crore to India's Fight Against COVID-19
Through the last 130 years, Bajaj Group has stood strong with communities, government, and local authorities to make a positive difference to society. In the ongoing fight against COVID-19, we all need to come forward in ways more than ever before, to ensure that all citizens of our country have access to healthcare and other necessities of life.
Given the severity of the second wave of the pandemic, we pledge an additional financial support of Rs 200 Crore towards COVID-19 response. The financial support will be utilized to alleviate the immediate on-ground challenges as well as to build capability and resources to tackle a possible third wave.
Recently, the Group has aided in the procurement of 12 oxygen plants to provide more than 5,000 LPM of oxygen supply to rural and urban hospitals, along with respiratory support equipment like oxygen concentrators, ventilators and BiPaps to help augment their capacity in treating COVID-19 patients.
This contribution is in addition to Rs 100 Crore donated by the Bajaj Group, last year, to support the COVID-19 response in India. Working with the government, local administration and our network of over 200+ NGO partners, we have supported various projects to ensure that desired help and support was extended to those who needed the most including immediate food relief to stranded migrants; upgradation of urban and rural healthcare facilities; provision of key healthcare devices; and livelihood support for returned migrants.
In addition to our ongoing efforts, we will work with local authorities and NGO partners to further upgrade the rural, peri-urban and urban healthcare facilities; enhance the availability of oxygen and critical medical supplies for COVID-19 treatment and raise awareness around COVID-19 appropriate behaviour as well as support the vaccination drive for the most vulnerable sections of the society.
We wish to extend our deepest gratitude to all healthcare, sanitation and emergency support staff and local administrations for their dedicated and tireless effort to contain the spread, amidst adversity. As the nation grapples with this second wave of the pandemic, we as a Group, continue to remain steadfast in our commitment towards extending all our support and care in helping the affected communities at large to tide through these unprecedented times.
PayU Launches Initiatives to Support NGOs Amidst Second Wave of the Pandemic
With the COVID-19 crisis unfolding, PayU India has introduced to help India's fight against the pandemic, especially NGOs who are working on the frontlines.
To help India combat COVID-19, PayU has launched a platform of verified NGOs to raise awareness about different causes and spur donation drives. This includes Akshaya Patra's COVID-19 relief service, Milaap's Let's Help India Breathe campaign, MCKS Food For The Hungry Foundation, Life Save Foundation, Blooming Lives Foundation, Smile India Trust Program. From delivering home-cooked meals providing PPE kits, equipping underprivileged with essential items like masks, food and sanitizers to distributing ration amongst those in need, citizens can contribute to any cause and help the underserved.
With an aim to extend support to NGOs and charities in collecting relief donations for COVID-19, PayU has announced zero transaction fees and processing of donations at no cost. It has announced a 100 per cent TDR waiver for NGOs collecting donations through PayU amidst COVID-19 pandemic.
Every drop of help counts. Hence, visitors can also suggest NGOs and causes that can benefit from donations, for PayU to add and amplify across this platform. 
Samsung Pledges USD 5 Million to India's Fight Against COVID-19 
Samsung has pledged USD 5 million (INR 37 Crores) as its contribution to India's fight against the current surge of COVID-19, providing donations to central and state governments, and boosting the healthcare sector with essential medical equipment for hospitals, as part of its citizenship initiatives.
The decisions have been taken after due consultations with various stakeholders in India and assessing the immediate needs of local administrations.
Samsung will donate USD 3 million to the Centre as well as to the states of Uttar Pradesh and Tamil Nadu.
In addition, to help the healthcare system that has been stretched over the last few weeks, Samsung will provide USD 2 million worth of medical supplies, including 100 Oxygen Concentrators, 3,000 Oxygen Cylinders and one million LDS syringes. These will be offered to Uttar Pradesh and Tamil Nadu.
LDS or Low Dead Space syringes minimise the amount of drug left in the device after injection, optimizing vaccine usage. Existing products have a large amount of the vaccine remaining in the syringe after use. The technology has demonstrated up to 20 per cent greater efficiency and if existing syringes were to deliver one million doses, LDS syringes could deliver 1.2 million doses with the same amount of vaccine. Samsung has helped the manufacturer of these syringes increase production capacity.
In April 2020, Samsung had contributed INR 20 crore to India's fight against the pandemic. This included a donation to the Central Government and support to local administration in Noida, where the Company had provided hospitals with medical equipment required in the preventive drive against the pandemic such as thousands of Preventive Masks and Personal Preventive Equipment (PPE) kits.
Samsung salutes all professionals working tirelessly on the frontline of this battle. The Samsung family, which includes our employees across India and our partners and their employees, stand together in this battle against COVID-19.
GiveIndia and OYO Care Launches Fundraiser to Provide Free Shelter for the Underprivileged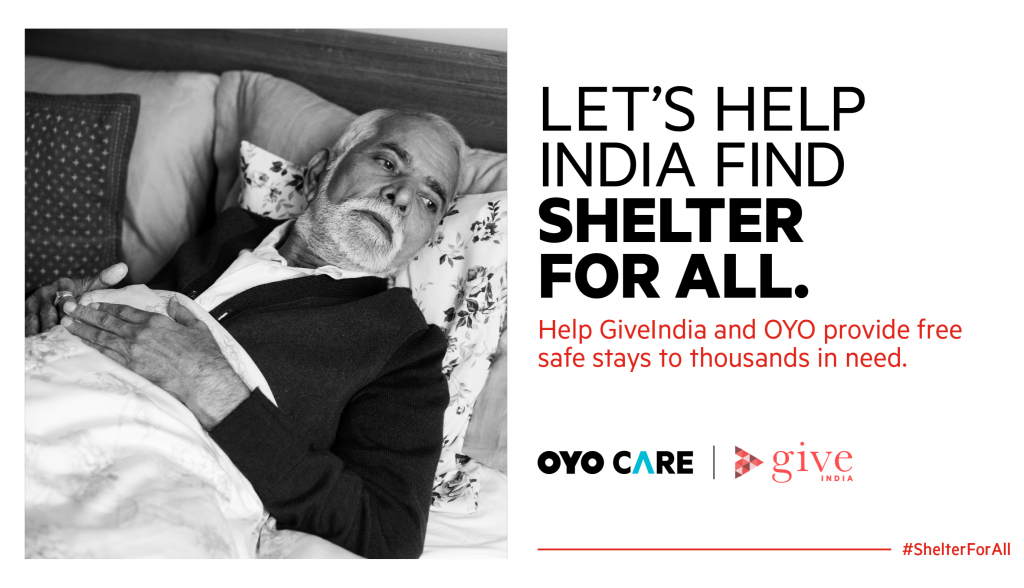 With a peak in daily cases across the country, COVID-19 has led to a shortage of safe spaces for the underprivileged during their recovery from COVID-19. GiveIndia and OYO Care have launched a fundraising campaign #ShelterForAll with an aim to raise INR 10 crore to offer rooms as isolation and quarantine shelters for COVID-19 positive patients in need. Through this initiative, GiveIndia will begin with opening doors to three dedicated OYO Care properties as quarantine centers with meals in Bangalore, Hyderabad and Gurgaon/Delhi NCR for symptomatic as well as asymptomatic COVID-19 patients during their recovery. As the campaign progresses towards its goal, more and more hotel partners will be equipped to turn their properties into quarantine facilities across cities.
Commenting on the launch of the campaign, Atul Satija, CEO, GiveIndia said, "During such distressing times, this is a unique and meaningful campaign with the support of OYO Care for the neglected segments of our society. While patients who need critical care are running out of beds and oxygen, those who are positive and mildly symptomatic are also in grave need for spaces to recover. A huge chunk of the population in our country doesn't have the means to find a shelter when recovering or isolating themselves at home or can't afford facilities available outside their homes. We hope this campaign will raise awareness of underprivileged COVID-19 patients, their basic right to shelter for isolation and a chance to recover. We also have several other campaigns running in parallel to boost oxygen supply, support the families of COVID-19 deceased, among others. We hope that partners like OYO Care come forward to help us help those in need."
Join the cause with GiveIndia and OYO Care. Give what you can, every contribution counts. To donate, click on this link 
FADA Maharashtra Raises Rs 1 Million to Support Transport Department for Getting 250 Oxygen Tankers Fitted with GPS Devices 
With the 2nd Wave proving more fatal and health care battling to reach out to people in the State, FADA Maharashtra Chapter decided to make its contribution to strengthen the hands of the State Administration in battling the 2nd Wave of COVID-19.
FADA State Chairperson, Amar Jatin Sheth met with the Transport Commissioner Dr Avinash Dhakane to understand how FADA members could contribute and on his recommendation, FADA Maharashtra decided to fix the 250 oxygen tankers with GPS devices enabling the Transport Department to monitor it on a single dashboard which has been setup in Transport Commissioner's office and is being monitored 24*7.  In this, MOBO was roped in as it had the necessary technological know-how and expertise to deliver the same in time bound manner.
FADA Maharashtra raised the required contribution of Rs. 1 Million and placed the order. The oxygen tankers will start being enabled with the fitment from the week starting yesterday.
FADA President, Vinkesh Gulati commenting on the timely action taken by FADA members in Maharashtra under the leadership of Amar Jatin Sheth said, "FADA got an opportunity to strengthen the hands of Maharashtra State Administration during the 2nd Wave of this pandemic. We have tried to do our best as this is a small contribution towards enabling transport department to monitor oxygen tankers movement on a single dashboard. This will definitely help save lives of patients by providing them lifesaving oxygen on time. I thank Dr Dhakane State TC – MH, and FADA MH Chapter, Mr Amar Sheth, to make this possible."
Speaking on the occasion, Amar Jatin Sheth, State Chairperson FADA said, "This was an opportunity to contribute for the state by efficiently managing the movement of the tankers through technology."
Good Samaritans Trust – A Ray of Hope Amidst the Pandemic
In a society where elderly and old aged people are considered a burden, George Rakesh Babu, Founder of Good Samaritans Trust, is an inspiration for everyone. Being abandoned and left alone to die, these people do not have any food and shelter. Good Samaritans Trust is a team with compassion for the needy neglected Medically trained small group of people who take care of these abandoned people, also called destitute, provide them with food, shelter, and respect in their last years of life.
The untimely death of a Tamilian priest, Late Ganesh Prabhu changed Mr George's perspective towards life. Despite numerous challenges and absolutely no support from family or relatives, he strived to give over 60 orphans a quality life. Dedicating his entire life for the cause of orphans, Ganesh Prabhu was humiliated in the last years of his life and even failed to get a dignified burial. From this incident, the faith which he followed had a significant impact on George's life. He thought that every person has the right to live their lives to the fullest and the right to a dignified death. This led to the emergence of Good Samaritans Trust. The Trust is based on the thought to: "Give justice to the week and the fatherless, maintain the right of the afflicted and destitute. Everyone wants to be loved, irrespective of their caste, creed, or colour of humanity."
According to A.I. George Rakesh Babu, Founder, Good Samaritans Trust, "The abandoned or destitute included elderly suffering from serious medical diseases like cancer. They are a burden on their children due to heavy medical expenses. Further adding to this, Mr George shares the incident of an elderly woman named Shanta suffering from cancer who was neglected by her only son. Mr George and his team rescued the woman during pandemic and gave her food and shelter. The woman had serious medical issues, and it was difficult to communicate with her due to linguistic barriers. After one month of search, the trust was able to locate Ms Shanta's brother, but before he could take her home, Ms. Shanta was no more. The woman cried and longed for her son but was unable to meet him even in her last days of life."
Besides providing food, shelter and Care, the Good Samaritans Trust also plays an inevitable role in reuniting migrants with their families. More than 2000 migrants have been reunited with their families to date, says A.I. George Rakesh Babu, Founder, Good Samaritans Trust. He also shares an incident of a young migrant who was intellectually challenged wondering was rescued from Mahabubnagar Highway, Hyderabad, on April 19, 2020, who was missing since 2015. The migrant had week physical conditions and was unable to speak clearly. After continuous efforts, the Trust came to know that the migrant was from Kurd, Odisha. The Good Samaritans Trust did its best to reunite the migrant with his family. On April 2, 2021, the efforts of Trust bore fruits, and the migrant reunites with his family.
RTX, Whitney Sends Life-Saving Machines to India for COVID-19 Relief 
Raytheon Technologies Corporation, which employs nearly 5,000 people in India, primarily through Pratt & Whitney and Collins Aerospace, is acting to support the nation during the challenging second wave of COVID-19 cases and protect the health of its colleagues, their families and communities.
The company is donating 1,000 oxygen concentrators that have already started arriving in India, through the U.S.-India Strategic Partnership Forum and organisations actively working with the government across the country. These life-saving devices will be distributed where the need is the greatest, including those communities where our employees work and live. RTX will continue to explore ways to partner and support impacted communities as India recovers.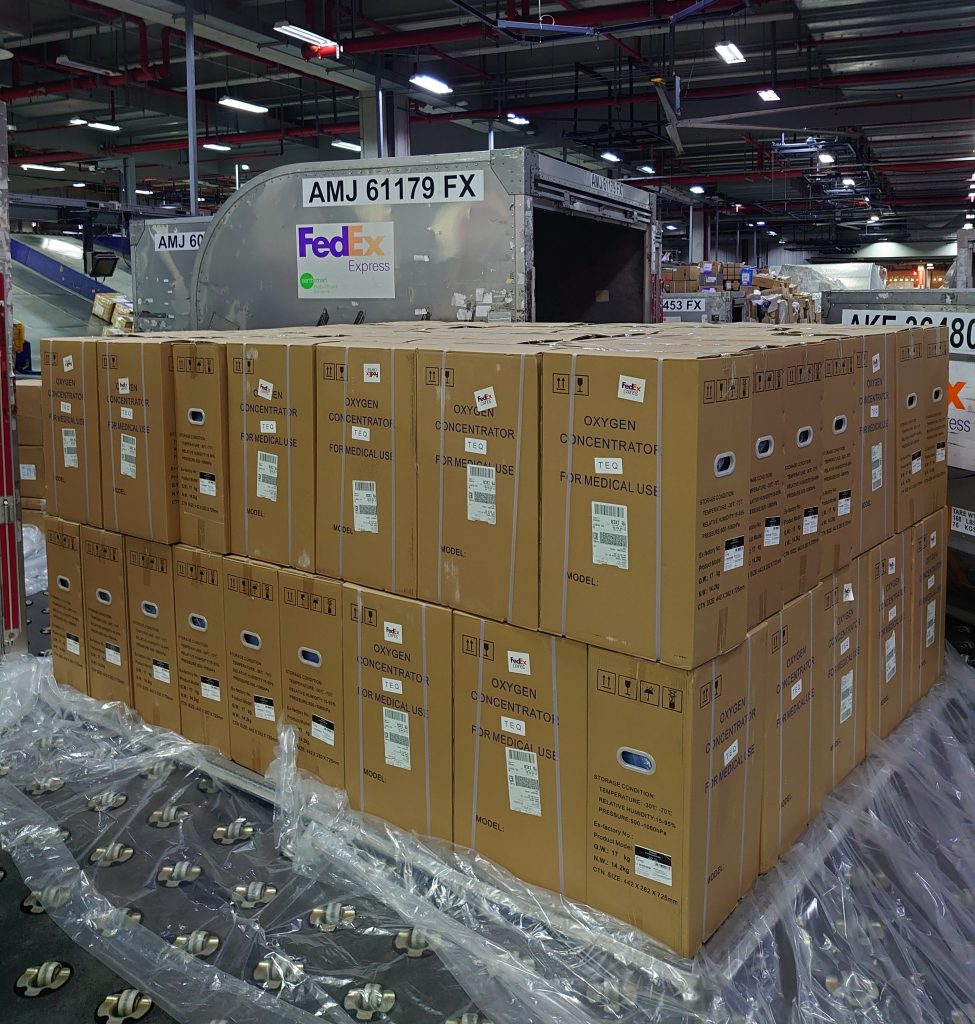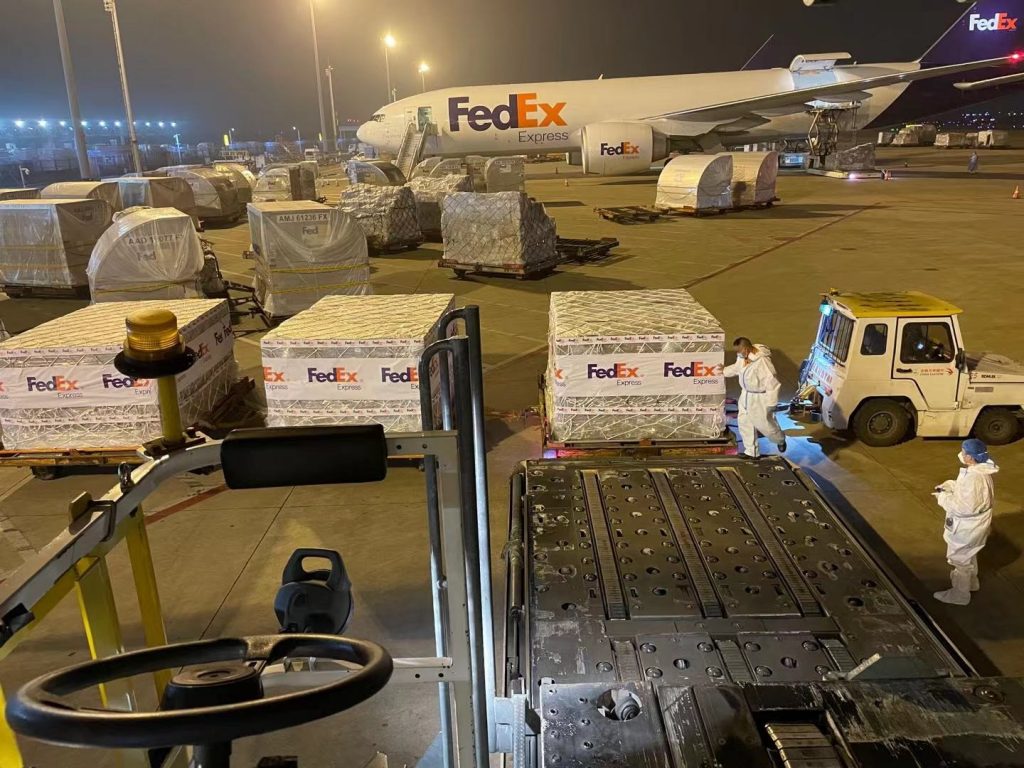 "Although there are signs of recovery in many parts of the world, our teammates in India continue to confront the enormous challenges of the pandemic," said Pam Erickson, Chief Communications Officer for Raytheon Technologies. "The time for us to act is now."
"We need a global response to tackle India's second wave of COVID-19 infections. The aerospace industry has been on the frontlines, with our military and airline customers transporting vaccines, oxygen and medicines with urgency," said Ashmita Sethi, President & Country Head, Pratt & Whitney. "We are proud to power their efforts, and help directly in this time of crisis."
Teams across RTX are also actively working on securing resources, and utilising supply chain capabilities to provide PPE and other essential supplies for employees and local communities.   Raytheon Technologies will be matching employee donations made through May 22, which will be channelled to several nonprofits supporting COVID-19 relief efforts in India.
Pratt & Whitney has a proud 70-year legacy of supporting India's aviation growth across commercial, regional and military aviation. With over 680 turboprop, turboshaft and turbofan aircraft, Pratt & Whitney has the largest footprint of any engine maker in the country, and one in every two people flying in India, fly on planes powered by Pratt & Whitney engines.
Through its businesses, Raytheon Technologies has been investing in India for decades. Together, RTX companies Pratt & Whitney, Collins Aerospace, Raytheon Intelligence & Space and Raytheon Missiles & Defense, are actively involved in 'Make in India' with their design, engineering and MRO centres – and 'Skill India' through their training centre and STEM education initiatives.
Mahindra Steps In With Oxygen on Wheels in Different Parts of Maharashtra 
Amid the second wave of the coronavirus pandemic, India is dealing with an acute shortage of oxygen supply. The Mahindra Group has rolled out a free service initiative, 'Oxygen on Wheels' (O2W), which will strengthen the availability of oxygen by connecting oxygen producers with the hospitals and medical centres in dire need of it.
O2W is launched in Mumbai, Thane, Pune, Pimpri-Chinchwad, Chakan, Nasik and Nagpur with over 100 Mahindra vehicles ferrying oxygen, at present. Discussions are ongoing with the civic administration and government departments to extend this free service to other cities as well, most importantly to Delhi, which is facing an acute shortage. Given the overwhelming response in the past 48 hours, extending this initiative to deliver oxygen cylinders directly to patients' homes is also under consideration.
O2W will be helmed by Mahindra Logistics, a Mahindra Group company, which is partnering with the administration and local government bodies on this project. With a large fleet of vehicles at its disposal and an integrated command and control centre, Mahindra Logistics is working on creating a seamless and endless chain of supply of lifesaving oxygen and transport it to the hospitals and medical centres in a way that is safe and reliable.
Talking about the initiative, Anish Shah, Managing Director & CEO, Mahindra Group said, "We are committed to deploying our resources and capabilities innovatively to address the challenge on hand. Oxygen on Wheels meets an urgent need by partnering with local authorities to help save precious lives and reduce the pressure on our healthcare services."
Mahindra Group has been at the forefront in the fight against COVID-19. The Group's efforts cover a wide spectrum – from raising funds to sustain the government's relief efforts and providing ICU beds, emergency cab services, quarantine centres, to monetary support and dry rations for the underprivileged, to re-engineering its production lines and facilities to manufacture much-needed PPE, face shields, face masks and aerosol boxes to aid the fight against coronavirus.
Additionally, the Group is closely working with the Government to setting up oxygen plants and building isolation centres. M&M's plants as well as its suppliers are not using oxygen for any industrial activity. Tech Mahindra supported Nursing Academy's staff and students have been helping in various hospitals. Vaccination has also been a key priority for the Group, with emphasis on 100 per cent vaccination for all its associates and their families. 
FriendsSquare: Sessions for COVID-19 Relief Fund
Today, what we are dealing with is something all of us weren't prepared for. Uncertainty prevails. The pandemic caught us off guard and we need to acknowledge it. Caring for your mental wellbeing is really important. FriendsSquare an organisation that brings to focus the aspects of mental health within the organisation has taken an initiative to help the one who is suffering the most during this global pandemic.
FriendsSquare will be providing personalised sessions to raise funds for COVID- 19. The sessions will be on careers in Organisational Psychology, Inculcation of OB Principles at Work, Assistance with Stress Management & Work-Life Balance along with CV & Cover Letter Review. FriendsSquare has requested everyone to donate a minimum of INR 300 in return for these sessions. The collected funds would be used as helped for the people in need.
Talking about this Soumya Gupta, Organisational Psychologist & Founder of FriendsSquare mentioned "I along with my colleagues, Manpreet Kaur & Khushi Aggarwal will be volunteering to extend support for COVID- 19 relief in India by raising funds. For the same, we will be providing professionals and students with one-on-one mentoring sessions on various topics to help guide them through their professional and academic journeys.
The daily collection will be donated to verified foundations including Hemkunt Foundation, Khalsa Aid International, Goonj and Feeding India at the end of the session every day.
You can book your slots by just clicking on this link – https://lnkd.in/evJ–nX
SBI Allocates Rs 70 Crore to Combat the 2nd Wave of COVID-19 
True to its vision and mission to support the country in fighting with adverse situations, State Bank of India (SBI) has allocated Rs 71 Crore to undertake various support initiatives to help the country combat the second wave of COVID-19. The Bank has dedicated Rs 30 Crore to set up 1,000 bed makeshift hospitals, 250 bed ICU facilities and 1,000 bed isolation facilities across some of the worst-hit states. These facilities would be set up in collaboration with government hospitals and Municipal Corporations of the respective cities.
SBI is in talks with various designated authorities to explore partnerships for setting up makeshift hospitals. The Bank will also contribute Rs 10 Crore for genome-sequencing equipment/lab and vaccine research equipment/lab to the government.
Additionally, SBI has allocated Rs 21 Crore to all its 17 Local Head Offices to address the urgent medical needs of the citizens including procuring life-saving healthcare equipment and enhancing the oxygen supply to hospitals. Bank will continue to provide PPE kits, masks, rations and cooked meals. The Bank will also spend Rs. 10 Crore in partnering with NGOs to undertake community-based testing, strengthening vaccination drives, creating helpline for COVID-19 related matters, providing oxygen supply and other critical activities.
Dinesh Khara, Chairman, SBI said, "We are trying our best to make a small contribution to society in the fight against the second wave. We are committed to contribute funds, resources and reach out to the citizens of India and also join in the Government's efforts in fighting the virus. I urge everyone to offer their support in any form to the people in need and contribute towards making the country COVID-19 free." 
Last year, SBI had pledged 0.25 per cent of its annual profit to fight the coronavirus outbreak in India and has donated over Rs 108 Crore to the PM-CARES Fund. In addition, SBI has also contributed Rs 11 Crore toward supporting the vaccination drive of the government.
Lam Research Commits $1 Million to Battle Against COVID-19 in India
Lam Research announced it will donate $1 million (~7.5 Crore INR) for COVID-19 relief and recovery efforts in India​. The funds will support both local efforts in Bangalore and the Direct Relief organisation's efforts to provide oxygen concentrators and other critical medical supplies to health care providers in communities across India.
Additionally, the company has established a two-for-one matching gift campaign for monetary donations made by its global employees to eligible COVID-19 relief programmes supporting India.
"It is heartrending to see the suffering of so many communities in the country," said Rangesh Raghavan, Corporate Vice President and General Manager at Lam Research India. "Here at Lam, we are committed to standing strong with the nation during these very difficult times. Given the massive scale and rapid pace of this health crisis, together with the global leadership team at Lam, we decided to accelerate and strengthen our funding to support those most affected."
Throughout 2020, the Corporate Social Responsibility (CSR) team at Lam Research India, has invested in education and COVID-19 relief, including designing and funding Suraksha kiosks used for sample collection that put a protective physical barrier between healthcare professionals and patients as well as donated personal protective equipment (PPE) kits to government-run hospitals.
Over the last few weeks, the CSR team has engaged with local NGOs, authorities, and healthcare professionals to prepare an even more broad and meaningful strategy in the fight against COVID-19. 
"We are humbled to be able to support those on the frontline, as well as families who are most vulnerable in our community," Raghavan added. 
Godrej Consumer Products and Ujala Cygnus Hospital Group Partner to Fight Against COVID-19
Godrej Consumer Products Limited (GCPL), a leading emerging markets company, joined hands with Ujala Cygnus Group of Hospitals, the leading tertiary care hospital group, for an initiative keeping in mind the ongoing wave of COVID-19 across the country. The relief efforts, part of GCPL's CSR activities and under the aegis of Protekt India Movement, comprises relief supply of over 200,000 units of Godrej Protekt sanitisers and handwash products to Ujala Cygnus Hospitals. The supply includes Godrej Protekt sanitisers which will be used for patients and healthcare workers, who are at the frontlines in this pandemic. The donation will be utilised across 13 hospitals of the Ujala Cygnus Group of Hospitals spread over Delhi, Haryana, Uttarakhand and Uttar Pradesh.
"We have seen how women and children in disadvantaged communities don't have access to basic hygiene products which makes them vulnerable not just to COVID but to a lot of other diseases as well. They should be the first ones to get access to hygiene products, as we strongly believe that they are the present, and the future. We are extremely grateful and would like to express our immense gratitude to the Godrej Consumer Products Ltd. (GCPL) for this mammoth donation of COVID supplies at such a crucial time when the cases are again increasing. It's highly inspiring to see how such multinational business giants are joining hands with healthcare providers in this fight against Coronavirus pandemic. Hand hygiene is the first line of defence followed by wearing a mask and practicing social distancing. Keeping the hands clean is essential in preventing the spread of the novel coronavirus, as well as other germs that can cause common cold and flu," said Dr Shuchin Bajaj, Founder & Director, Ujala Cygnus Group of Hospitals.
Speaking about the program, Sunil Kataria, CEO – India and SAARC, Godrej Consumer Products Limited (GCPL), said, "Safety and hygiene are priorities for consumers these days, particularly so when they are travelling. Godrej Protekt's purpose is to alleviate hygiene concerns of consumers and champion programs which helps to spread awareness of right ways to maintain hygiene. In 2020, we were the first-ever hygiene brand to partner with Indian Railways during COVID-19 times to promote travel hygiene. We have had a very successful partnership with the Central Railways where we managed to make an impact and drive positive behavioural change. We are delighted to continue the partnership this year with Northern Railways, to contribute and build a safe travel ecosystem in these unprecedented times. This will be backed by our expertise in the hygiene space and inclusion of key Protekt offerings such as hand sanitisers, disinfectant sprays and masks."
PepsiCo Foundation Partners with SEEDS to Launch Community Vaccination Drives and Set Up COVID Care Centres 
The PepsiCo Foundation has partnered with Sustainable Environment and Ecological Development Society (SEEDS), a leading not-for-profit organisation, to launch an extensive community relief outreach programme to support Government of India's ongoing efforts against COVID-19. As part of the partnership, SEEDS will drive COVID -19 vaccinations for the community at large, set up COVID care centres equipped with beds and medical facilities including oxygen cylinders. Additionally, oxygen concentrators will also be provided to Central Government for distribution to various Government hospitals. The entire community relief programme will be rolled out across the country with a special focus on Maharashtra, Punjab, West Bengal, Uttar Pradesh, and Telangana.
As part of the initiative, extensive awareness drives will also be organized across various states to promote vaccination amongst the population at large. These sessions will be conducted in partnership with NGOs including SEEDS along with the local Government authorities.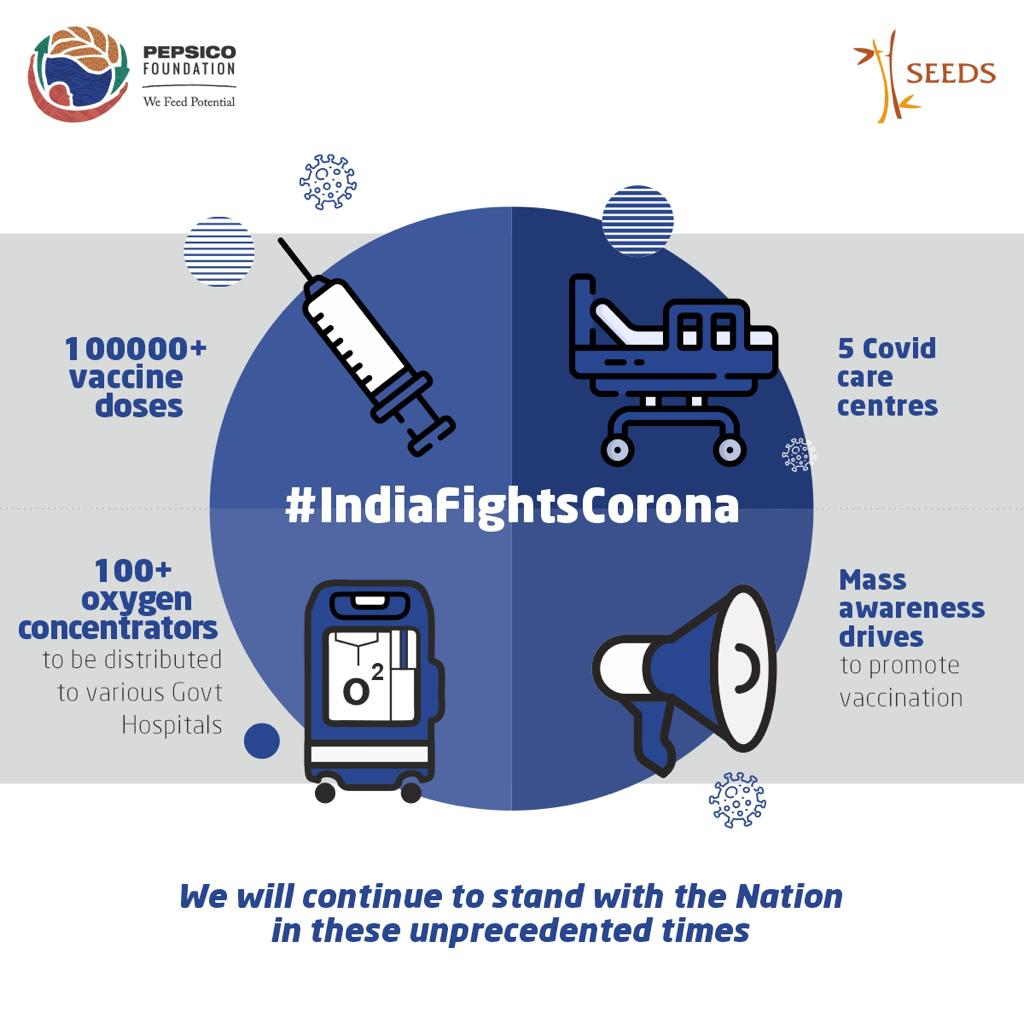 In the first phase of the programme, over 1,00,000 vaccine doses will be provided to communities at large administered through the local healthcare system. Further, five COVID care centres would also be set up in key States for three months. Each centre will be equipped with beds and will have all key medical facilities including oxygen cylinders for emergency use, medical equipment, provision of meals among others. Additionally, over 100 state-of-the-art oxygen concentrators are also being procured and will be provided to various State Government authorities to support their on-ground requirements.
In the second phase, the PepsiCo Foundation will be rolling out partnerships with other NGOs to support the frontline COVID warriors with PPE kits, N95 and surgical 3-ply masks, pulse oximeters, sanitisers, etc.
On partnering with PepsiCo Foundation for the intervention programme, Dr Manu Gupta, Co-Founder, SEEDS, said, "As India navigates through the second wave of COVID-19, we need to unite and look at ways to offer all the possible support to the ongoing efforts. Access to medical infrastructure in the affected marginalised communities is limited and makes survival rates much lower. The need of the hour, therefore, is to step up a robust vaccination drive, create COVID care centres and help facilitate the supply of critical needs such as oxygen. We are ready to work closely with PepsiCo Foundation in their efforts to mitigate the impact of the second wave of COVID-19 pandemic."
Ahmed ElSheikh, President, PepsiCo India, said, "India is embattling the second wave of the pandemic and we all are facing a challenging situation. In these difficult times, it becomes even more important for businesses to come together and partner with Centre and State Governments, civil society, NGOs, and healthcare institutions to support communities in need. Vaccination is one way which can help us combat COVID-19 and we are thankful to have partners like SEEDS to front-end the community vaccination drives and set up COVID care centres. As a company, we will continue to do our best and stand with the Nation in these unprecedented times."
Essar Sets Up a 100-Bed COVID Care Centre with Oxygen Support at Devbhumi Dwarka District 
Essar has set up an exclusive 100-bed COVID Care Centre at Devbhumi Dwarka district of Gujarat duly equipped with oxygen support and it will be operated by the Khambaliya Civil Hospital.
The centre is equipped with oxygen support which will has become critical during the second wave of COVID in the nation. It houses 40 rooms with double occupancy and 20 rooms of single occupancy to cater to the medical needs of the people. The centre will also take care of housekeeping and healthy diet arrangements for the patients admitted in the facility. It is also equipped with an administration hub for the hospital staff.
The centre has been jointly set up by Essar companies – Essar Ports Ltd and Essar Power Ltd and will be scaled up as required. Last year, Essar had extended support to the people of the region through various initiatives which acted as welcome relief amidst the pandemic.
"Essar has a very close association with the people of Gujarat and has always been indebted to them for their undeterred support towards its growth, over past five decades. This centre is an effort from our side to provide timely medical care to the people of Gujrat and support the government's endeavours to fight this pandemic. I would like to assure and thank Rupani saheb, Poonamben and the entire district administration for all their efforts in addressing the pandemic and wish everyone in Gujarat remains healthy and safe." said Prashant Ruia, Director, Essar Capital.
Last year Essar had provided two million meals and 1.55 lakh medical supplies as part of Essar Foundation's COVID19 initiatives across the country.
"In the fight against Corona pandemic, Essar has started 100-bed COVID Care Center with oxygen facilities to save human lives. This centre is a blessing in the crisis time for the people of Devbhoomi Dwarka District. Under the guidance of District administration and State Government, COVID care center will provide all types of treatment and meals to the patients, which will benefit the people of the district. Arrangements have been made by the government for all staff, including doctors, so this will be one of the best treatment centres. Congratulations to Essar and thank you very much for starting COVID care center for the best treatment in my parliamentary constituency," said Smt. Poonamben Maadam, Hon'ble Member of Parliament, Jamnagar.
A massive rise in infections in the second wave of the dreaded C-19 pandemic has hospitals in several states reeling under a shortage of medical oxygen and beds. Local administrations are filled with SOS calls with people looking for oxygen cylinders, hospital beds, plasma donors and ventilators.
This centre would cater to the surrounding villages of Devbhumi Dwarka district which are witnessing a rise in C-19 infections, and provide the required support to the Authorities in addressing the situation. 
Hindustan Zinc Sets Up Oxygen Plant at Rajsamand to Supply Oxygen for Fight Against COVID 19
As a law-abiding and responsible organisation, Hindustan Zinc is in complete solidarity with the steps taken and efforts made by the State Government and local governing bodies during these unprecedented times through various relief measures. While understanding the gravity of the situation and with a rapid increase in COVID-19 cases in the State, the company took the initiative of providing industrial oxygen supply as a substitute for oxygen to address the shortage of it in hospitals and health centres.
Hindustan Zinc has joined hands with the local body administration and health department to amplify its efforts for COVID relief. After providing liquid oxygen to the administration for treatment of COVID patients, the company has gone a step beyond and is making 500 cylinders of oxygen available per day with an oxygen bottling plant set up specifically for this purpose. In addition to the bottling plant, the company has till date provided 101T liquid oxygen to district administration. This will play a critical role in COVID relief efforts.  Additionally, the company will soon commission a bottling plant with a production of 1200 oxygen cylinders a day which will help meet the shortage of oxygen.
There has been a huge influx of patients in hospitals which created a shortage of oxygen for respiratory treatments. To further amplify these efforts and support the community, the company will help meet the demand for oxygen at hospitals in not just the areas of Rajsamand and Udaipur, but also Jodhpur.
Rajsamand District Collector Arvind Poswal appreciated the efforts by Hindustan Zinc and said, "On behalf of the Rajasthan Government, I would like to applaud Hindustan Zinc for setting up an oxygen cylinder bottling plant with a capacity of 500 cylinders in a record time of five days. I am grateful to Hindustan Zinc for stepping forward and extending their full support in dark times for humanity during a pandemic. I hope the company will continue to support me with the same level of enthusiasm."
Hindustan Zinc's CEO, Arun Misra said, "Considering the increasing demand for oxygen in the current situation, Hindustan Zinc has ramped up our efforts further to aid the government by establishing this oxygen bottling plant to directly convert available oxygen for use in hospitals. In addition to this, we had also modified our infrastructure to supply 150T liquid oxygen through cryogenic tankers to the government previously. We're constantly monitoring the situation and are standing shoulder to shoulder with the local authorities, ready to support the government in every way possible."
Currently, Hindustan Zinc's Oxygen plant has dedicated 100 per cent of its oxygen production for the community. The Dariba Smelter Team erected the bottling plant within five days by working non-stop so it could produce 500 cylinders per day. Till date 101T liquid oxygen has been supplied.
Multiple hospitals across the state will be benefited by the oxygen cylinders from HZL plant to meet the demand for oxygen. The Hindustan Zinc team is continuously working to make the process more efficient for the benefit of the community under the guidance of District Collector Rajsamand – Arvind Poswal, Divisional Commissioner, Excise – Dr Jogaram, and Sahi Ram – GM DIC.
Chetu Donates Rs 1 Crore to Combat COVID-19
Chetu, a leading provider of world-class software development and support services, through its foundation, and the Bansal family, today announced the donation of Rs. 1 Crore to the Uttar Pradesh Chief Minister Distress Relief Fund to help the country combat the current COVID-19 crisis.
With the current healthcare situation in India worsening, Chetu has joined the fight to help support the relief efforts and alleviate the pressure placed on the healthcare system. Funds donated by the Chetu are to be utilised by the government to provide vital amenities to low-income communities, providing continuous healthcare support and medical care to families and individuals.
"Our country is in a state of crisis dealing with global pandemic. We are all united together to fight and contain the spread of the virus and committed to providing vital relief efforts to our people. Donations from private entities, such as Chetu, will help us amplify our resources and maximize our efforts in serving those in need. We will continue our efforts towards the betterment of our society and thank, Chetu, for their continued support," said Hon'ble Chief Minister Shri Yogi Adityanath.
With philanthropy being one of the core values of the organization, Chetu continues to honour its commitment to aiding communities around the world during this unprecedented time.
"Stay strong, mere pyare Bharat," said Atal Bansal, CEO of Chetu. "We will get through this shortly. Yeh samay bhi niklega."