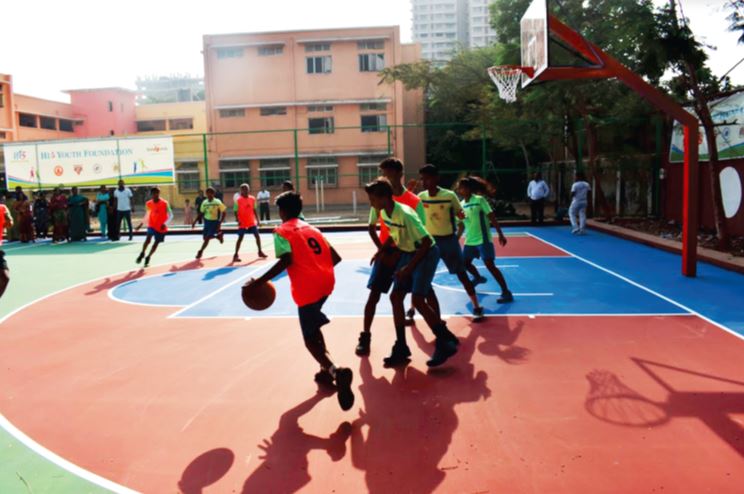 Sadham is at his table studying and completing his assignments. He feels excited that in a little while, he will head to the basketball court warming up for a round of practice as another tournament is approaching. As much as he loves basketball, which has been his lifesaver, he is determined to continue to excel in his studies. Both are vital to him. Sadham is one of the many young lives who has taken a turnaround, thanks to Hi5 Foundation. The Foundation runs afree, multi-year, multi-level basketball excellence programme for tribal/slum children called 'Hope Thru Hoops'. Founded by R. Sundar who successfully co-founded Mastek (an IT multinational, and Sankara Eye Foundation), alongwith his wife Usha Sundar, his colleague P Ramaswamy, and 25 other team members with extensive experience in the development as well as commercial sector, this group of changemakers wanted to provide underprivileged children with life-changing opportunities through basketball. The Foundation also pursues a trickle down development from the court to the classrooms, thereby ensuring cohorts of first generation college students – leading a quantum jump in economic terms for their families and communities. Hope Thru Hoops is the largest year-round grassroots basketball development programme run by a single NGO in India. We spoke to Usha Sundar, Co-founder, Hi5 Foundation, to know more about what drives this Foundation to take this route.
How did the Foundation come to know about the tribal communities and their plight?
The Foundation initially started its work with marginalised communities as it was working with BMC schoolchildren. Our goal is to further reach out to more such underprivileged sections, and through a common network that we slowly started to explore schools, especially government-run or sponsored schools, which were catering to similar communities. We came across the first such school in Vajreshwari, on the outskirts of Mumbai, which was working with tribal children. Children here did not have exposure to any kind of sports. The only toys they know were made out of rag cloth. Since free education was provided to them, the children would drop out after the Xth Standard, and return to their communities to engage in the same kind of manual labour that their families have been engaged in. And as is the general trend in rural areas, girls end up in early marriage. We realised the cycle that these children and their families are caught in-generations after generations, and wanted to offer an alternative route of success to these children. After running sessions with the children and meeting the trustees of the residential Ashram school, we started our first tribal sports programme.
What was the initial reaction of the communities to the Foundation's approach to help them?
Initially, when we started reaching out to these communities, they were extremely surprised about the programme, not because it was sports, but more because it was being offered to them in a structured, outcome oriented manner, and for free. The children were the most excited as they never had the opportunity to play any sports with proper equipment, let alone be professionally trained in the same. Thereafter, with the help of the Ashram School Trust, we started the programme in a full-fledged manner. We built our first international standard high-quality basketball court at the Ashram School in January 2017.
When did the project start? Take us on a journey from its genesis to the present day.
As a family, my husband, R. Sundar, myself and my children, have spent over 15 years in the US. My husband set up an IT company there. We were very successful in our venture. We then came back to India in 2015 to start a Foundation in education or sports. We drew inspiration from our son, who wanted to give back to the community by volunteering his time coaching young children in basketball in the US. We saw significant behavioural changes as well as improved communication in the children because of the game, eventually positively affecting their education choices and personal careers. The way he was able to motivate and impact the lives of these children was something which their regular teachers were unable to do. This inspired us to build a similar model back in India for the underprivileged, which led to the beginning of Hi5 Youth Foundation's work in 2015.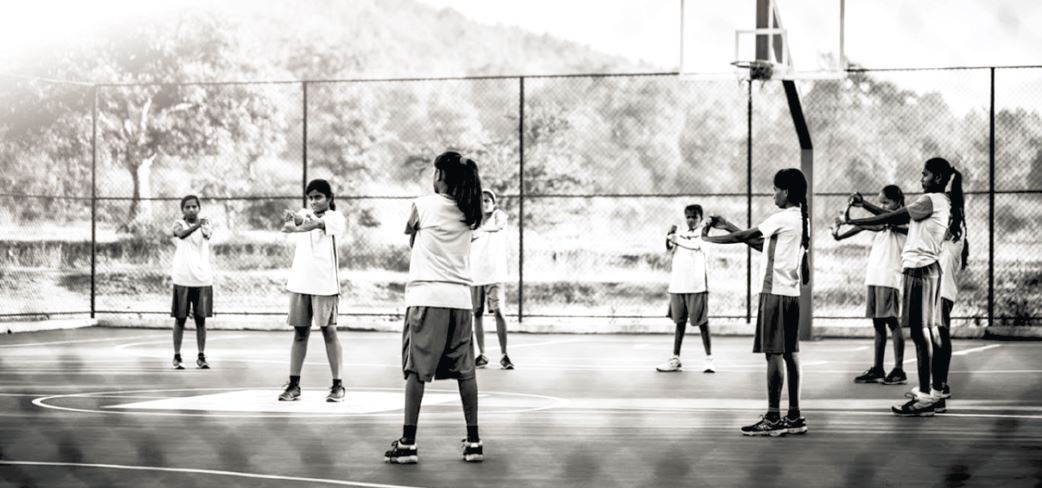 "We currently coach over 2100 children, half of them girls, at 19 centres (ten municipal schools, two Zilla Parishad schools, two centres for slum children and five residential tribal/orphanage school) – making Hope Thru Hoops – one of the largest year-round grassroots basketball development programme run by a single NGO."
"I am a tribal woman stuck in this village doing daily labour, but I want my daughter to getinto a college and continue her education to live a better life so that she doesn't have to struggle with life as I am."
The core vision behind what we do every day is to ensure that children learn to play and win at basketball during the years of our contact programme, and also able to use the learnings and skills from it to make better choices and decisions in their lives, thereby acting as agents of change in their own communities. Our strategy is to partner with schools/institutions so that we are able to run stable and intensive programmes with the students and ensure long term impact on their lives.
In 2016, we started with a junior and a senior batch of 150 students at the Ashram School. We saw a lot of enthusiasm in the children as this school did not have any sports facility or programme prior our entry. The basketball court that we constructed was their first ever exposure to a professional sports facility. 50 percent of the recruited students were girls. Initially, they were shy and would be uncomfortable practicing on the court. However, over time, when they saw the boys playing the game well, they also started attending the practice sessions regularly. We started our senior batch from the eighth grade. Between then and 2018, the children have participated in many district tournaments in Pune, National Trials at Satara, and gained exposure to various city tournaments and private schools across Maharashtra. The School also received some recognition among the city's academic community after the children represented them and won various competitions.

Kevin Francis
Senior Coach

"Basketball is my first love. I always wished to do something for the game. Hi5 came as a dream job where I can fulfill my passion and work with so many underprivileged kids by changing their approach to life through basketball. Hi5 truly motivates me every day; and that is what we teach our kids by making them learn basketball and life skills. It has been an eventful four years now with Hi5. We started with kids who had never heard about basketball to making them win tournaments, participating against the best in the State as well as National Championships. We keep reminding them that they can do anything in life if they give their best in anything they do. I truly believe in this quote by this great basketball player – Derrick Rose: "All the days you wake up, you got one job, and that's to get better every single day."
In 2018, our first group of 17 children became the first generation high-school goers from their families and communities. They joined a college in Panvel. They were able to secure admission seats in the junior college because of their involvement and exemplary results in basketball. They are now representing the college in many zonal and district basketball tournaments. They have become independent, having ventured out of their homes to hostels for the first time ever, managing their own finances through government scholarships, and taking charge back at home and in their communities for further positive changes in their lives. Future job prospects in the police force are opening up for them through sports quota. This is an especially good opportunity for our girl children, since more than 17,000 sports quota seats go vacant every year.
What are the improvements seen in the attitude of the children after being introduced to basketball?

Not only have we seen increased retention and participation in schools following our programme, we have seen many positive changes in the attitude of the children – right from a decline in anti-social behaviour and improved gender sensitivity among boys and girls, to them aspiring for higher education and a better and different future from what they have grown up in. Our girls, who were earlier hesitant to join the programme to play alongside boys, have shown immense improvement and confidence in themselves.
Do you provide education as part of the programme?
We use sports as a tool to promote education and run basketball excellence programme for free to provide children from disadvantaged communities an alternate pathway to succeed in life. We are not directly involved in educating these children on core subjects, but through sports, we have been able to inculcate the instinct to do better in lives. We work with these children on life skills after each session to promote useful habits and English reading skills.
Share with us the different tournaments they have participated in, and laurels won.
Our children have participated in more than 20 tournaments each year, in different levels such as DSO, Districts, State Championships, MSSA etc., under different categories. The children have made remarkable wins in the academic year 2018-19.
Zoheb Khan, Senior Coach
"The opportunity to be a coach is a tremendous honour and responsibility; no matter the age, skill or seriousness of the team/athlete. Players are placing their trust in our ability to help them achieve success – whether it is for personal or collective gain. Furthermore, players look up to a coach to be a role model; so coaching requires tremendous character at all times."
What are the other programmes undertaken by the Foundation?
Besides basketball training, our core values lies in delivering structured life skills curriculum on the field to the children. We believe in taking life skills to another level by intensifying their aspirations, self-esteem and confidence. With sports, we have observed that this becomes a doable task.
When we started four years back, most of our children were in Grade IV or V. These same children are now aspiring to go to college and play at the university level. Hence, we are creating pathways, career counselling and an opportunity to succeed in life through basketball. Besides this, whenever required, we support them with English tutoring.
Right now, we are expanding to other States in India with gusto. We have adopted a similar tribal school in West Bengal, which is close to the city. The programme has already started, and court construction is almost complete. In Telangana, we have adopted two Zilla Parishad schools, one children's home, and one tribal school. Recruitment and court construction are in the pipeline.

"We are excited to see the radical transformation in the mindset and attitude of the children and the communities. The exposure to other schools and students has made the children aspire for higher studies as well."
How are you managing to keep the programmes afloat? Are you receiving any support from the government/Corporate entities?
For the first two years, Sundar and I funded the programme ourselves. We began with 150 children in April 2015. It then surged to 1000 children in the same year. We had some Corporate support and a few well-wishers after we completed the initial years. The support that we get from the Municipal and Tribal Schools is that they allow us to run the programme, year after year. Witnessing its success, many institutions are requesting us to start similar ones at their schools. Since last year, we have been reaching out to companies who may be able to help us with CSR funding. Since we are continuously expanding, we need support though CSR in a big way.
What are the attitudinal transformations that can be seen in these children after Hi5 intervention?
Oh, we are excited to see the radical transformation in the mindset and attitude of the children and the communities. The exposure to other schools and students has made the children aspire for higher studies as well. We went to these tribal hamlets personally, counselled the parents and children for their studies and opportunities after high school so that they are aware of government schemes and college options available.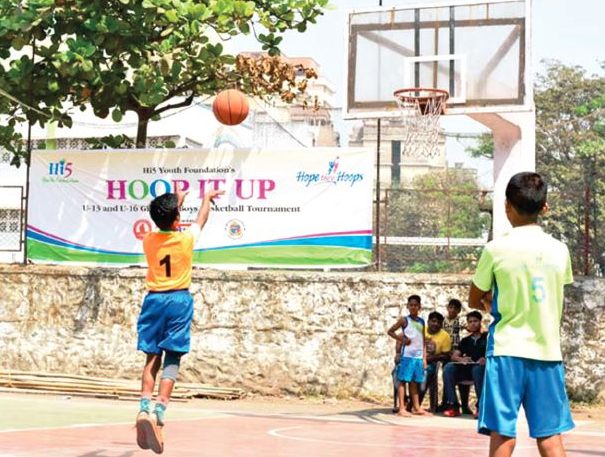 After our senior batch from Vajreshwari cleared their SSC Examination, we, along with some social workers, did a counselling outreach programme and went to all the villages in the Palghar region to work with their families. We also helped the students in filling up forms for junior colleges and other documentation formalities and also reached out to colleges in and around Mumbai having residential facilities for tribal children.
One of our social workers came to know about a college in Panvel that provides tribal children with free education under a government scheme. After speaking with the management, our 17 children (eight boys and nine girls) received admission and also availed of a tribal hostel facility nearby. They tuition fees were waived off and they received a stipend for food and other academic expenses.
These children are now representing their college in basketball, and the school management is proud of their achievements in the divisional and district tournaments.
It is basketball that initiated the instinct within these children to pursue higher studies and come all the way from their tribal region (100km away) to Panvel as the first-generation college goers from that region. These children are now considered as role models in their community. These children are not only independently managing their life and education, but also stand a far greater opportunity in engaging in job opportunities once they complete their 12th Standard. They are now more  aware of opportunities and various reservation quotas under athletics and sports category to avail to. We have also set up a connect with the Maharashtra Government to place these children in police services as constables, especially for girls, because many positions do not get filled in. These positions require women athletes, and with our basketball programme, we should be able to get employment in many sectors. Even if these children do not get into police services or a job of their choice, we will absorb them as coaches in our own programmes.
Can you share some life changing and inspiring stories with us?
We are indeed overwhelmed by what we are witnessing in the lives of these children. Take for example, Sadham and Sneha. They sure inspire us as well to keep doing what we are doing:
Sadham, a Motilal Nagar (Goregaon) resident would sit outside a mechanic shop, chew tobacco and play pranks on children who are going to school. In September 2015, when we started our basketball programme in Motilal Nagar BMC School, we recruited a few students at the beginner level batch. Sadham would come, throw a bad attitude, question the coach about the game, make some negative comments and then leave. He did this for a couple of days. One day, he was a little quiet as he saw some children enjoying their basketball practice. He left without making any comment. The next day, he showed up, and in a soft tone asked the coach if he could join them. The coach firmly told him that he has to attend school in order to join the programme. He promptly rejoined school the next day. Today, after three and a half years in the programme, Sadham is the best player in Hi5. He has become very disciplined and takes his academics with utmost seriousness. His teachers are very impressed with his remarkable turnaround.
Today, he coaches younger groups when the coach is away on meetings. He takes great pride in his academic achievement and shows amazing leadership skills when playing the game. He has played in district level matches for Mumbai Central District in U13 and U16 categories at the Maharashtra State Championships.
Basketball has changed Sadham's future completely.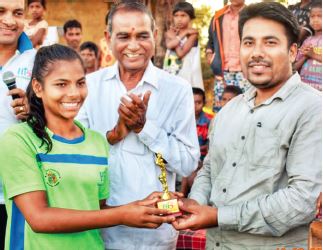 Sneha, an 11 year old young girl from Unnat Nagar BMC School in Goregaon(W), a fantastic rebounder and the best among the girls in Hi5, suddenly turned down the opportunity to be part of the Hi5 summer residential camp in 2016. Her parents felt that this game did not culturally fit in with their conservative upbringing, where girls, apart from attending a school in their immediate vicinity, are not allowed to step out anywhere on their own. We invited her parents to share their hesitancy in allowing their daughter to continue with the sport. As with most families from conservative backgrounds, her mother had no say in the situation. Her father was initially adamant in his decision to allow his daughter to continue, but when he realised that, as a once decorated wrestler, he has had his share of triumphs. He remembers how he felt after every victory – all the sacrifices and pain worthwhile. And as he listens to the folks from Hi5 talking about his daughter's achievements, and being the best in her field, just as he was, then, he realised that he could not let her talent go to waste. He agreed to allow her to attend the summer camp. An ecstatic Sneha promised her parents that she will make them proud of her. She trained well in the camp, and in the following months, she qualified to represent her district at the Maharashtra State Championships, with just one year experience under her belt.
In 2018, she was selected to go to New Delhi as part of the Jr. NBA Mumbai All Stars Team competing against other city teams in Delhi. She proudly showed off her first ever flight ticket to her friends.
The opportunity offered by Hi5 has opened many doors for Sneha. Her sister, Deepa, is following her footsteps to Hi5. Sneha is being scouted by other organisers and basketball committees all the time. A bright future awaits her.
"We have also set up a connect with the Maharashtra Government to place these children in police services as constables, especially for girls, because many positions do not get filled in. These positions require women athletes, and with our basketball programme, we should be able to get employment in many sectors."
Inspiring Stories from Ashram School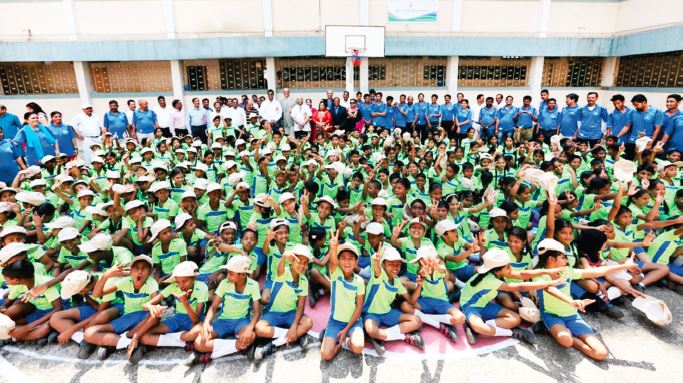 As we have mentioned about our initiative at the Ashram School, the girls from the school joined the Hi5 programme in July 2016. We were not able to complete constructing the basketball court on time due to heavy monsoons that year; so all the students practiced indoors and eagerly waited for the construction to wrap up soon. We were finally able to complete it in January 2017. The first Intra Hi5 Tournament was to be held four weeks thence. We brought our girls and boys to the city – a first ever experience for them. Both the boys and girls emerged victorious against their city peers who were better trained than them. They were overcome with emotion and carried their trophy home with pride. They said, "Hi5 has lit a fire in us, and there is no turning back." The girls were especially very emotional as they always felt that, being born as girls in their community, they were worthless and looked upon as liabilities. They said that Hi5 has showed them that they can achieve in life.
Three months after their first city win, the girls played at the district level at the Maharashtra State Championship in Pune, and then Satara. One of them was selected for the tryouts for the national level in Kolhapur.
As per tradition, a couple of girls were initiated and had marriages already arranged for them right from their childhood. One of the girls, Poonam, who is pursuing her education at a junior college, went home for her vacation, refused to marry till she completes her education and has a job in hand. Her parents were taken aback by her decision, but they were convinced after she explained to them that she wants a better future for herself. Poonam now sends money home that she saves from the government stipend accorded to her.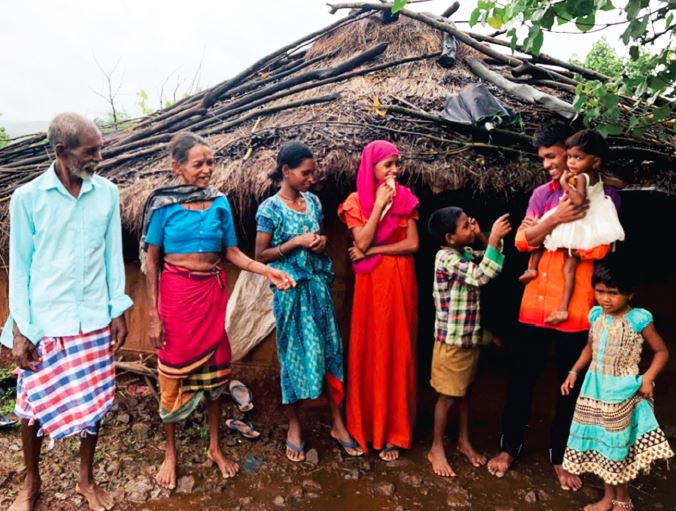 Prakash, one of our basketball students, is from Khardipada, a tribal hamlet in Jawahar village which is about four hours from Mumbai. There are no proper roads leading to these hamlets after a certain point. People have to walk five to ten km just to reach their homes. Prakash was a student of the Ashram tribal school. He has now completed Standard X, and is pursuing his junior college in Panvel. His parents are very poor farmers (who came running from the field to greet us in worn-out clothes. They quickly made themselves presentable) who live on a very meagre sum for their subsistence. The family – the parents, Prakash, his sisters and their family, share a tiny, living space along with their livestock. Their only food for survival (humans as well as livestock) is from the agricultural land they own. When they run out of money, the men in the family would go to a neighbouring village to work in a construction site, earning Rs 2000-3000 to buy clothes and other essential things they can use for the rest of the year. Prakash's parents are very excited that he is now in college. They want him to do well in his studies, get a good job and earn money. When asked how much, prompt came the simple but basic response (and longing of so many like them) that as long as he earns enough to fix the roof so that they do not suffer during the monsoon. It struck us how simple their life and wants are, and how educating just one member of a family can bring so much respite from the arduous life they are leading.
Let me also share another heartwarming story from Govandi. Deonar Colony in Govandi Ward is one of the poorest wards in BMC. Usually referred to as the dumping ground of Mumbai, the people here live below the poverty line. Hi5 runs a basketball programme for a school where both boys and girls participate in equal numbers. It has been over three years since then, and the children are doing amazingly well in all tournaments. Being from a minority background, it was a totally new experience for the girls to be wearing sports jerseys and shorts. The mothers also wanted something better for their girls since they did not have such opportunities in their day. The girls played, practiced hard, had natural talent and won many trophies for their school. They have been representing the South East district of Mumbai in the Under 13 Maharashtra State Championships that was held in Pune, Satara and other districts, and winning every single tournament in the city as well. Today, they have progressed by leaps and bounds, encouraged by their teachers and parents every step of the way. They are the pride of their school and community. Today, everyone in their community respects them for who they are and what they have accomplished.
Hi5 basketball has changed this community in a big way, and Deonar Colony girls are our pride! The youngest girl from the team was selected for the State Trials and she is headed to Satara to compete with girls older than her.
What does the future hold for these children?
As these children are recruited in the programme at a very young age, they tend to do well in sports after a continuous training period that takes a couple of years. This process results in getting them exposed to tournaments, meeting privately-educated school children, and experiencing winning moments. With the help of certificates won at tournaments, their possibility of getting into a good college increases, and eventually, jobs. We insist that they complete their higher secondary education, and until then, we will handhold them for any kind of support and advice. We will also absorb some of these children as coaches, provided they complete their mandatory school education. This initiative is the first of its kind in our four year journey. The future doth shine bright for them all because of Hi5's interventions and the children's motivation.