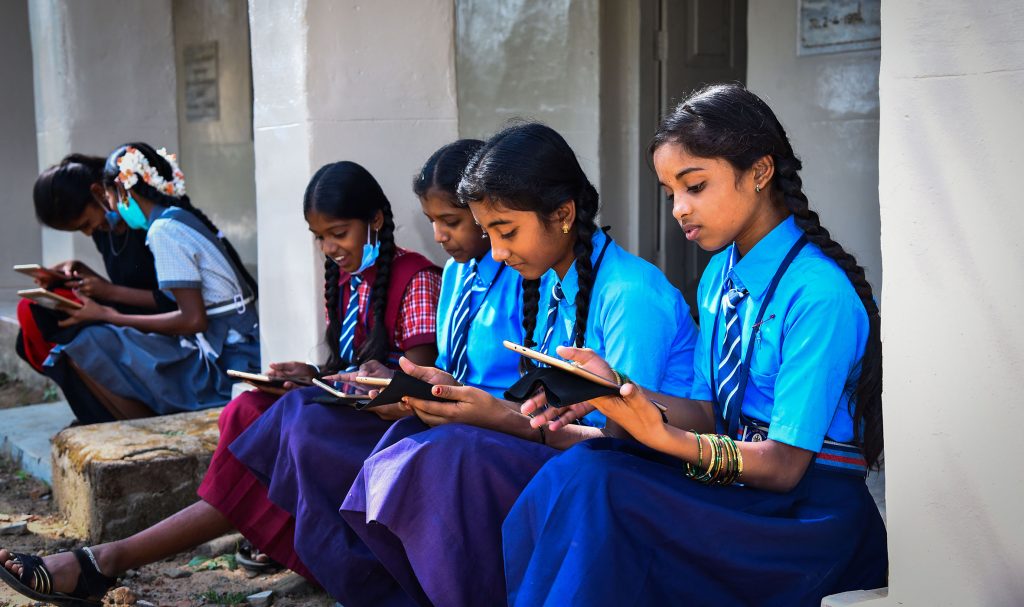 National: According to a UDISE survey conducted in 780 government schools in 2017 – only 56 per cent of these schools had electricity, 63 per cent had no playgrounds, 60 per cent had no boundaries walls, unusable toilets in more than 25 per cent of the schools and the pupil-teacher ratio were abysmal. Despite govt allocation of funds and 32 per cent of CSR funds going into education, there is less to be desired and lots to be done. CSR in education can be a game-changer in improving public education in India, however, CSR models need to address long-term issues across the systemic chain to accelerate change in the education sector.
Here is an example of how an organisation whose sustained involvement across the education value chain (infrastructure, technology, teacher training, and scholarship) has led to a transformational impact in the lives of the children in Shivamogga, Karnataka. DXC Technology in association with education-based NGO, Bal Utsav in the last two and half years has been able to bring a fundamental shift in perceptions about government school education within and outside the Shivamogga district.
Case Study
Government High School (GHS), Kalahalli, Shivamogga whose classrooms had tattered walls, abysmal enrolments, and high drop-outs, is today seen as a mark of pride in Badravathi, Shivamogga District, thanks to Bal Utsav and DXC. The school which did not even have access to clean drinking water, whose building was old and playground unsafe, today boasts of smart classrooms equipped with e-learning content and a well-maintained infrastructure. Children have access to clean drinking water, sanitary pads (for girls), and high-quality school kits. The locals believe that children of Kallahali School are more confident and have improved self-esteem thanks to the quality of education received in the school. Kids in many rural areas typically travel more than 2 km to get access to school education, and according to Hiremath, HM of Kalahalli Govt High School, the only reason his kids regularly travel this far irrespective of harsh weather or poor condition of roads is the high quality of schooling facility that they receive here. The great outcome of this revitalisation exercise is that the new and improved GHS, Kalahalli is attracting students from other schools in the district. When school reopened in January 2021, it saw a 15 per cent increase in enrolment and a notable migration of children from private schools and convent schools.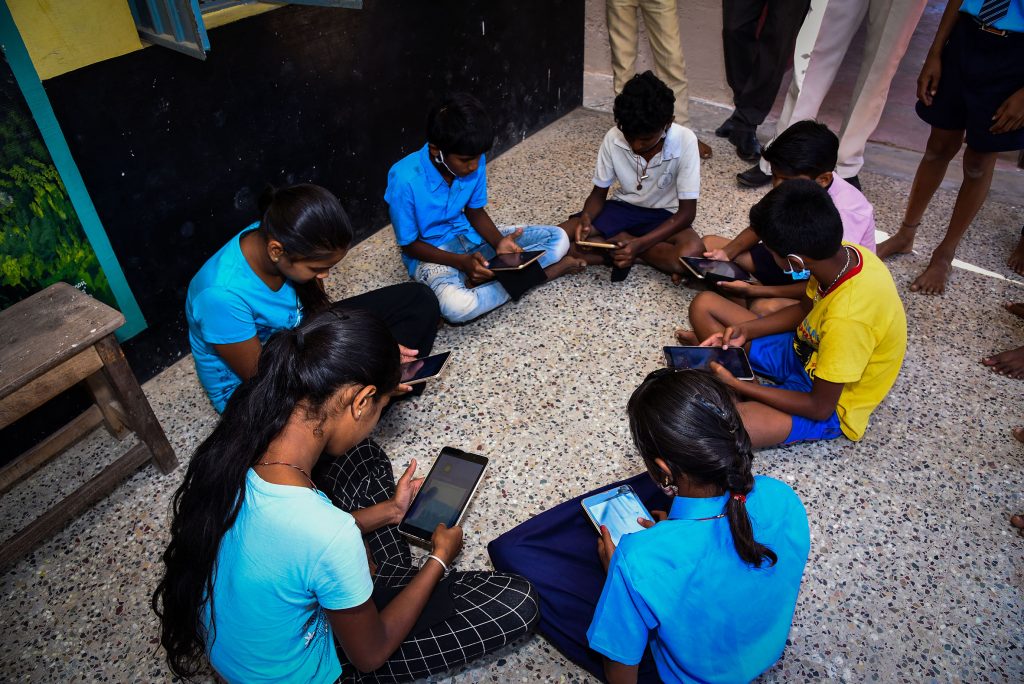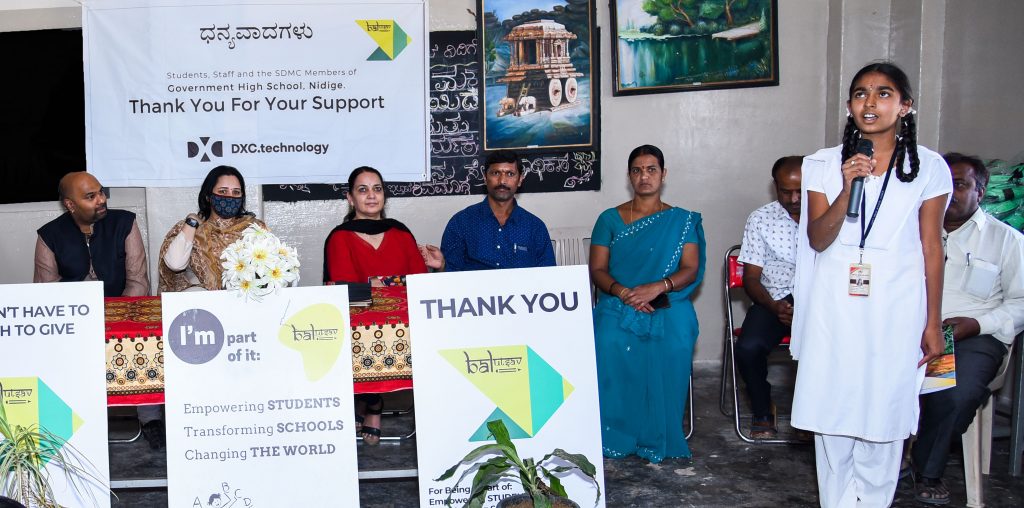 GHS, Kalahalli is not the only school that is benefitted from this revitalisation, DXC Technology in partnership with Bal Utsav has adopted a total of seven rural schools in Shivamogga and given them a complete facelift. They have brought in interventions such as overhauling the school infrastructure, providing students with brand new school kits and study tables, equipping teachers with tablets, installing smart TVs preloaded with educational content, and creating a clean and hygienic environment for students, teachers, and staff. Particularly in the last two years when there was a dilemma in reopening the schools, the smart infrastructure provided in these schools helped the students continue their education. Children whose parents had mobile phones at home were given the license to download school portions of their particular academic year while at the same time teachers were given tablets with preloaded content to enable community learning/facilitate remote learning.
Testimonial
For example, a teacher Soumya at Government Higher Primary School in Dummalli (Shivamogga District) and her six colleagues, use an e-learning programme to ensure 130 students continue their education from their respective community/homes. According to Soumya, the parents are very happy that the kids are safe at home and can continue learning despite the lockdown. She believes it is these sustained interventions by Bal Utsav and DXC over the last two-plus years that has led to increased enrolment, lower dropouts and made private schools nearby and parents alike sit up and take notice of government schools in Shivamogga.
Volunteer Involvement
Over the last two years, 1218 employees from DXC volunteered with Bal Utsav for a total of 6610 hours. They have been part of activities like school painting, mentoring children, organising programmes like menstrual hygiene awareness for girls, coordinated sports day, etc. Bal Utsav and DXC technologies have brought together people, technology, direction, resources, and determination in a healthy mix to ensure that learning continues unabated as the children battle through the pandemic. The team is gearing up to bring in more interventions as the state prepares to reopen schools.