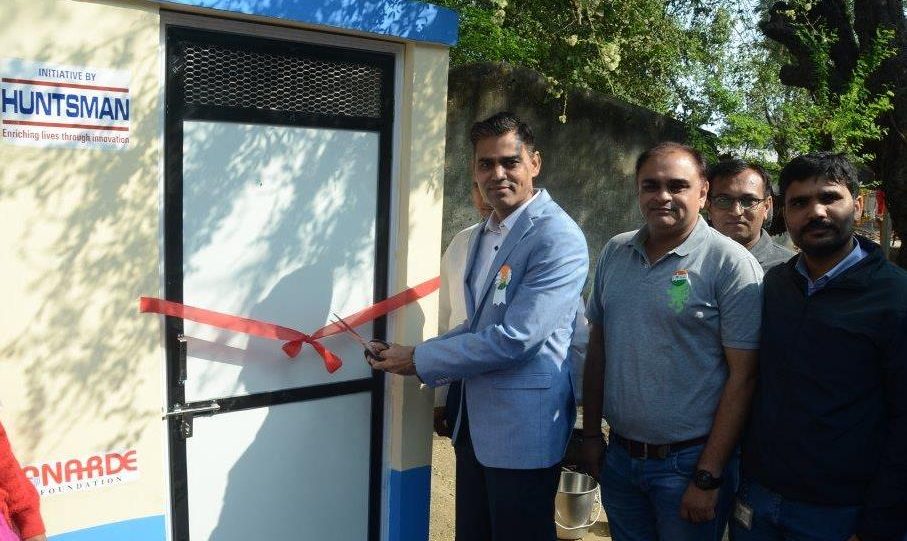 Mumbai, January 28, 2018: As part of its CSR programme, Huntsman, the global manufacturer and marketer of differentiated chemicals, has built 60 individual household latrines (IHHLs) at Bakrol village, Ankleshwar in Gujarat.
Many of the usable toilets in Bakrol village are used for bathing or for storage purpose. As a result, prior to the addition of the new toilets, only five percent of the existing toilets were in usable condition. Huntsman's CSR initiative aims not only to provide more toilets, but also to educate the community regarding the importance of good sanitation and hygiene. Through informative sessions, Huntsman is communicating the benefits of using toilets, encouraging participation in the project, educating on the ill-effects of open defaecation, and suggesting maintenance techniques. Huntsman will further evaluate addition of more toilets to take the total to 120 in 2019.
Commenting on this development, Rajib Kumar, Chair of CSR Committee and HR Head – India Subcontinent, Huntsman Corporation, said, "We firmly believe that everyone should have access to basic sanitation, and we stand committed to it. Our CSR initiative in Bakrol aims not only to improve infrastructure, but also alter mindsets on hygiene. At Huntsman, it gives us immense pride in contributing to the well-being of the community." 
Speaking on the occasion, Vipul Patel, Site Head, Huntsman Ankleshwar Plant, said, "We at Huntsman have a strong vision for community development and it mirrors in the work we do in areas that we operate. Empowering communities while co-existing with them has been our prime objective ever since we began work in Bakrol along with the other parts of the country. This initiative is our step towards educating people on the importance of basic sanitation, thereby building a better community."
The inaugural event was graced by several of Bakrol's panchayat members, namely,  Urmilaben Rameshbhai Patel (Sarpanch), Jayeshbhai Laljibhai Vasava (Dy Sarpanch), along with Huntsman India associates.