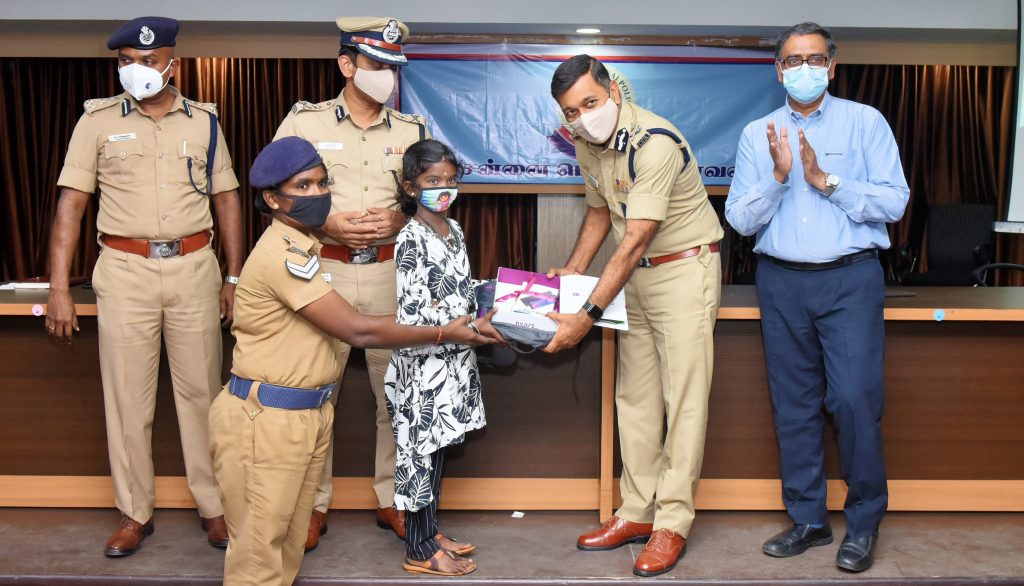 Mumbai, January 14, 2021: Hyundai Motor India Foundation (HMIF), the CSR arm of Hyundai Motor India Ltd. concluded the project 'Shikshak' with the distribution of 1,000 digital educational devices to the children of COVID-19 Warriors across Delhi, Mumbai, Chennai, Kolkata and Ahmedabad. The initiative supports uninterrupted education of COVID-19 Warriors' children.
201 units of electronic learning devices were handed over by Mahesh Kumar Agarwal, IPS, Commissioner of Police, Chennai in the presence of Stephen Sudhakar J, Trustee – Hyundai Motor India Foundation, Balakrishnan V., IPS, Joint Commissioner of Police (North Chennai), and Arun IPS, Additional Commissioner of Police North Chennai, for the children of the police personnel who were at the frontlines during lockdown to support online education of COVID-19 Warriors children. 
Commenting on the successful completion of the project, S.S Kim, MD & CEO, Hyundai Motor India Ltd. said, "Project 'Shikshak' was initiated towards creating a sustainable future for our communities realizing our global vision of 'Progress for Humanity'. The project aims to offer academic support to the Covid-19 Warriors' children by bridging digital divide due to closure of schools, to help them continue their academic sessions seamlessly."
The philanthropic initiative is a part of COVID-19 CSR 2.0 Program under 'Hyundai Cares' campaign, which focuses on uninterrupted education for students of class IV to XI (CBSE and ICSE boards). The endeavour focused on the COVID-19 Warriors predominantly working as Healthcare and Police staff. The educational device has been embedded with a two-year free subscription of the curriculum catering to the educational needs of students across the State.
According to a recent survey, 1 out of 4 students are unable to attend online schooling because they do not have a laptop/desktop or a tablet. Project Shikshak is a small step towards helping such families who are struggling to bridge this digital divide and enable the students to their basic Right to Education. 
Other initiatives of this programme have been distribution of masks to the underprivileged and sanitising over 1800 remote villages in 15 States across India.